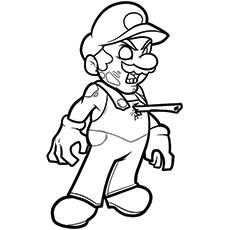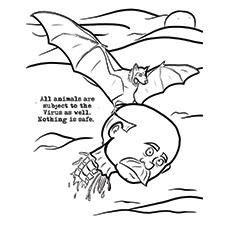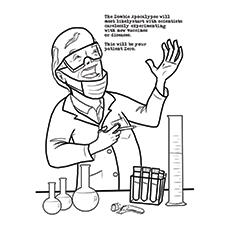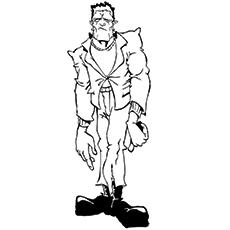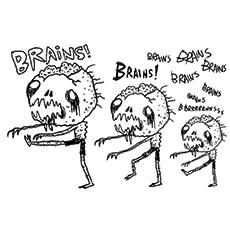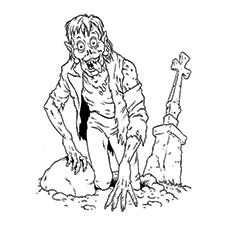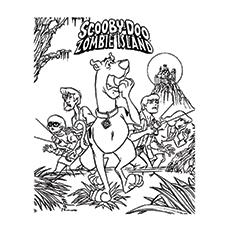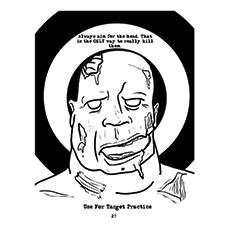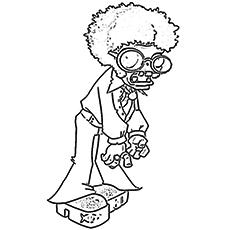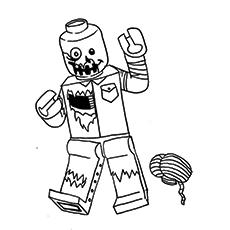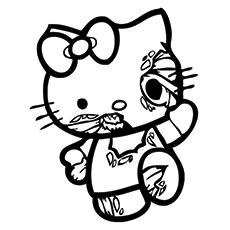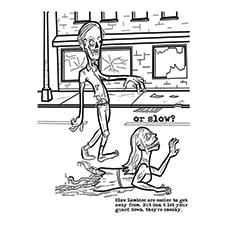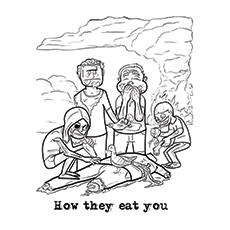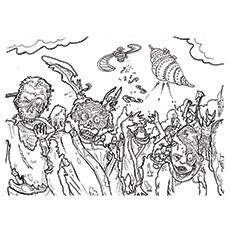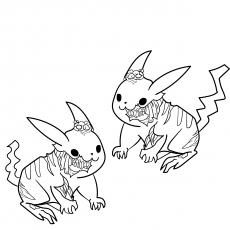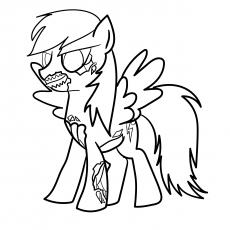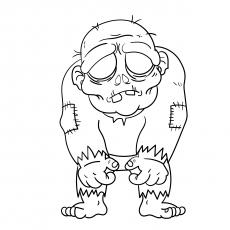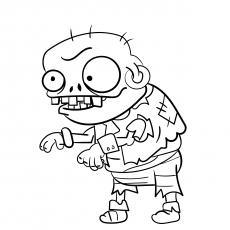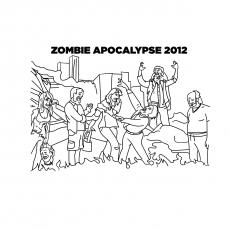 Recommended Articles:
Almost everyone is familiar with zombies, those ravenous and reanimated corpses that terrorize and eat unsuspecting humans. These pop culture phenomena have appeared as plot devices in various movies, books and television shows. Children, especially boys, have a strange fascination them.
But zombies aren't even real, so how did this legend even start? And where did the word zombie come from? If your kid has similar questions, then we have 20 zombie coloring pages that will answer all his questions.
25 Zombie Pictures to Print and Color
1. Zombie:
The zombie is up and hungry. If your kid wants to keep this zombie from coming to him, then tell him to color this image as soon as possible. And make sure he uses some of the darkest colors to give a gloomy effect. A zombie is an undying creature thirsty of meat and the human brain. For thousands of years, zombies appeared in myths and legends all over the world. In the Middle Ages especially, people believed that ghosts or the reanimated bodies would rise from the grave to terrorize the living beings, and most of the time, with a specific purpose, like to torment or take revenge on someone who had wronged them.
[ Read: Skeleton Coloring Pages ]
2. Pikachu As Zombie:
What happened to Pikachu? Why did he turn into a zombie? Did a zombie bite him? Bring this scary Pikachu to life by adding some color to it. Pikachu is a small, cute and a chubby mouse like creature covered entirely with fur. It was long; yellow ears tipped with black. Its back has two, large brown stripes. The tail of Pikachu is notable its lightning bolt-like shape. The two red pouches on his cheeks turn yellow and spark when it is about to use Thunderbolt. Pikachu is very friendly and loves to cuddle. He loves to have his tail rubbed. But if angered or threatened, Pikachu can turn quite aggressive.
3. Mario As Zombie:
Mario is looking equally creepy as a zombie. We hope someone brings him back to his original form soon. Long before Grand Theft Auto and Candy Crush, 'Mario' captured the hearts of kids all over the world. Mario was the main character and protagonist of the long-running Mario games and franchise. He was also considered the main mascot of Nintendo. Mario made his first appearance in Donkey Kong, an arcade game. The trademark abilities of Mario are jumping, the ability to change size and stomping, which help him defeat his enemies.
[ Read: Simpsons Coloring Pages ]
4. Animals Are Subjected To Virus A Well:
The legend of zombies started in Haiti, where zombies were thought to be bodies that were brought back to life and were controlled by the evil monsters. But the modern version of a zombie is much different. In most of the movies, books and video games, a zombie is a person that is infected with a virus. The virus takes away the ability to walk, eat and breathe. The virus does not affect only humans. Even the animals are susceptible to it. Animal zombies travel in packs and try to convert other animals to zombies by biting them.
5. Rainbow Dash:
Rainbow Dash was such a cute little pony, but look what zombies have done to him. She is looking fierce here. Rainbow Dash is a female Pegasus pony and one of the main characters from the series "My Little Pony Friendship is Magic". Rainbow Dash is a major fan of the Wonderbolts and dreams of joining the elite flying group. Rainbow Dash is a fiercely loyal pony and can go any length to protect and save her friends. But now that she is a zombie, she wouldn't think twice before turning her friends into zombies, just like her.
[ Read: Dragon Ball Z Coloring Pages ]
6. Start Of Zombie Apocalypse:
This Zombie coloring page gives an insight to what possibly could start the apocalypse. It states that the Zombie apocalypse is most likely to start because of scientists carelessly experimenting with new vaccines. It even shows a scientist trying out one of those experiments. Some even say that a particular parasite called the toxoplasmas Gondi in rats could lead to the apocalypse. But the shocking fact is that a good percentage of this toxin is in us already. We're getting Goosebumps already!
7. Zombie Apocalypse:
It may happen soon, and it will be deadly. Yes, we are talking about the infamous Zombie apocalypse. Zombie Apocalypse is the breakdown of the modern society because of zombie infestation. It is portrayed in countless zombie-related movies and shows. In the zombie apocalypse, the zombies will turn hostile to the humans and will launch an assault on the civilization. Some mythologies also say that the victims of zombies may become zombies as well.
8. Frankenstein:
Did anyone say, zombie? Looks like Frankenstein escaped from the grave to attend Dracula's party. Frankenstein is one of the most famous fictional zombies of all time. It is the protagonist of the novel "Frankenstein" written by Mary Wollstonecraft Shelley. Victor Frankenstein, a young student of science, creates an incongruous, but sensitive creature in a science experiment. He names the zombie Frankenstein. Victor Frankenstein keeps the operation a secret from others, because he couldn't bear the fact that his creation was ruining lives of others, and he couldn't even do anything about it.
[ Read: Beauty And The Beast Coloring Pages ]
9. Zombie Looking For Brains:
Here's a creepy zombie coloring pages for kids showing little and hungry zombies craving for the brain. The brain is the favorite food of the zombies. Do you know why? Because feeding on brains make them feel better by easing their pain. And some crazy fans of zombies even expanded the theory by asserting that zombies eat brains before of the high level of serotonin in it. We think that zombies eat brains because they find it tasty. Gross, isn't it?
10. Zombie Near Grave:
Here is free zombie coloring pages! It's a full moon, and zombies are coming out to play. Every night on Halloween, the zombies rise from the grave to walk and play. But your kid does not have to be scared, as it is a party zombie. This zombie does not want to feed on brains, but just wants to have fun with his vampire and skeleton friends. Contrary to what most of the people say, the grave is not the favorite place of zombies. In fact, zombies avoid the graveyard as it just a vast stretch of an abandoned land. It is also reported that zombies do not remain in the coffin for a long time.
[ Read: Berenstain Bears Coloring Pages ]
11. Scooby Doo On Zombie Island:
Here's a coloring poster for the animated film Scooby-Doo on Zombie Island. This horror-comedy film was adapted from the television series of the same name. As you all know, Scooby Doo and his friends, Daphne, Fred, Shaggy and Velma come together in every episode to solve new mysteries. In "Scooby-Doo on Zombie Island", Scooby Doo and his friends visit the haunted bayou island to investigate on the ghost of Morgan Moonscar, the pirate. The gang then finds itself caught between a group of evil cats-like creatures and a group of zombies led by the Moonscar. But are they real zombies? Or is it just a farce? Tell your kid to find out the answer by coloring the page.
12. Aim For The Head:
This coloring pages of zombies shows us how to survive a zombie attack. When fighting with zombies, one should always aim for the head. Zombies are basically brains on legs. So hitting a zombie on the head would turn off the brain, thereby destructing it. Destruction of the brain is one of the surefire ways to neutralize the zombie. But one has to vigilant while striking. One miss and you are gone forever. Weapons like a sledgehammer or a large axe are best for attacking the head of the zombie.
[ Read: Pirates Coloring Pages ]
13. Disco Zombie:
Here's a coloring image of Disco Zombie, one of the characters from the game "Plant and Zombie". The Disco Zombie appears only when the Zombie slot machine lands on his face. The Disco Zombie then summons his backup dancers to get out of the hole. He then appears in a wave, during which the backup dancers move back and forth, replacing the Browncoat zombies. The Disco Zombie shoots rapidly from his recorder shaped machine gun. He uses his disco ball to hit the plants and can easily damage 26 plants in an attack. And to reach the high places, the Disco Zombie uses his flute as a helicopter.
14. Fast Zombie Axed:
Run, run, run, this zombie is on the loose, seeking revenge. Several studies suggest that zombies are not truly dead, especially the fast zombies. They are just humans in a rabid state, but immune to mercy, pain, and exhaustion. Faster zombies are more hostile than their slower cousins but are a bit more fragile. The only way your kid can calm down this fast zombie is by adding some colors to his image. While most of the zombies look dark and dull, your child can go ahead and give some bright colors to it. It will even cheer him up a bit.
15. A Lego Zombie:
Here is zombie pictures to color! Enough of the cute and adorable Lego characters. It's time to face the deadly and scary version of Lego, a Lego zombie. Lego Zombie is one of the popular Lego games. In the game, the player has to build a defense to halt the invasion of the evil zombies. They have to build the tower and use the resources carefully to match the strength of the evil zombies. Now playing the game may not be possible right now, but coloring a Lego zombie certainly is. So tell your child to take out his crayons and give this scary Lego zombie some scary colors.
16. Hello Kitty As Zombie:
This zombie color page shows Hello Kitty as a zombie. Hello Kitty has dressed as a zombie and is all set to rock the Halloween party. But without colors, Kitty is looking dull. So tell your kid to make Kitty a bit scary by using his crayons.
17. Slow Zombies:
This zombie coloring sheets states a trivia about slow zombies. Slow zombies walk very slowly, and are quite easy to outrun. The color page also tells that one must stay quiet when he sees a zombie approaching. It will keep them from drawing attention to you. But the recent movies have featured zombies as agile, intelligent and vicious than the traditional zombies.
[ Read: Beyblade Coloring Pages ]
18. How They Eat You:
This zombie coloring pictures displays a group of zombies feeding on a human. This coloring sheet may freak out toddlers and preschoolers, so it is best suited for school goers and teenagers. You can even share some facts with your child as he colors this gross scene. Most of you must have noticed the fatal wound marks on the zombie bodies. The injuries cause a tremendous amount of blood lost. Zombies eat humans and their parts to replenish the loss of blood and ensure that they do not dry up. Zombies also experience extreme hunger because their bodies keep decaying throughout their natural existence. They eat brains, flesh and intestines of humans to replace their dying cells.
19. Gang Of Zombies:
Here is a group of wild zombies coloring pages waiting to be colored. All the zombies here are in a terrible shape, with missing limbs, mangled legs and arms, distorted face and wound marks. Are these zombies a part of the zombie apocalypse? Or are they going to attend a fancy dress competition? Ask your kid to flex his imagination and make a crazy story that can go on the coloring page. It will strengthen his writing and vocabulary skills in the process.
20. Pirate Flag Zombie:
Yes, most of the zombies love human flesh, but pirate flag zombies are different. This zombie has a fascination with flags. Here's a zombie from the game "Plants and Zombies". The flag pirate zombie absorbs 9.5 damage shots. Even his appearance changes on consuming 4.75 of the standard shots. But he dies at 9.5 of the damage shot. A pirate flag zombie moves at a faster than an ordinary zombie.
Our zombie coloring pages are sure to be a huge hit with kids of all ages. They will enjoy filling the unique patterns of these zombies with colors of their choice. Make sure you check out our other coloring pages too. We always add new ones, so check back as often as you can.
DISCLAIMER: All images found here are believed to be in the "public domain". We do not intend to infringe any legitimate intellectual right, artistic rights or copyright. All of the images displayed are of unknown origin. If you are the rightful owner of any of the pictures/wallpapers posted here, and you do not want it to be displayed or if you require a suitable credit, then please contact us and we will immediately do whatever is needed either for the image to be removed or provide credit where it is due. All the content of this site are free of charge and therefore we do not gain any financial benefit from the display or downloads of any images/wallpaper.
The following two tabs change content below.