615 African Baby Girl Names With Meanings
Embrace the beauty of Africa.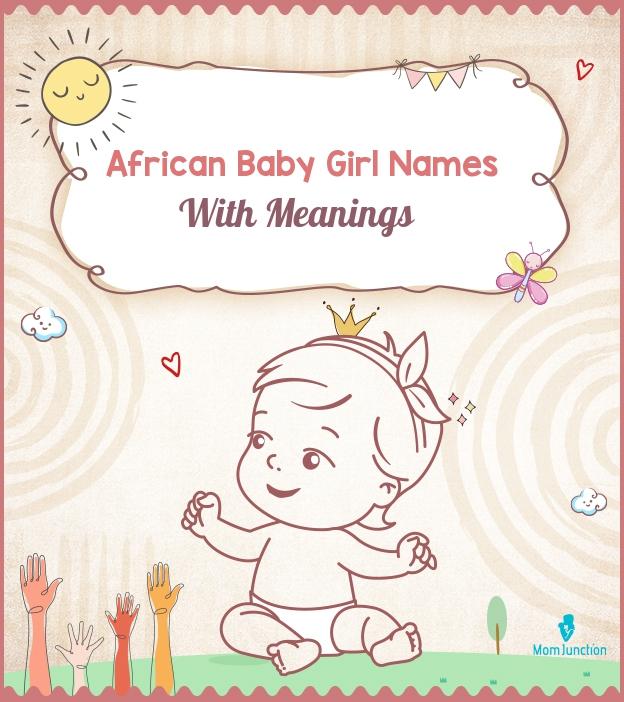 African baby girl names are often traditional and have unique stories behind them. Factors like the time a baby is born or the circumstances or the surroundings during the birth often influence choosing a name for the baby. These events and surroundings can be positive or negative. Some of the names are a complete picture of the conditions. For example, "Yetunde Nwaokeke" is the name of a baby girl whose grandmother died just before her birth. "Yetunde" means mother has come back. Before the parents decide the names of their children, circumstances also play a part. It happens among some Ghanaian ethnic groups where a name is automatically assigned based on the day a child is born. For example, a baby girl who was born on Friday was named "Ghanaian Efua" which means a Friday-born. Several local names also have strong religious faith in keeping their baby's name. Among the Igbo and Yoruba ethnic groups in Nigeria, baby names mostly start or end with "Chi" "Chukwu" or "Oluwa" which has some reference to God (1). Some groups in eastern or southern Africa choose certain names depending on the time of the day or season a baby is born. In Yoruba tradition, it is very common for each parent or grandparent of a baby to contribute in at least one name of the baby (2). As a result, a baby ends up with several names, each telling its own unique story. With Western influence, newer names have found their way into African families. In this post, we have curated a list of famous African baby names that you can choose using our baby names tool.
Name
Gender
Meaning
Amahle
Girl

The beautiful one; The prettiest; The finest

Amogelang
Girl

Accept; Receive

Enzokuhle
Unisex

Expected to do great things; Do good

Lesedi
Girl

A ray of light

Lethabo
Unisex

Happiness; Rejoice

Luthando
Unisex

Love and adoration

Melokuhle
Unisex

One who represents good things; Righteous

Omphile
Girl

Gift from God or God gave

Rethabile
Girl

We are happy, Happy

Thandolwethu
Girl

Our love

Aba
Girl

African Akan - Girl born on Tuesday

Abana
Girl

This Biblical name means strong personality made with a stone

Abeba
Girl

Flower; Abeada and Abyda are variant transcriptions of the name

Abena
Girl

African Akan - Girl born on Tuesday

Abeni
Girl

We asked for her, now she is ours; Someone who is prayed for; A variant of name Abena

Abiba
Girl

The first child born after death of grandmother; Abeaba and Abeabah are the variant spellings of Abiba

Abiona
Girl

One who is born during a journey

Abla
Girl

Girl born on Tuesday; Has an Arabic meaning as voluptuous

Abraha
Girl

A girl who is born on Tuesday

Absco
Girl

One with an inventive mind

Abuya
Girl

One who was born when the garden was overgrown

Achebe
Unisex

One who is protected by the Goddess

Achieng
Girl

One born during the day time

Adabelle
Girl

Adornment; Noble; Oldest daughter

Adaeh
Girl

Crowned; Chosen; Pinnacle of a peak

Adamma
Girl

Child of Beauty; Beautiful Girl

Adana
Girl

Being the father's daughter; A variant of name Adanna

Adanna
Girl

Eldest daughter of father

Adanne
Girl

Being the mother's daughter; A child who resembles her mother; A variant of name Adane

Addiah
Girl

Ornament of God; Gift from God

Adebola
Girl

Honor is brought to her; She met honor

Adenike
Girl

The Crown is Loving; Affectionate; Crown has care; Wealth has Care; Crown is cherished

Adeola
Girl

Crown of wealth

Adhiambo
Girl

A daughter who is born after sunset

Adhra
Girl

Apology; Virgin

Adila
Girl

Equal; Just; Upright; Honest

Adilah
Girl

Equal

Adita
Girl

One who belongs to the Sun

Adjoa
Girl

Born on Monday; A daughter who is born on Monday

Adongo
Girl

The second of twins

Adwin
Unisex

An artist or creative person

Adwoa
Girl

One born on a Monday

Affrica
Girl

From Africa

Afi
Girl

A child who is born on Friday; A daughter who is born on Friday

Afia
Girl

A child who is born on Friday; A daughter who is born on Friday

Afiya
Girl

Health

Afra
Girl

Whitish red

Afua
Girl

A child who is born on Friday; A daughter who is born on Friday

Ahanti
Unisex

War-like

Ahnika
Girl

Ruler of the house, Beautiful ornament

Aibileen
Unisex

Helper, nurturing, caring

Aissata
Girl

One who is noble

Aiysha
Girl

Powerful; Complete

Akello
Girl

Baby girl born after twins

Akeyo
Girl

One who was born during the harvest

Akia
Girl

Clear sky; Bright sky

Akinyi
Girl

Born in the morning; Born during forenoon in the African language

Akosua
Girl

Girl child born on Sunday

Akua
Girl

A child who is born on Thursday

Akuba
Girl

One who is born on Wednesday

Aluna
Girl

Come here

Aluoch
Girl

One who was born on an overcast morning

Ama
Girl

Child born on Saturday

Amandla
Girl

A powerful Woman; Brave and strong woman

Amarachukwu
Girl

God's grace; Mercy of God

Amare
Unisex

A person sent by God to love

Amari
Unisex

Promised by God; Strength; Courage; Immortal

Aminata
Unisex

Trustworthy; Faithful

Amne
Girl

Safe; Secure

Amondi
Girl

Born at dawn

Amurta
Girl

Beautiful; Ambrosia; A veritable drink that gives immortality

Anana
Girl

The fourth child who is blessed with soft and gentle personality

Angweng
Girl

One who was born during the time of white ants

Anika
Girl

Graceful; Fearless; Goddess Durga; Soldier

Anyango
Girl

Midday-born; Born at noon

Aoko
Girl

An evergreen blue tree

Aparaa
Girl

Unique; Materialistic; Matchless

Aphra
Girl

Dust

Apiyo
Girl

First of the twins

Armani
Girl

Warrior; Army man

Arogo
Girl

One who nagged a lot during pregnancy

Asabi
Girl

One of select birth

Asha
Girl

Hope; Alive; Desire

Ashaki
Girl

One who is beautiful

Ashanti
Girl

War; Restlessness

Asis
Girl

Blessing; Of the sun; A variant of Asiss

Assata
Girl

Strong, courageous, revolutionary

Athiambo
Girl

Born in the late evening

Atieno
Girl

One who was born at night

Audi
Girl

The last daughter

Avongara
Girl

To tie

Awino
Girl

One who was born with the cord around

Awo
Girl

A girl who is born on Thursday

Ayah
Girl

Sign; Evidence

Ayana
Girl

Beautiful flower

Ayanna
Girl

A unique flower which is forever blooming

Ayira
Girl

Chosen; Worthy of respect; Exalted; Revered; A variant form of Augustus

Ayoka
Girl

One who causes joy all around; A variant of Ayo

Azana
Girl

Call to prayer; One who inspires everyone

Aziza
Girl

Beloved; Strong
African baby girl names have evolved over time while keeping their traditional essence. However, traditional names are still favored because of their cultural and religious significance. These names may be given in honor of ancestors or to praise the Lord. Many names are associated with nature and the personal traits of a person. These names are versatile and will carry forward your ancestral legacy and African heritage. Also, make sure the name you are choosing also rhymes well with your child's last name.
Infographic: Auspicious African Baby Girl Names With Meanings
Africa is a great continent and has a variety of tribes and cultures with traditions and conventions attached to each of them. It may be challenging to encompass the entire range of names used throughout the continent. However, we brought you some of the most popular ones. If you are interested in African baby girl names with religious or gentle meanings, check out the infographic below.

Frequently Asked Questions
1. What are some African baby girl names inspired by nature or animals?
Wambui is an African name that means 'zebra' in Kikuyu. Zahrah, on the other hand, means 'blooming flower' in Arabic. Ayanna is an elegant name meaning 'flower' in Amharic.
2. What are the specific traditions or cultures that influence African baby girl names?
Africa is home to several cultures, each with unique naming traditions and cultures. For instance, the Akan people from Ghana name their children based on their birth order. Conversely, the Shona people of Zimbabwe choose nature-inspired names for their babies, whereas the Tswana people from Botswana choose names based on the circumstances surrounding the child's birth. Like these, several specific naming traditions and customs can vary across diverse African cultures.
3. What African names mean 'star'?
Anangikwe, derived from the terms anang 'star' and ikwe' woman,' means star woman in Ojibwe. Nthanda is another name commonly used in Southern Africa and means 'star' in Tumbulka. Some other titles that are commonly used in Africa and are associated with stars are Danica and Aster.
4. What is the African name for 'queen'?
Thema is a beautiful name that means 'queen' in Akan. Some other African titles associated with queens are Makeda, an Amharic name related to the Queen of Sheba, who is believed to have ruled over some parts of Ethiopia and Yemen. Nzinga is a Bantu name derived from Njinga. It was the name of the queen of the Ndongo and Matamba Kingdoms in the 17th century.
References:
MomJunction's articles are written after analyzing the research works of expert authors and institutions. Our references consist of resources established by authorities in their respective fields. You can learn more about the authenticity of the information we present in our
editorial policy
.
Look Up For Many More Names
Do you have a name in mind and want to know more about it? Or want to find names belonging to a particular origin, religion, or having a specific meaning? Use our search tool below to explore more baby names with different combinations.
The following two tabs change content below.