96 Australian Baby Girl Names With Meanings
Graceful wonders from down under; these names from Oz will leave you in awe!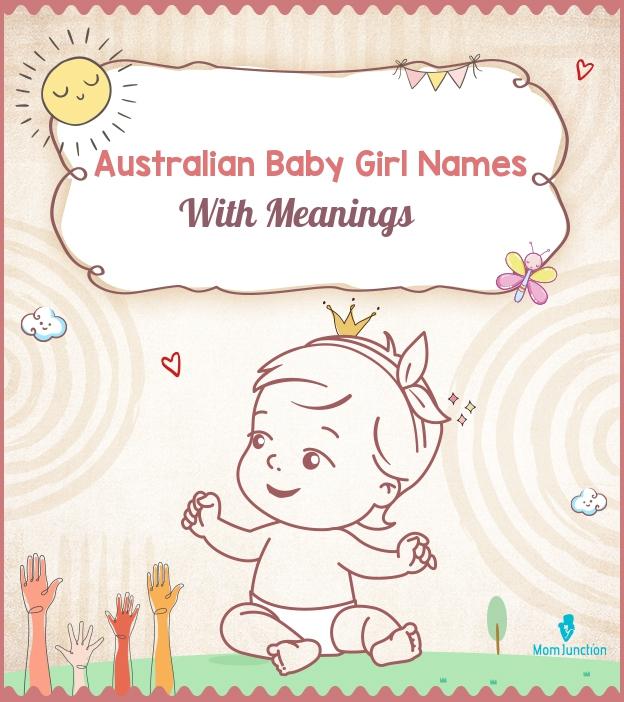 Australia is a land that has borne witness to numerous important historical events that have molded the culture and traditions of the land. Such events have evidently influenced Australian girl names. Australia, also known as the Land Down Under due to its position in the southern hemisphere, is a land of great uniqueness and diversity. As an Island continent, it is separated from the mainland by thousands of kilometers of ocean; the flora, fauna, and people of the land thrived and developed in diverse manners. Additionally, Australia's indigenous inhabitants are the Aboriginal and Torres Strait Islander people (1). They possessed unique dialects and naming traditions long before being colonized. The first colonization of Australia by European settlers was done in the 1700s by a British Royal Navy captain who formed a penal colony (2). The colonization of this land led to an amalgamation of cultures, traditions, and languages and, in doing so, altered the naming system as well. Australian names adopted today are a prime example of this island nation's rich and diverse culture. Following the initial colonization of Australia by the British, as the years flew by and the world slowly became a global village, numerous people from all around the world migrated to Austria in search of a new and prosperous life. This further thickened the melting pot of cultures that we know today as Australia. Australian girl names that are adopted in today's day and age have origins that span the globe. Some of the names that are adorned by the young bright-eyed little cherubs include names such as Amelia, meaning 'One who is industrious,' Ella, meaning 'One who is a beautiful fairy,' and Laniyah meaning 'A light that is found within.' Read through the extensive list of Australian girl names that we have compiled so that you can find something suitable for your dear little one.
Name
Gender
Meaning
Amelia
Girl

Hardworking and industrious

Ava
Girl

Guarantee

Charlotte
Girl

Free person; Petite

Chloe
Girl

Fresh blooming; Ripe green shoot

Ella
Girl

Beautiful light; Goddess

Grace
Girl

Goodness; Generosity

Harper
Unisex

Harper

Ilina
Girl

My God is Yahweh

Isla
Girl

Island

Mia
Girl

Mine; Dear; Darling

Noah
Unisex

Rest

Olivia
Girl

Peace; Olive tree

Aase
Girl

The mountain covered with trees; God

Aayla
Girl

Top of the mountain

Alarna
Unisex

Rock; Harmony

Aleeta
Unisex

Truth

Alirah
Girl

Quartz stone

Alisah
Girl

Great happiness; Huge delight

Allirea
Girl

Quartz

Alyne
Girl

Light

Anele
Girl

Enough; This Name is Given to the Last Born

Araluen
Unisex

Water lilies; A place of thewater lilies

Aussie
Unisex

Australian; One from Australia

Bluey
Unisex

A colour

Celyse
Girl

A heavenly, dim- lighted person

Centaine
Girl

An admirable, individual, assertive, and kind lover

Ciji
Girl

Cute; Unique

Cra
Girl

Absolute and pure; Elegance; Decency

Daryllyn
Girl

Beautiful one

Daynan
Girl

Kind hearted being; A variant of Dana

Dingo
Unisex

Resembling the wild dog

Elsea
Girl

One who is devoted to God; One who is pledged to God

Elula
Unisex

August

Emu
Unisex

Large, flightless Australian bird

Euroa
Unisex

A place in Australia

Gelisa
Girl

Girl with yellow color or golden colored hair

Geneth
Girl

Person who is very close to God

Halena
Girl

Light; Brightness; Shining one

Hba
Girl

The glowing one; Radiant one

Inala
Unisex

Abundance; Place of peace

Jerra
Unisex

Bold; Strong

Jimi
Unisex

Independent ; Urge to face new challenges in life and enjoy their life; Creative and focus on their physical appearance

Jimmi
Unisex

Communicative, out going, positive and full of energy people who strive hard to achieve their goals; Love travelling, friendship and new things

Jimmie
Unisex

Responsible, diplomatic and have desire to face challenges and are adventurous. They can easily change their habits because of having dynamic nature

Jinelle
Girl

Introverted and sensitive; Hardworking, calm, and family-oriented

Jomana
Girl

Noble; Musical; Decisive; Old fashioned

Jomarie
Girl

Radiant, knowledgeable, eager learners

Jonda
Girl

Joyful, sincere, trustworthy

Jondi
Girl

Loyal, efficient, noble

Jondy
Girl

Dazzling, ambitious

Jonette
Girl

Happiness, elegance, natural

Jonila
Girl

Rejoicing; Career-prominent, joy-bringers

Jonnelle
Girl

Rejoicing; Ambitious, enchanting

Jono
Girl

Fun, cherishing, young

Joo
Girl

Blessing-increasing, exotic

Joyanne
Girl

Happiness, jubilation, rejoice; Born elegant and natural

Joyce
Girl

Lord; Rejoice

Joyelle
Girl

Rejoice

Joylyn
Girl

Joyful one

Jozefa
Girl

God will increase his blessings

Jula
Girl

Young; Unique; Enjoyable

Juley
Girl

Youthful; Feminine variant of Julius; True friendship

Juli
Girl

Youthful; Dreamer; Idealistic; Strength and agility

Juliann
Girl

Young or youthful; Lively

Julieth
Girl

They are heavenly sorts of persons. They have a very simple lifestyle, are elegant, and are easygoing. People are impressed by their simplicity and strong spiritual nature.

Julietta
Girl

Downy-bearded; Jove's child; Youthful; Corn sheaf

Julij
Unisex

Joyful; Strong, courageous; Lively

Juliusz
Unisex

A unique name

Juliza
Girl

A name with strong spirit

Julja
Girl

A name with strong spirit

Kambri
Unisex

Place of meeting

Keily
Girl

Slender; Graceful

Koala
Unisex

No water

Lanesra
Unisex

Enigmatic; Mysterious; Unique

Laniyah
Girl

A light that is found within

Leueua
Girl

Volcanic matter; Lava

Leueue
Girl

Magma; Lava

Leuieua
Girl

Volcano; Lava

Lowan
Unisex

Mourning dove

Marliya
Unisex

Unique; Meaningful

Marretje
Girl

A wished-for daughter

Marrin
Unisex

Like the sea

Mayrah
Girl

Beloved; Love

Merindah
Girl

The person with emotional admiration

Mitchell
Girl

Who is like God

Moona
Girl

One who gives or provides light

Mozzie
Unisex

Wrong meaning

Myella
Unisex

Unique and feminine

Nansy
Girl

God has forgiven me

Narelle
Girl

Lake; The wife of a leader of Yuin

Nathra
Girl

Brief or incomplete view

Nioka
Unisex

River spirit

Olja
Girl

Sacred, Sanctified; Consecrated; Hallowed

Raleine
Girl

Modern combination name

Sharmin
Girl

Sweet, pleasant, charming

Taleigha
Girl

Lamb of God
Australian girl names are so diverse that they are symbolic of the culture of the land that has had numerous external influences. Australia is a land of innovation and a land where people from all over the globe have settled and now live in harmony. The naming traditions and names bestowed upon the young mirror this melodious harmony that the people live in. We hope this extensive list of names proves helpful in your name hunt and provides numerous potential names that you can save for future reference.
Infographic: Authentic Australian Baby Girl Names With Meanings
Australia is predominantly a confluence of Aboriginal and English cultures. However, thanks to globalization, the continent is land to various cultures across the globe. The infographic below presents baby girl names from Australia with their meanings. So, go through the interesting list and choose your best-loved title for your dearest daughter.

Frequently Asked Questions
1. Which Australian name means princess?
The name Affy is believed to be an Australian name that means princess. Sarah, which means 'lady,' 'princess,' or 'noblewoman,' is also used in Australia.
2. What are some vintage Australian feminine names?
Some Australian feminine names that are vintage and classic are Pauline, meaning 'small' or 'humble.' and Helen, meaning 'torch.' Anne, meaning 'favor' or 'grace,' is also a classic Australian name, along with Margaret meaning 'pearl.' These names have a vintage charm and are still occasionally used today.
3. How has the increasing popularity of unique and unusual baby names affected Australian baby girl names?
Parents today are more inclined to choose uncommon names to set their children apart from the crowd. This has led to an expansion of naming options and a greater diversity in Australian baby girl names, with parents opting for names that are distinctive and not commonly heard. Some examples include Tanami, the name of a desert in Northern Australia; Allirah, meaning 'iris flower' or 'lily,' and Amynta, meaning 'defender.'
References:
Look Up For Many More Names
Do you have a name in mind and want to know more about it? Or want to find names belonging to a particular origin, religion, or having a specific meaning? Use our search tool below to explore more baby names with different combinations.
The following two tabs change content below.