162 British Baby Boy Names With Meanings
Sophisticated and quintessentially rich names from the land of royals.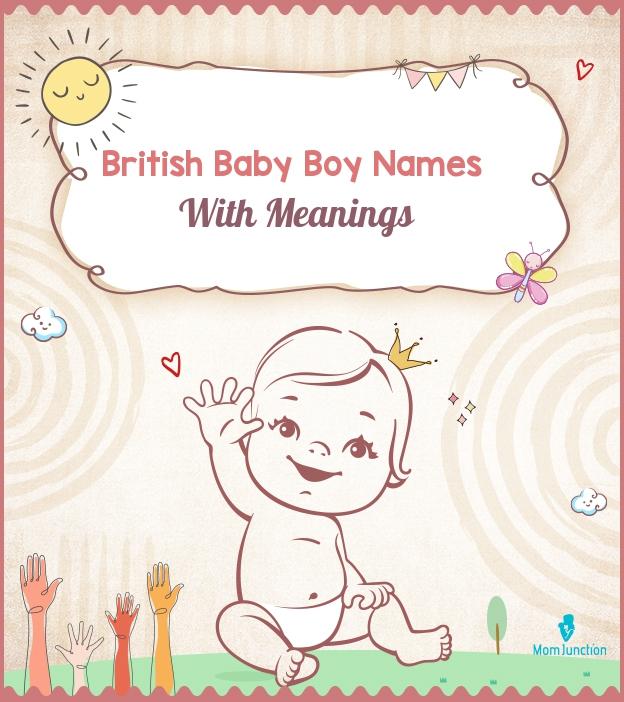 British boy names have a compelling charm, often taking influence from famous people, the natural world, and deep-rooted customs. This post presents a carefully curated list of popular British boy names and provides details of their etymologies and meanings.
British names have a distinct style and are often a step or two ahead of American and Australian baby names. Some of the most popular names in Scotland, England, and Wales are still underused in the United States. These names represent Britain's rich history and geography, including tales of kings, conquerors, and historical sites. The British name landscape offers a wide range of possibilities to consider, whether you're looking for a classic name or a one-of-a-kind treasure.
The British names are typically arranged as the first name, followed by the middle-given name(s), and finally, the FAMILY NAME. In accordance with British tradition, children are given their father's family name when choosing a surname. This practice is not, however, mandatory, and some parents may give their children a surname with the mother's and father's family names hyphenated.
Historically, several boy names in Britain originated in nature, indicating Britain people's close relationship with the natural world. Names such as 'Oliver,' inspired by the emblem of peace or the olive tree, and 'Kenal,' derived from the Old British term Cunosaglas, which means generous chief, radiate a sense of strength and natural beauty. Furthermore, you may discover a variety of choices as you browse through our collection of British boy names, from classy and poised to powerful and tough. Some names have become well-known options on a global scale, while others are still cherished customs in the British Isles. You'll likely find a name that resonates with your vision for your child's future, whether you're inclined to names steeped in mythology, derived from nature, or repeating the echoes of previous eras. Read on!
Name
Gender
Meaning
Aiden
Unisex

Little fire

Benjamin
Boy

Son of the right hand; Son of the south

Daniel
Boy

God is my judge

Ethan
Boy

Strong

Henry
Boy

Home ruler

Jack
Boy

God is gracious

Jacob
Boy

May God protect; Holder of the heel; Supplanter

Logan
Boy

Little hollow

Oliver
Boy

Olive tree planter

Aariyeh
Boy

Desiring spirituality and enjoying isolation and meditation

Aberforth
Boy

From the rivera in Gaelic

Atkin
Boy

A British surname

Atkins
Boy

Son of atkin

Bleiz
Boy

Old Breton word meaning wolf

Braddlee
Boy

Broad clearing in the woods; Also spelled Bradley

Bretton
Boy

Man from Britain

Caecca
Boy

British male name

Cafa
Boy

British male name

Calunoth
Boy

A british male name

Cameleac
Boy

British Boy name

Camvlorigi
Boy

A British name for Boys

Canains
Boy

A British Boy name

Caratauc
Boy

A British male name

Carbani
Boy

A British male name

Carileph
Boy

A British male name

Catomaglus
Boy

English male name

Catuoconi
Boy

A male name of British roots

Ceabba
Boy

English male name

Ceagan
Unisex

An unisex British name

Cealfa
Boy

English male name

Cealin
Boy

English male name

Eadbald
Unisex

A person who enjoys beauties of nature

Eadwald
Boy

Rich ruler

Earcna
Boy

Friend of the sea

Eastorwine
Boy

A person who has qualities of a leader

Edde
Boy

One who is wealthy; Swedish form of eddie

Entriken
Boy

A family name of a famous ancient dynasty from Great Britain

Giedda
Boy

A pleague that strikes domestic animals

Gondefle
Boy

One with a restless nature

Gonemanus
Boy

The one who loves to live an independent and adventurous life; Who can lead and direct everyone to do; The one who will not give away

Gordon
Boy

Fertilized pasture

Gordy
Boy

Great hill

Gore
Boy

Spear

Goren
Boy

Barn floor; Granary

Gosa
Boy

One with a clever mind

Gosalaka
Boy

Nervous and aggressive

Gosbeorht
Boy

One who wants to live solitarily

Gosfrid
Boy

One who can analyze problems quickly

Graysen
Boy

Son of a gray-haired man

Grayson
Boy

Son of a gray-haired person

Grayvesone
Boy

Son of the gray-haired man

Greelea
Boy

One who is ambitious

Greeleigh
Boy

Responsible and serious.

Greeley
Boy

Very disciplined

Greely
Boy

Very disciplined

Green
Boy

From a grassy village

Greenberry
Boy

Inspiring, graceful, and kind being

Greenlee
Boy

One who is very analytical

Greenley
Boy

One who is very analytical

Greeshawn
Boy

Kind-hearted and gentle

Greg
Boy

Vigilant; Watchful

Greger
Boy

A good learner and determined individual

Gregg
Boy

A great leader

Greggory
Boy

Vigilant

Gregor
Boy

Watchful

Gregory
Boy

Alert; Watchful

Gregson
Boy

Son of Greg

Greidiawl
Boy

Quick-tempered and disciplined

Grendel
Boy

Imaginative and idealistic

Grenville
Boy

Big town

Gresham
Boy

A village surrounded by pasture

Greshawn
Boy

Competent and powerful

Grimaldus
Boy

Fierce; Bold

Grucinan
Boy

One who loves the beauty of nature

Guainint
Boy

One who loves fervor and flexibility

Guallonir
Boy

One who loves fervor and flexibility

Gucaunus
Boy

Aggressive beings with strong leadership qualities

Gudfrid
Boy

The one who loves to live life on principles to achieve success, with imaginative and creative ideas

Gudule
Boy

One who loves to search and find the reason for every thing

Guedgen
Boy

One who loves health is wealthy, and technical

Guedguen
Boy

Lively, imaginative, and expressive

Gueiluirth
Boy

One with a strong emotional nature

Gueithgno
Boy

One who is highly knowledgeable

Guencat
Boy

Skilled and efficient

Guerngen
Boy

One who is very hard-working

Guillermin
Boy

One who is cheerful, gorgeous and ideal

Guinebas
Boy

One with many qualities and artistic

Guinemains
Boy

Practical and intelligent

Guingual
Boy

One with negative influences in their life

Guingualum
Boy

One who is very creative

Guirec
Unisex

Secretive; Reliable; Passionate

Guodloiu
Boy

One with a sterling quality but who does not give an overall stability

Guonocatui
Boy

One with strong feelings and desire

Gurcano
Boy

One's personal experiences; A strong urge for independence

Gurcant
Boy

Creative; Imagination

Gurcanti
Boy

Emotional and somewhat boisterous

Gurceneu
Boy

Quiet; One with an inventive mind

Gurceniu
Boy

Systematically intelligent; Possessing a clever mind

Gurcenou
Boy

Expression; Expressive

Gwrgi
Boy

One who is perfectionist
Each name in the category of British boy names captures an aspect of the nation's intriguing past and wide-ranging culture. These names have deep historical and cultural associations with Britain. Whether you choose a well-known name or a pleasantly unusual one, your decision would be a tribute to the country's fascinating history. We hope this list helps you choose a name that has a special meaning for you and marks a new chapter in your family's history.
Infographic: Sophisticated British Baby Boy Names
British boy names combine influences and cultures from a rich past and different places. Great Britain has been the home of several tribes and has seen an influx of new populations throughout history. This has led it to have several fascinating names derived from a confluence of languages. Find the best ones in this infographic.

Frequently Asked Questions
1. Do the British have three names?
Yes, it is common for the British to have three names, although it is not universal. The naming structure in the UK often consists of a first, middle, and last name. The first name is the individual's given name, which their parents choose. On the other hand, the middle name can vary in number and is selected based on family traditions or personal preferences. The last name is typically inherited from one's parents and reflects family lineage.
2. What are some traditional British baby boy names?
William, Henry, and Edward are a few traditional British baby boy names with profound cultural and historical significance. William has been popular in the UK since the 10th century after King William led the Norman conquest. Henry is a name popularized by the prominent figure Henry I, who ruled England in the 12th century, and eight British kings bore this name. Edward is a classic name borne by many Anglo-Saxon kings. These names have been popular for generations and carry a sense of regality and leadership.
3. What are some popular modern British baby boy names?
Noah is a popular British name that means 'rest' or 'repose.' British actor Noah Marullo is a famous name bearer. The name Oliver is also popular in the UK. British actor Oliver Coleman, best known for playing Toby in The Line of Beauty, is a famous namesake. Prince William and Princess of Wales Kate Middleton chose the popular name George for their son. Arthur is also a classic baby boy name. British writer Sir Arthur Conan Doyle is a famous name bearer.
Look Up For Many More Names
Do you have a name in mind and want to know more about it? Or want to find names belonging to a particular origin, religion, or having a specific meaning? Use our search tool below to explore more baby names with different combinations.
The following two tabs change content below.