197 Chinese Baby Names With Meanings
Rejoice in oriental delight with timeless treasures from the Land of Dragons.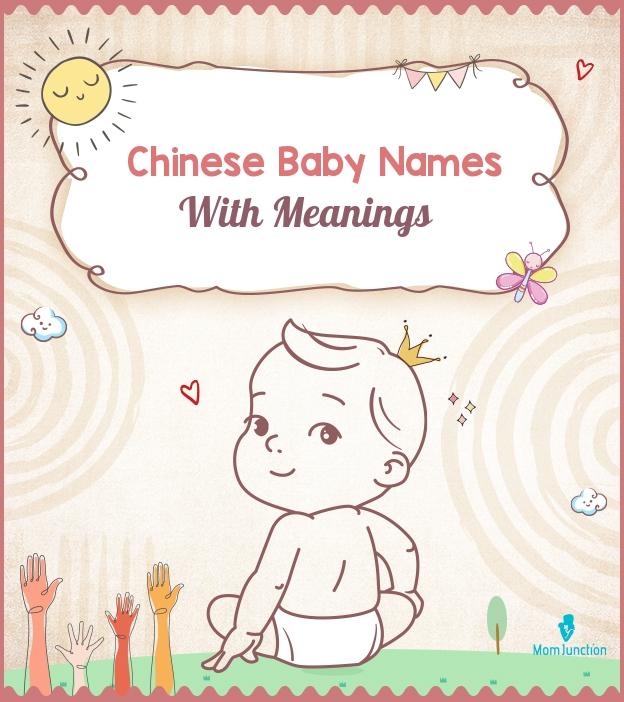 Are you looking for an offbeat baby name for your child? How about exploring some Chinese baby names? Like the years-old Chinese heritage and culture, even Chinese names symbolize virtue, ancient treasures, and serenity. There's an extreme diversity in Chinese names due to the different dynasties, religions like Taoism, Buddhism, and Confucianism, and, of course, Mandarin and Cantonese dialects. Chinese names are mainly made up of a few characters. The family name is the first character, followed by the given name. The characters should combine in such a way that it brings prosperity and good luck to the child, as the meanings of names are very significant to the Chinese people. They believe that a good name brings fame and respect to the bearer and a name with a bad meaning brings a hard life. Traditional Chinese male names connote prosperity, strength, and characteristics parents hope their babies inherit. On the other hand, baby girl names skew towards nature, beauty, and grace. Chinese naming convention follows a different order than the Western tradition. They add their given name after their surname or family name. And women typically do not alter their surnames after marriage (1). The titles often feature one or two characters with deep symbolic meaning and ideal characteristics that Chinese parents highly value, including beauty, intelligence, compassion, and strength. When naming their children, they adhere to this practice. Baby girls are frequently given delicate feminine names with calming overtones to complement their naturally masculine family names. Another historic naming custom in China is the milk name or small name, which is given to the child at birth (2). If you've decided to choose a Chinese name for your child, you've stumbled upon the perfect place. Our post has a rich resource of Chinese baby names with meanings. Have a look!
Name
Gender
Meaning
Ai
Girl

Love; Affection

Alix
Girl

Noble

An
Unisex

The one who is gracious and satisfying

Bai
Girl

White and crystal clear; Pure

Bambang
Boy

A knight or a soldier

Bao
Unisex

Jewel; Treasure; Precious

Barde
Boy

One who Sings Ballads

Bartek
Boy

Son of Talmai; Farmer's son

Bartolomeo
Boy

Son of a farmer

Beaufort
Boy

From the Beautiful Fort

Bence
Boy

Victor

Bengt
Boy

Blessed; To give honor or glory to a person or thing as divine or holy

Benjimen
Boy

Right-hand son; Similar to Benedict; Son of the right-hand

Benyamin
Boy

Jacob's youngest son; Son of the right-hand

Bergin
Boy

Spear-like; Lives on the Hill

Bernarda
Girl

Feminine of Bernard

Berndt
Boy

Brave Like a Bear

Berthold
Boy

Brilliant Ruler; Bright Strength; Renowned Leader

Bethsheba
Girl

Oath

Bi
Girl

A Chinesee name meaning Green Jade

Biaggio
Boy

One who stammers

Bik
Boy

Stride; Strong

Billi
Girl

Will-helmet

Biming
Boy

As clear as jade; a homestead provided for people

Binyamin
Boy

Son of the right hand

Blaike
Boy

Light

Bo
Girl

To live; Powerful

Bolin
Boy

An elder brother of the rain

Caihong
Girl

Rainbow

Cao
Unisex

Grasp

Chang
Boy

Flourish; Good; Sunlight; Unrestrained

Change
Boy

Adoption of a different route

Chao
Unisex

The one who surpasses

Chaun
Boy

The one who has financial and emotional security

Chen
Boy

Morning; Grace

Cheng
Unisex

Completed; Sincere

Chenric
Unisex

Amazing morning

Cheung
Boy

Fortunate man

Chin
Boy

Variant of Jin

China
Unisex

Filled with affection

Chu
Girl

Pearl; A precious jewel used worldwide

Chun
Unisex

The spring season; the season of blooms

Chung
Boy

The person who is wise and has deep understanding in various matters

Cong
Unisex

Intelligent; one who has lots of wisdom and excels in every aspect

Cui
Girl

A Prince; advent of night

Da Xia
Girl

Biggest hero

Delun
Boy

One who lays down order and gives justice

Dingbang
Boy

One who protects his country

Dishi
Boy

A man of high virtue

Disung
Boy

A worthy and truthful person

Diu
Girl

One who is down to Earth and a practical person

Fa
Boy

A new beginning

Fai
Boy

Beginning

Fan
Boy

Short from Francis; A famous bearer

Fang
Boy

A pen for sheep

Feng
Boy

One who is like a phoenix; Maple

Fu
Boy

Well-to-do; Prosperous

Gang
Boy

Hard; Rigid; Strong

Genji
Girl

Gold; Two beginnings

Gho
Girl

A responsible and inspirational being

Guang
Boy

Light

Guo
Girl

The wall that surrounds a city

Hao
Boy

Good; Perfect

He
Unisex

The harmony and peace the river brings

Hee
Girl

lotus

Heng
Girl

Constant; Steady; Persistent

Hien
Girl

Gentle; Nice; Quiet; Persevering

Holea
Girl

Holy

Holwell
Boy

Lives by the Holy Spring

Hong
Boy

Rainbow; Enlarge; Wild Swan

Hop
Girl

Agreeable; Consistent; A variant of hope

Horacio
Boy

Timekeeper

Hou
Boy

One who is a lord; A nobleman

Hu
Boy

Tiger; Vigorous; A Nature God

Hua
Unisex

Splendid; Flower; Blossom

Huan
Girl

Fortunate; Happy; Pleased

Huang
Boy

Bright yellow

Hui
Unisex

Sharp; Quick; Clever

Hyson
Boy

Flourishing spring; A name after an English tea merchant

Jia
Unisex

Good; Auspicious; Beautiful

Jia Li
Girl

Good and Beautiful

Jian
Boy

Condition of being agreeable or upbeat

Jiang
Boy

Flowing river; Determined and constant

Jiao
Girl

Lovable teacher

Jiao-long
Boy

Resembling a dragon; Scaled dragon

Jie
Boy

One who is pure and chaste

Jiei
Boy

A variation of Jie; Denotes a prominent and successful person

Jig
Boy

Quick; A person with swift speed

Jilpa
Girl

A person who gives life to other; A teacher of life.

Jin
Boy

Gold

Jing
Boy

Still; Crystal; Essence; Capital city

Jing-sheng
Boy

Chinese; Born in the city or Beijing

Jonah
Boy

Dove

Jordell
Boy

Unique thinkers; Beekeepers

Ju
Girl

Chrysanthemum ; Daisy flower

Ju-long
Boy

Powerful and gigantic ; Strong and mighty like a dragon

Juan
Boy

God is gracious; God is merciful; Yahweh is gracious

Judaala
Boy

Thoughtful; Joyful

Julissa
Girl

People with this name are sweet, absolute, and unique in personality. They are filled with energy and aim to please every person they meet.

Jun
Boy

Pure; Clean; Truth; Talented; Handsome; Ruler; King
As one of the most populous nations in the world, China has a lot to offer when it comes to beautiful and thoughtful baby names. Shaped by their rich historical culture and philosophies, Chinese baby names are a fine balance of refinement and aspired human attributes combined with their reverence towards their ancestor. These names are coupled with modern influence and are vibrant examples of symbolic meanings, historical traditions, and the contemporary social fabric of Chinese society.
Infographic: Delightful Chinese Baby Names With Meanings
Chinese baby names are symbols of the country's vibrant culture and long history. They often reflect vital virtues such as power, beauty, and wisdom. Western and traditional naming cultures have been combined in recent years, radiating a special fusion of tradition and modernity in their naming patterns. Go through the infographic below for some highly adored Chinese names for your baby.


Frequently Asked Questions
1. Which are some classic Chinese names?
Modern Chinese names have a mono-symbolic surname. It is followed by a given name with two characters. Some classic names are Xiu, meaning elegant, Zihan, meaning child, Shi, meaning honest, and Tao, meaning large waves.
2. Which Chinese names mean beautiful and elegant?
Many sweet names in Chinese imply beauty and elegance. Fang, a girl's name, means beautiful. Mei also means beauty. Xiù means elegant and beautiful. Wan is another short name that implies grace.
3. Which Chinese names mean flower and rose?
Many pretty Chinese names symbolize flowers and roses. Li Mei is a Chinese name that means 'pretty rose.' Hua means 'flower,' while Lan means 'orchid flower. Sai also means 'a friend and a flower.'
4. Which Chinese names mean lucky?
There are not many names that mean lucky in Chinese. Jiayi, pronounced as CHYA-EE, means auspicious.' Wei Qi is a male name in Chinese that means 'very lucky.'
5. Which Chinese names mean love?
Many Chinese names are symbolic of love. For example, Aibing means love, Ài means love and affection, and Mei is another name that means love.
6. Which Chinese names mean moon and star?
Many names in China refer to celestial bodies. The popular Chinese name Yue means moon, Sying means star, and Mei xing means beautiful star. You can use them for little girls.
7. How do Chinese names differ from Western names?
Chinese names are different from Western ones as they start with the family name. It is followed by the given name. The family name consists of one syllable. When deciding the name of a child, you will often find that males of the same generation in a traditional family have the first character of their given names in common (1).
References:
MomJunction's articles are written after analyzing the research works of expert authors and institutions. Our references consist of resources established by authorities in their respective fields. You can learn more about the authenticity of the information we present in our
editorial policy
.
Look Up For Many More Names
Do you have a name in mind and want to know more about it? Or want to find names belonging to a particular origin, religion, or having a specific meaning? Use our search tool below to explore more baby names with different combinations.
The following two tabs change content below.