12042 English Baby Names With Meanings
Conform to elegance and charm with these choices that are a fit for a fairytale.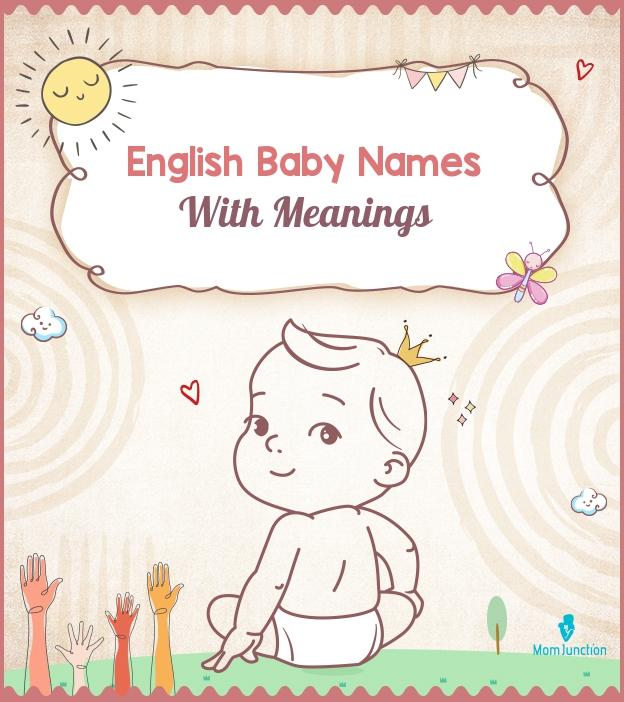 English has been around since 450 CE (1). Hence, it is no surprise that English baby names are famous worldwide. English, spoken by over a billion people, is the world's lingua franca. The language of Dante, Shakespeare, and Queen Elizabeth, English has a universal magnificence, which elevates even the simplest write-up to a nifty piece of art. There's no dearth of attractive names in the English language. Many of these names traveled to the US with the early settlers and set up homes in the new country. With such an ancient language, many influences have shaped modern names. Biblical names such as John and Hannah have always been a part of religious English culture. Historical names, including Charles and Isabel, also found a permanent place in English royalty.
Moreover, names having cultural associations, such as William and Charlotte exude a timeless charm and literary prowess. There's a trend of using English surnames as given names, such as Bradley and Cameron. Vocabulary words like Hope, Charity, and Summer are also being used as given names. The stock is further increased by traditional and classic names like Alicia, Emily, Marshall, Nicholas, and their short forms. In recent years, celebrity names like Margaret and David have found new favor with parents. With diminishing global and cultural boundaries, regional variations are commonly used among English baby names. For example, Sean for John and Siobhan for Joan give a regional twist to regular English baby names. English baby names have blended with other languages and taken their place in several countries with their variations. For instance, names like Emma and Louis are popular in France. Maria is famous as an Italian and Swedish name, while Adela and Daniel are well-known Spanish names. Below is our wide selection of English baby names with their meanings and additional information. It will surely help you pick the perfect name for the latest member of your family.
Name
Gender
Meaning
Aaget
Girl

Diamond

Aamber
Girl

A precious jewel or gemstone; Warm honey color

Aaralyn
Girl

With song; A woman with song

Aaren
Boy

Lofty; Inspired; High mountain

Aaric
Boy

Rule with Mercy; Graceful Ruler

Aaron
Boy

Enlightened; High mountain

Aart
Boy

Stone; Bear; Thor; The eagle; A variant form of Arthur

Aaryn
Unisex

Mountain of strength; Enlightened

Aayden
Boy

Someone like fire; Fiery

Abacuck
Boy

One who likes to seek adventure and travel

Abbatissa
Girl

Feminine head of an abbey

Abbe
Boy

My father is joyful; A Variant of Abby

Abbigale
Girl

Joy of my father

Abbo
Boy

A Condiment (Mudama Origin)

Abbreithe
Girl

One who is a lady's maid

Abelia
Girl

A person who looks for over a flock or herd

Abell
Boy

Exhalation of Breath; A Variant of Abel

Abelota
Girl

An eager; Able and balanced person

Aben
Boy

Stands for father of many or multitude

Abhatha
Boy

A cultural and enthusiastic person

Abhigita
Boy

A happy go lucky and spontaneous person

Abigaill
Girl

The joy of my father

Abigaille
Girl

The rejoice of my father

Abigale
Girl

Father's joy

Abigayle
Girl

The joy or happiness of Yahweh

Ablamar
Boy

A bright, lonely and accepting being

Abo
Boy

Father; Short form of name Abott

Abrey
Unisex

Strong; Independent; Unique

Absidee
Girl

One who impresses others and is elegant

Abygayle
Boy

One who is the father of many people

Acea
Girl

Unique; Energetic; Free-spirited

Acelyn
Unisex

Beautiful; Serene

Acen
Unisex

Strength; Power

Acer
Boy

Unity in Latin; A variant of name Ace

Aceson
Unisex

Strong; Unique; Powerful

Aceyn
Unisex

Full of joy

Achaz
Boy

God is Holding; One that Takes or Possesses

Achestan
Boy

The stony land bearing oak trees

Achethe
Girl

A thoughtful; Honorable and clever person

Achim
Boy

Yahewh will establish; A name variant of Joachim

Achraf
Boy

Most Honorable One; A variant of Ashraf

Ackerleigh
Boy

Meadow Of Oak Trees; Division of land in English; A variant of Ackerley

Ackerley
Boy

Oak meadow; A variant of Ackley

Ackley
Boy

Meadow of oak trees

Acton
Boy

One who is placed or settled near the oak tree

Acwald
Boy

who is from the forest of oak

Acwuld
Boy

who belongs to the wood of oak

Acwulf
Boy

A wolf from the oak meadows

Adair
Boy

Rich spear

Adalai
Unisex

Noble, strong, graceful

Adalee
Girl

God is my refuge; Noble one

Adaleen
Girl

Elegant and noble

Adalson
Boy

Son of All

Adamaris
Girl

An invented English-American name, a possible combination of Ada and Maris

Adamsson
Boy

The son of Adam; From earth

Adcok
Boy

The offspring or the son of Adam

Adda
Girl

Ornament; Beautiful addition to the family

Addalee
Girl

Delicate; Cheerful; Feminine

Addaline
Girl

Noble; Honorable

Addalynn
Girl

Noble; Kind; Honorable

Addam
Boy

Son of the red earth; A variant of the name Adam

Addaneye
Boy

One who is living on a noble person's island

Adde
Boy

Noble

Addelyn
Girl

Noble; Honorable

Addi
Boy

A Variant of Adde; Noble; Nobility

Addileigh
Girl

A Beautiful or pleasant wood

Addiliegh
Girl

The wood, which is pleasant

Addis
Boy

Son of Adam; Son of the red Earth; A derivative of name Adam

Addison
Boy

Son of Adam

Addley
Unisex

From the meadow

Addney
Boy

Lives on the Noble's Island; A variant of Adney

Addysen
Unisex

Unique; Modern

Addyson
Girl

A form of Addison

Adean
Unisex

Noble; Gracious

Adelard
Boy

Noble strength; A variant of Abelard

Adelee
Girl

Noble; Kind

Adely
Girl

Noble and kind

Adelynne
Girl

Noble; Nobility

Adem
Boy

Virtuous; Fair; Pure; Moral

Adey
Boy

Of the earth

Adgar
Boy

A happy and peaceful spear

Adiana
Girl

Noble; Delicate

Adilyn
Girl

A noble or kind-hearted person

Adilynn
Girl

Noble; Kind

Adim
Boy

Man; A variant of the name Adam

Adiran
Boy

A man from Hadria; Dark one; A variant form of Adrian

Adison
Boy

A variant of the surname Addison; Son of Adam

Adisson
Boy

Son of Adam

Adisyn
Boy

The son or offspring of Adam

Adken
Boy

Oaken; A variant of Adkin, which means Man

Adkins
Boy

Son of Aiken; A variant of Adam

Adkyn
Boy

Oaken; A variant of Adkin, which means Man

Adlen
Girl

One with the curly hair

Adline
Unisex

Noble; Gentle; Delicate

Adlyn
Unisex

Noble; honorable

Admiral
Boy

A high rank in the navy

Adny
Boy

Lives on the Noble's Island; A variant of Adney

Ado
Boy

Awe-inspiring; Highborn; Without further ceremony; Noble; Nobility

Adolfo
Unisex

Noble wolf

Adolin
Boy

Noble; Honorable
English baby names have created a loyal audience worldwide. New parents all over the world are attracted to these names due to their timeless allure and the ability to morph into recent trends. These names are rooted in history, literature, royalty, and pop culture. They show versatility in their variety and meanings. English baby names, originally from England, have now traveled across the globe to reach new shores. Moreover, they have also assimilated the quirks of other languages and included their names.
Infographic: Eloquent English Baby Names With Meanings
English baby names have been around for a long time. They have also morphed to become new names that are now famous all over the world. New parents are enamored of these names because of their classic feel. Take a look at this infographic to get endearing English baby names for your little one.

Frequently Asked Questions
1. What customs and traditions are associated with English baby names?
English naming customs typically involve three elements - a given name, a middle name (s), and a family name. The British follow a patrilineal naming system where the child inherits their father's family name. However, following the patrilineal naming system is not mandatory. Instead, parents have the freedom to choose their child's last name. Some parents could also give their child the mother's last name. In contrast, others may provide both mother and father surnames in a hyphenated form, reflecting the flexibility in English naming traditions and customs.
2. How do English baby names reflect a person's heritage?
English naming conventions are diverse, encompassing people from different religions, ethnicities, and cultural backgrounds. Many parents may opt for names that mirror their ethnic and cultural connections. For example, parents of Irish heritage may choose titles like Liam. On the other hand, those of Greek origin might opt for names like Sophia or Alexander. Parents may also pick names that reflect their regional heritage. For example, Devon and Kent are names inspired by specific regions or places within England. Furthermore, many families pass down names from one generation to another or choose monikers inspired by literary and historical figures.
References:
MomJunction's articles are written after analyzing the research works of expert authors and institutions. Our references consist of resources established by authorities in their respective fields. You can learn more about the authenticity of the information we present in our
editorial policy
.
Look Up For Many More Names
Do you have a name in mind and want to know more about it? Or want to find names belonging to a particular origin, religion, or having a specific meaning? Use our search tool below to explore more baby names with different combinations.
The following two tabs change content below.