Origin, Meaning, and History of Eric
Eric is a name of Scandinavian origin, meaning "eternal ruler" or "ever-ruler." The history of the name Eric can be traced back to the Old Norse language, which was used in Scandinavia from the 8th to 11th century. The name Eiríkr was used as a personal name among the Vikings and became a common name in Scandinavia during the Viking Age. The name was popular among Scandinavian royalty and was used by several Norwegian and Danish kings.
Eric was introduced to England by Scandinavian settlers during the Viking invasions of the 9th and 10th centuries. Over time, it became popular among the English-speaking population, and by the 19th century, it had become a common name in England and the US.
Eric gained significant popularity in the US during the mid-20th century, reaching its peak in the 1950s and 1960s. At this time, the name was associated with the Baby Boomer generation and was considered a modern, stylish name. In Walt Disney's 1989 film, The Little Mermaid, the main hero was a dashing young prince called Eric. The movie was incredibly popular amongst young and old generations. In more recent years, the show "South Park" featured the character Eric Cartman, which is a testament to the name's popularity and relevance even today.
In recent decades, the popularity of the name Eric has declined, but it remains a classic and timeless moniker that continues to be used. The name has been a popular choice for parents in many countries around the world, including the US, Canada, Australia, New Zealand, and many European regions.
How To Pronounce Eric?
English
Famous People With The Name Eric
Eric Clapton

English musician, won 18 Grammy Awards and Brit Awards for his contribution to music

Eric Stoltz

American actor known for his outstanding performance in the biographical drama film Mask

Eric Dane

American actor known to play the role of Dr. Mark Solan in Grey's Anatomy

Eric Benet

American singer and songwriter known for his Grammy-nominated song Spend My Life With You

Eric Johnson

American footballer considered one of the best defensive linemen
Eric On The Popularity Chart
Eric is a classic and timeless name that has been around for centuries, contributing to its popularity. You can check out the name's popularity and rank over time right here!
Popularity Over Time
Eric was a massively popular name in the 1980s and 90s, with around 20,000 babies per million being given that name. However, its popularity started declining gradually after 1990 with only around 2000 babies per million being named Eric in 2020. The graph below will show you the trend.
Source: Social Security Administration
Rank Over Time
Eric started with a 12179th rank in 1980, but as its popularity decreased, the rank rose to 20655 in 2007. In recent years, its rank has improved slightly. Check out the graph to get a complete picture of its evolution.
Source: Social Security Administration
Names With Similar Sound As Eric
If you liked the sound and feel of Eric, but are looking for a name with a different meaning, here are some suggestions you may wish to consider.
Popular Sibling Names For Eric
Boy Sibling Names For Eric
Earcanwald
Earcna
Earconbehrt
Earconbert
Eirikur
Eohric
Eorcna
Eorconbeald
Eorconbehrt
Eorcongota
Girl Sibling Names For Eric
Earcongota
Earric
Ercongota
Erica
Ericka
Erika
Erikka
Erkengota
Eroica
Errika
Names With Similar Meaning As Eric
Like what Eric means, but want a different name to go with the same meaning? We've got you covered. Check out your options here!
Infographic: Know The Name's Personality As Per Numerology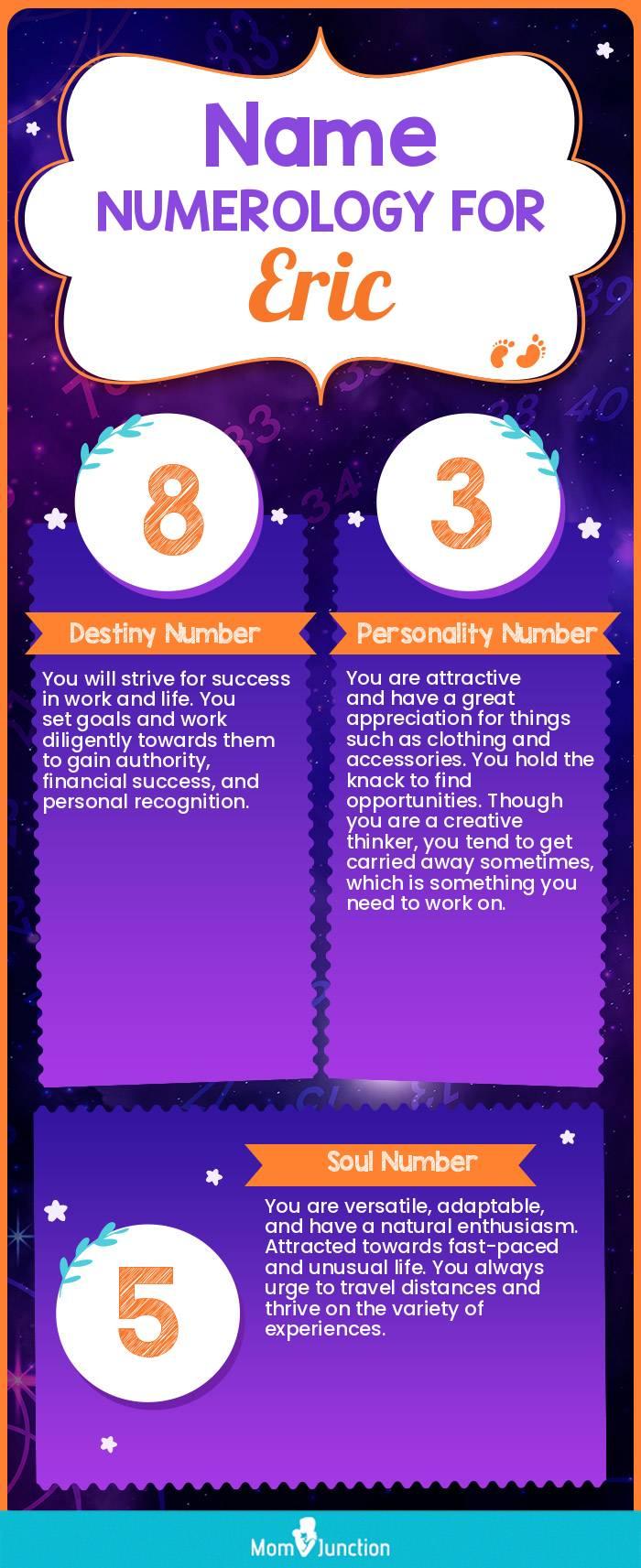 How To Communicate The Name In Other Languages
In Nautical Flags
eric
In Sign Language
eric
In Braille Alphabet
eric
In Morse Code
eric
Name Numerology For Eric






The following two tabs change content below.