2632 German Baby Names With Meanings
Rich in history, steeped in tradition, timeless in beauty.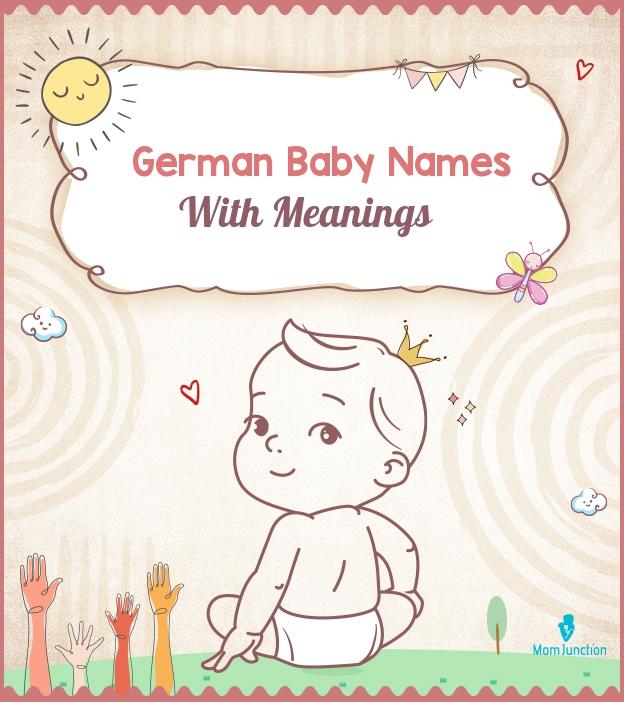 Parents have become very experimental these days and are now more open to baby names from other regions and countries than they were a decade ago. If you also want an exotic and distinctive baby name for your child, why don't you give some thought to German baby names? Even though the German language is known for being hard on the ears and twisting on the tongue, German names are truly beautiful. Personal names in Germany consist of one or more given names and a surname. A given name, or Vorname, as it is called in German, should be gender-specific. Selecting a name necessitates approval from the civil registry office. Formerly, it was common to name children based on their grandparents, yet this practice is diminishing in popularity. Conversely, Germans are progressively favoring English and other-origin names for their babies. And just like the naming conventions in most of Europe, even the Germans follow the order: given name followed by surname. Women often adopt their husbands' names after marriage. They can even retain their maiden name by using a hyphen. In German naming customs, a distinct tradition assigns names: the eldest son inherits the paternal grandfather's name, the second son adopts the maternal grandfather's name, and the third son assumes his father's name. This practice extends to females. Another tradition is that a subsequent child is named after a deceased sibling. Sharing names among half-siblings is not uncommon. Baptismal sponsors, who are often close relatives or trusted friends, also influence children's names. Adding 'in' or 'en' to surnames signifies a female's identity in the German language (1). The German surnames are either derived from geography or occupations. Last names or surnames of products or objects are not acceptable. When parents are unwed during the child's birth, the mother's surname typically becomes the child's birth name. A child born to German parents outside the country may lack a German surname, even if the name is entered on a foreign birth certificate (2). Below is our compilation of German names with meanings. And these aren't modern German names, but names with roots in German and Germanic languages.
Name
Gender
Meaning
Aada
Girl

Noble; A noble one; Adornment; The firstborn

Aadelheide
Girl

Noble

Aadne
Boy

Eagle; In Norway, it is the variant spelling of Adne

Aalis
Girl

A form of Alice; Noble

Aaron
Boy

Enlightened; High mountain

Aart
Boy

Stone; Bear; Thor; The eagle; A variant form of Arthur

Abbe
Boy

My father is joyful; A Variant of Abby

Abbey
Boy

Father; My father is light

Abbot
Boy

Father

Abbott
Boy

Father; Priest; Father of abbey

Abelard
Boy

Resolute and stubborn

Abelino
Boy

Unsure; Pet form of Avila

Abell
Boy

Exhalation of Breath; A Variant of Abel

Abidin
Boy

Father of Knowledge; My Father Knows

Abie
Boy

Father of Many; Diminutive of Abraham

Abijah
Boy

God is my father; Yahweh is my father

Abramo
Boy

high father; father of a multitude

Absalom
Boy

Father is peace

Absalon
Boy

God the Father is peace

Aby
Boy

Father of multitude or masses

Achaz
Boy

God is Holding; One that Takes or Possesses

Achim
Boy

Yahewh will establish; A name variant of Joachim

Acwulf
Boy

A wolf from the oak meadows

Ad
Boy

Majestic wolf; Earth; Son of Adam

Ada
Girl

Noble; First-born girl

Adabelle
Girl

Adornment; Noble; Oldest daughter

Adahlia
Girl

A noble person; A flower

Adaire
Boy

Wealthy spear or oak grove

Adal
Boy

Noble; Justice

Adalaide
Girl

Noble kind; Noble sort

Adalbeorht
Boy

The bright shining noble person

Adalbert
Boy

Nobly famous; Noble; Honorable; Famous

Adalbrecht
Boy

The bright or possibly shining noble person

Adalbrechta
Boy

A bright noble person

Adalee
Girl

God is my refuge; Noble one

Adaleigh
Girl

One who is honorable and full of morals

Adalena
Girl

Noble; God is just

Adalfieri
Boy

An oath of a noble person

Adalgar
Boy

A noble or wealthy spearman

Adalgisa
Girl

Noble hostage

Adalhard
Boy

A brave and tough noble person

Adalheid
Boy

Golden

Adalheida
Girl

A sweet and noble lady

Adali
Girl

A noble girl; Full of moral values

Adalia
Girl

Noble one

Adalicia
Girl

One who is of noble nature; Nobility

Adalie
Girl

A kind-hearted person

Adalina
Girl

Noble; Honorable; Of a noble kind; Ornament; A form of the name Adela

Adaliz
Boy

A sort of kind or noble person

Adallina
Girl

A person who is noble

Adalric
Boy

A wealthy or rich noble person

Adalrik
Boy

A noble or kind ruler

Adalwen
Boy

The noble companion or friend

Adalwin
Boy

The victory of a noble person

Adalwine
Boy

A friend who is kind and noble

Adalwolf
Boy

A noble wolf

Adalwolfa
Boy

A wolf who is noble

Adaly
Girl

Honorable; Ornamental shine

Adalyn
Girl

Noble; Honorable; Of a noble kind; Ornament

Adalynn
Girl

Noble; Honorable; Of a noble kind

Adar
Boy

Ruler; Prince; Fire

Addaley
Boy

An honorable noble person

Addalla
Girl

A kind, noble, and honorable person

Addelyne
Girl

The noble or sort of nobility

Addie
Unisex

Nobility; Variant of Adela

Addilyn
Girl

The pleasant noble lady

Addler
Unisex

An eagle; A person with the quality of an eagle

Ade
Boy

Crown; Royal; Peak; Man

Adela
Girl

Noble; Gentle

Adelade
Girl

Noble kind; Of the noble sort

Adelaid
Girl

Noble; Honorable; Of a noble kind; Ornament; Form of the name Adela

Adelaide
Girl

Noble; Kind

Adelaine
Girl

Noble person; God is just

Adelajda
Girl

An honorable and noble person

Adelar
Boy

A fearless noble warrior

Adelard
Boy

Noble strength; A variant of Abelard

Adelbert
Boy

A shining noble person

Adelbrecht
Boy

A bright and shining noble man

Adeldreda
Girl

A kind of noble and honorable

Adele
Girl

Noble type

Adeleine
Girl

Noble; Honorable; Of a noble kind; Ornament; Form of name Adela

Adelena
Girl

Noble; Honorable; Of a noble kind; Ornament; Form of name Adela

Adelgund
Boy

An honorable warrior

Adelgunda
Girl

Noble; Honorable; Fight; Noble warrior; Form of German name Adelgunde

Adelgunde
Boy

A noble and kind warrior

Adelhard
Boy

A firm and determined person

Adelheid
Girl

Noble; Honorable; Of a noble kind; Ornament; Form of name Adela

Adelheide
Girl

Noble; Honorable; Of a noble kind; Brightness; Ornament; Form of the name Adela

Adelhild
Boy

A noble battle or fight

Adelia
Girl

Noble; Honorable; Of a noble kind; Ornament

Adelice
Girl

One who is of a noble sort

Adelicia
Girl

An honorable one; A noble one

Adelid
Girl

One who is from the nobility

Adelie
Girl

Noble; Honorable; Of a noble kind; Brightness; Ornament; Form of the name Adela

Adelien
Girl

A pleasant person of the nobility

Adelin
Girl

An honorable and noble kind

Adelina
Girl

Noble; Nobility

Adelind
Girl

Noble Serpent

Adelinda
Girl

The sweetness of nobility

Adeline
Girl

Noble; nobility
German baby names carry a deep heritage and enduring charm that captivates parents. These names frequently echo potent cultural and historical importance, conveying notions of resilience, wisdom, and strength. Welcoming a variety of global inspirations, Germany's inclusive and expansive society has prompted a movement toward international names. Every entry on our list holds an individual legacy and significance for your cherished baby. Opting for a German name for your baby is a wonderful method to pay homage to ancestral customs or delve into Germany's absorbing cultural variety.
Frequently Asked Questions
1. What are some popular German baby names?
Some gender-neutral German baby names that can be used for both boys and girls include Max (Greatest), Alex (Defender of humanity), and Jan (God is gracious).
2. What are some cultural or historical references in German baby names?
Some cultural or historical references in German baby names include the name Wilhelm, which is associated with Wilhelm II, the last German Emperor and King of Prussia (3 ). Another culturally significant name is Friedrich, the name of the famous German philosopher Friedrich Nietzsche. Heidi is also a sweet name that served as the inspiration for the popular children's novel Heidi by Johanna Spyri (4).
3. What are some popular German baby names that are derived from nature?
Popular German baby names inspired by nature include Florian, meaning flower from the Latin word flora; Lennox, derived from the Gaelic term for a place of the elm trees; and Walden, which signifies a wooded valley.
4. Who are some famous people with German names?
Famous people with German names who have made significant contributions in various fields include Wolfgang Amadeus Mozart (one of the greatest composers of Western music), Heidi Klum (supermodel and TV personality), and Albert Einstein (renowned physicist with a Nobel Prize in Physics).
References:
MomJunction's articles are written after analyzing the research works of expert authors and institutions. Our references consist of resources established by authorities in their respective fields. You can learn more about the authenticity of the information we present in our
editorial policy
.
Look Up For Many More Names
Do you have a name in mind and want to know more about it? Or want to find names belonging to a particular origin, religion, or having a specific meaning? Use our search tool below to explore more baby names with different combinations.
The following two tabs change content below.