1790 Baby Girl Names That Start With Letter C
Creative, charming, cheerful, pick a C name that best suits your cherub.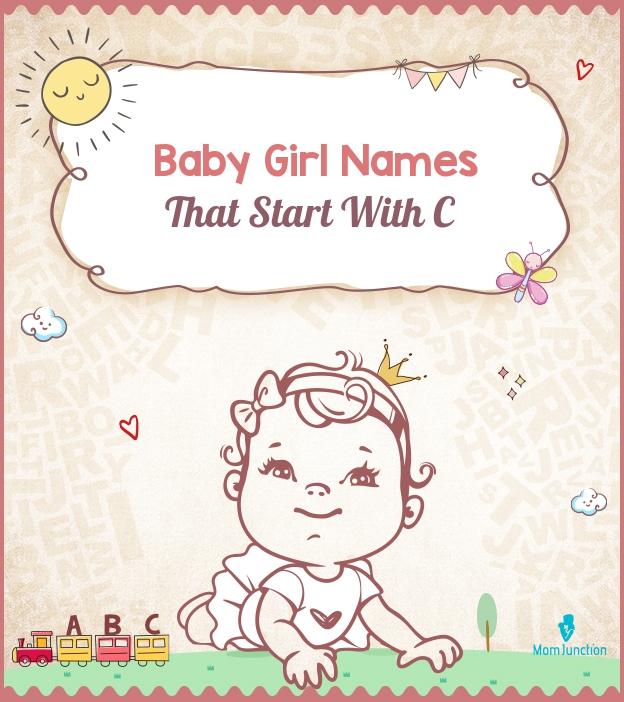 Naming a baby girl can be delightful and tricky at the same time when you have plenty of options to choose from. Baby girl names that start with letter C open a new world with each carrying its special charm, history, and meaning. These names are taken from various cultures, languages, and customs, and include the traditional and timeless names to the novel and modern ones. Names beginning with this letter have religious associations ranging from St. Catherine of Siena to St. Christina of Bolsena (1) (2). The letter C defines a versatile, competent, and skillful person. Those with this initial in their names are believed to be kind, gentle, and generous with their money. They want to be successful in whatever they do and work hard to achieve their goals. Girls whose names start with C are especially likable because they are charming, easygoing, and great conversationalists. Their articulate nature and excellent communication skills inspire and motivate people. They even try to find areas where they can utilize their talents best. Loyalty is extremely important for a C person. They are loyal, and they expect it in return. The letter C is equivalent to three in numerology. People with this number are driven by intuition and thrive on change, even if it sometimes seems intimidating. On the downside, C people can become aggressive when hurt. They even take too much on their plate at once and may not even finish what they start. So if you want your daughter to grow up with these same or similar skills, go for a name beginning with the letter C. Choose from the below list of names that represent varied positive attributes such as power, knowledge, kindness, beauty, and grace. You may also give your daughter's name a personal touch by infusing it with their ideals.
Name
Gender
Meaning
Caca
Girl

Daughter of vukan

Cache
Unisex

A place where things are stored

Cachet
Girl

Desirable and prestigious woman

Cactus
Unisex

Desert plant

Caddie
Girl

A free woman

Cadelaria
Girl

Woman born in Candlemas

Cadena
Girl

Rhythmic person

Cadence
Girl

Rhythm; Flow; Falling

Cadenza
Girl

Rhythmic woman

Cadey
Girl

Pure-hearted woman

Cadi
Girl

Pure woman

Cadie
Girl

She who is pure

Cady
Girl

A flow of sounds that has rhytm

Cadyna
Girl

Girl with good rhythm

Cadynn
Girl

Rhythmic girl

Cael
Unisex

Slender

Caela
Girl

A woman who is slender

Caeli
Girl

She who is crowned with the laurel crown

Caelia
Girl

Heavenly

Caelyn
Girl

A heavenly girl

Caemlyn
Girl

Woman from the skies

Caera
Girl

Beloved; Friend; Field

Caerda
Unisex

Italian surname from Venice

Caesarea
Girl

Woman leader

Caesaria
Girl

Empress

Caetlin
Girl

Pure woman

Caetlyn
Girl

Pure woman

Caetti
Girl

Short for Caitlyn: Pure

Cafna
Girl

Rhythmic individual

Cage
Unisex

A confiding space

Cagney
Girl

One who is caged and trapped

Cahaya
Girl

Radiance

Cahira
Unisex

Strong Warrior

Cahya
Unisex

Light in darkness

Caia
Girl

Pure; To rejoice

Caiah
Unisex

Strength, power, leader

Caid
Unisex

Warrior, fighter, strong

Caieta
Girl

Nursed Aeneas

Caige
Girl

A wise and wealthy woman

Caihong
Girl

Rainbow

Caila
Girl

Forest lady

Cailee
Girl

A slender woman

Caileigh
Girl

A slender forest woman

Cailey
Unisex

Fair and slim darling

Cailie
Girl

Slender darling woman

Cailla
Girl

Young attendant

Caillen
Girl

Potent and powerful individual

Cailley
Girl

Slender lady

Caillin
Girl

Girl

Caily
Girl

A beautiful and gorgeous woman

Cailyn
Girl

Young girl

Cailynn
Girl

Pure-hearted woman

Caimin
Unisex

Little crooked one

Caindale
Girl

From the valley near the river

Cairo
Unisex

The victorious; The conqueror; The place of combat

Cais
Unisex

Rejoicing individual

Caisie
Girl

Proclamation piece

Cait
Girl

A pure woman

Caitanya
Unisex

Divine radiance

Caitee
Girl

Pure woman

Caitir
Girl

Pure-hearted woman

Caitlan
Girl

Pure girl

Caitland
Girl

Lady of purity

Caitlann
Girl

Pure-natured woman

Caitlen
Girl

Woman of pure nation

Caitley
Girl

One who is pure

Caitlin
Girl

Pure

Caitlind
Girl

Pure natured woman

Caitly
Girl

Short for Caitlyn; Pure woman

Caitlyn
Girl

Pure

Caitlynd
Girl

Pure-hearted woman

Caitlynn
Girl

A fair and pure girl

Caitria
Girl

Fair lady

Caitrian
Girl

Fair and pure lady

Caitrin
Girl

A genuine woman

Caitriona
Girl

Genuine individual

Caitryn
Girl

Genuine lady

Caitya
Girl

Genuine woman

Caityaka
Girl

Temple-goer

Caja
Girl

Full of joy

Cajsa
Girl

Pure

Cal
Unisex

A devoted person

Cala
Girl

A woman who is like a castle

Calais
Unisex

One who changes colors

Calamint
Girl

A mint that is beautiful

Calandra
Girl

An escapade; A lark

Calandre
Girl

A french name meaning Lark

Calantha
Girl

One who is like a beautiful flower

Calanthe
Girl

To have the beauty of the flower

Calanthia
Girl

She is pretty like a flower

Calcedonia
Girl

From Chalcedon

Caldwiella
Girl

She is from the cold spring

Caleah
Girl

A woman known for her beauty

Caledon
Unisex

A tough person

Caledonia
Girl

A woman from Scotland

Caleigh
Girl

Slim; Fair; Beautiful; Laurel; Pure

Calfuray
Girl

One who is like a violet flower

Cali
Girl

Most beautiful; Calm; Fair; Ocean; Pure

Calia
Unisex

Graceful, Beautiful, Enchanting

Caliana
Girl

A princess for whom a place was built in Spain
Parents looking for baby girl names beginning with the letter C are spoilt for choice. These names have beautiful meanings, historical significance, and cultural affinity. Names are a living embodiment of the connection between the past and the future and carry the aspiration of the parents. Celebrate the unique identity and positive vibes that come along with the baby names that begin with the letter C. Also, make sure the name you choose doesn't have any negative connotations in other cultures.
Infographic: Captivating Baby Girl Names Starting With The Letter C
Names starting with the letter C have various characteristics and values associated with them. These names vary from religious connotations to aspired qualities such as beauty, strength, or wisdom. So, if you're looking for names starting with C for your little girl, look no further. The infographic below provides some fantastic baby girl names which begin with the letter C and their associated meanings.

Frequently Asked Questions
1. Which are some unique and uncommon baby girl names that start with C?
The letter C has been the beginning of various girl names all over the world. Caina, meaning 'created by God,' Calais, meaning 'changing color,' Calypso, meaning 'to conceal,' and Calliope, meaning 'beautiful-voiced,' are some great uncommon girl names. They also come with many cute nicknames, such as Cally, C, and Cal.
2. What is the origin and meaning of the name Charlotte?
Charlotte is a diminutive of the French male name Charles. It means 'free man.' This name dates back to the 14th century and has associations with royalty. For example, the second wife of King Louis XI of France was Charlotte of Savoy and Charlotte de Bourbon-La Marche (1).
3. Are there any famous women with the name Catherine or variations of it?
Catherine the Great, who ruled Russia from 1762 to 1796 in the past, and Catherine, the Duchess of Cambridge in the modern day are two main famous figures associated with this name. English singer-songwriter Kate Bush (variation of Catherine), actress Catherine Zeta-Jones, and French actress Catherine Deneuve are other famous figures that bear the name's variations.
4. What are some nicknames for baby girl names that start with C?
Arlie, Callie, and Charlie are some cute nicknames for the popular girl name Charlotte, while Camm, Cammy, and Cami are good nicknames for Cameron. Carly and Carrie are pet forms of Caroline. But you can use these nicknames irrespective of the C-letter name of your daughter.
5. Which baby girl names start with C and have a nature or flower theme?
Chloe, meaning 'blooming', Crystal, meaning 'gem,' Cherry, meaning 'cherry fruit' or 'brotherly love,' and Clover, meaning 'meadow flower' are some great names that symbolize nature. Camelia, which is a flower and Carmel or orchard are other names that are inspired by nature and flowers.
6. What are some gender-neutral names that start with C?
There are quite many gender-neutral names that start with C, some examples are Cameron, meaning 'crooked nose,' Charlie, meaning 'free man,' Carson, meaning 'son of the marsh-dwellers,' Camden, meaning 'winding valley,' and Cali, meaning 'lovely.'
References:
MomJunction's articles are written after analyzing the research works of expert authors and institutions. Our references consist of resources established by authorities in their respective fields. You can learn more about the authenticity of the information we present in our
editorial policy
.
Look Up For Many More Names
Do you have a name in mind and want to know more about it? Or want to find names belonging to a particular origin, religion, or having a specific meaning? Use our search tool below to explore more baby names with different combinations.
The following two tabs change content below.