507 Baby Girl Names That Start With Letter I
Illuminating to insightful names, your baby girl deserves a unique identity.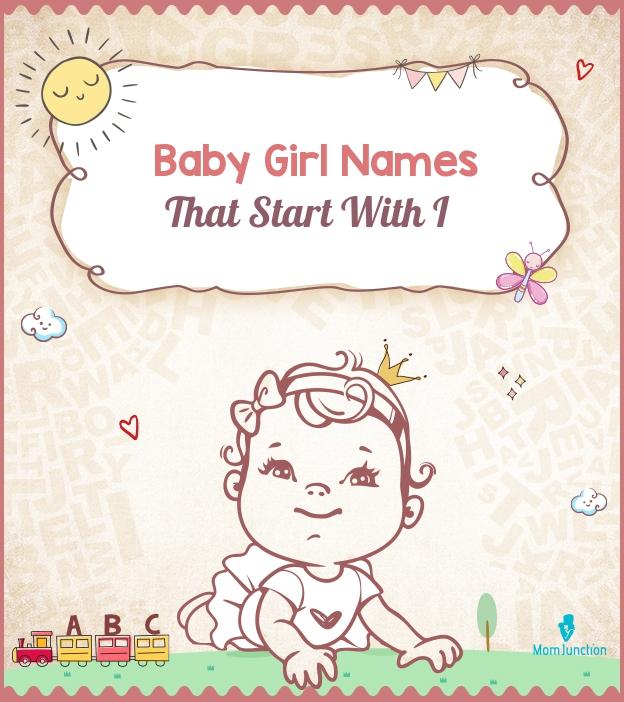 In certain cultures, it is believed that a child's name's starting letter can profoundly affect their personality and destiny. Parents looking for baby girl names starting with I often hope that the letter brings positive vibes and great luck in their daughter's life. They hope the name inspires their little ones to explore their full potential and achieve great heights. In some countries, an astrologer usually selects this letter by observing a child's birth chart and horoscope. In other countries, parents select the letter, assuming to be best suited for the baby and is likely to attract all the good things in life. If you are looking for a baby girl's name starting with the letter I, you have landed on the right page. An astrologer may not necessarily guide you, and is probably looking for such a name for another reason. Whatever the reason behind your search, baby names starting with I have their charm and significance. The letter I is not an extremely common choice for a baby name, so these names will most likely stand out. In many cultures, the letter I is associated with qualities like intelligence, intuition, or independence. They may also stand for innovation, intellect, and a curious spirit. The positive connotations of this letter often encourage parents to choose these names. Parents feel motivated to opt for these names as they reflect qualities they wish to nurture in their daughters. For instance, the letter I is linked to love, as many of these names mean 'love' in different languages. The African names Ife and Ifunanya mean 'love' while the Norwegian names Ingunn and Iðunn mean 'to love.' Inanna was the name of the Sumerian Goddess of love. We understand searching for a meaningful name starting with the letter I can be difficult, hence we have compiled an exhaustive list for you. These are names from different countries and languages, so you have a wide range of choices when looking for suitable names starting with the letter I.
Name
Gender
Meaning
Ia
Girl

Violet flowers

Iah
Unisex

Moon God

Iakobina
Girl

Bulgarian version of Jaclyn; God will add

Iam
Unisex

Self-awareness and self-identity

Ianira
Girl

Enchantress

Ianna
Unisex

Gift from God

Ianthe
Girl

Violet flower

Ianto
Unisex

Gift of God

Iara
Girl

Lady of the water

Iba
Unisex

Gift from God

Ibaad
Unisex

Worshipers, devoted, faithful

Ibad
Unisex

Worshipper or devoted servant

Ibadat
Unisex

Worship, devotion, piety

Ibb
Girl

Noble strength

Ibby
Unisex

Strong or gift of God

Ibernia
Girl

A woman belonging to Ireland

Ibhan
Unisex

Fearless; Brave

Ibhar
Girl

Open like the ocean

Ibidolapo
Girl

A child whose birth brought wealth together

Ibidun
Girl

A sweet birth

Ibilola
Girl

A girl who is born in riches

Ibironke
Girl

The family will love this child

Ibis
Unisex

Bird of myth and symbolism

Ibrat
Girl

Wisdom to learn from experience

Ibthaj
Girl

Joy; A girl who brings joy wherever she goes

Ibtihaj
Girl

Joy

Ibtihal
Girl

Supplication and prayer

Ibtisam
Girl

Smile; A girl with a smiling face

Ibtisama
Girl

Smile

Ibukun
Girl

Blessings

Ibukunade
Girl

The blessings have come to me

Ibukunoluwa
Girl

The blessings of God

Ichigo
Unisex

Strawberry or one with a cheerful spirit

Ichika
Unisex

First flower

Ichiro
Unisex

First son, first born

Ichpochton
Girl

Little daughter

Ichtaca
Unisex

Secret

Icnoyotl
Unisex

Friendship

Icon
Unisex

Symbolic representation or embodiment of a particular concept or idea

Ida
Girl

Hardworking; Industrious person

Idaia
Girl

An active and fragile woman

Idali
Unisex

Steadfast, noble, and gentle

Idalia
Girl

Behold the sun

Idalis
Girl

Beautiful, graceful, unique

Idan
Unisex

Gift of God

Idara
Unisex

Hopeful leader

Idaramfon
Girl

Happiness is free

Idaya
Girl

God's gift

Iddo
Unisex

To pass; To continue

Idel
Unisex

Industrious, intelligent, determined

Idella
Girl

Industrious and noble

Iden
Unisex

From the wooded hill; Prosperous and wealthy

Idha
Girl

Insight

Idhika
Unisex

Beginning; Origin

Idil
Girl

Joyful or tranquil

Idin
Unisex

Creative Unique Intelligent

Idina
Girl

Beautiful; Strong; Heavenly

Iditri
Girl

One who praises

Idna
Girl

Active; One who is active and agile

Ido
Girl

Thorough, industrious, diligent

Idona
Girl

Norse goddess of apples of eternal youth

Idonia
Girl

Industrious and fruitful

Idowu
Girl

A daughter who is born after twins

Idris
Unisex

Ardent lord

Idrissa
Unisex

Powerful leader with great wisdom and strength

Idun
Girl

One who is active

Iduna
Girl

She who is active in love

Idunn
Girl

To renew nature or active in love

Ieisha
Girl

Alive; She who lives

Iesha
Girl

Life; Alive; Living

Iestyn
Unisex

Welsh version of Justin

Ifeanyi
Unisex

Gift from God

Ifechiluru
Girl

What God has done

Ifechukwu
Girl

The light of God

Ifedayo
Girl

Love has turned to joy

Ifede
Girl

Love is here

Ifedimma
Girl

Something good

Ifedolaoluwa
Girl

God has blessed our love

Ifedolapo
Girl

Wealth has been mixed with love

Ifejesukristi
Girl

The love of Jesus Christ

Ifekristi
Unisex

The light of Christ

Ifelayo
Girl

Love is peace

Ifeoluwadolapo
Girl

God's love has brought us wealth

Ifeoluwapo
Girl

God's love is plenty

Ifeoma
Girl

Beautiful one

Ifesowapo
Girl

Love has joined us together

Ifeta
Girl

Innocent; Virtuous

Ifetundun
Girl

Love is sweet

Ifeya
Girl

Love; A lovable woman

Ifeyinwa
Girl

Nothing can be compared to a child

Iffaa
Girl

One who keeps her faith alive

Iffah
Girl

A pure and modest girl

Iffat
Unisex

Purity, elegance, honor

Ifra
Unisex

Prestige or Elevation

Ifrah
Girl

Joyful, blessed, happiness

Ifunanya
Girl

Love

Ige
Unisex

Born feet first

Igerne
Girl

Name of Arthur's mother

Iggy
Unisex

Energetic, charismatic, lively

Igitioluwotilaiye
Unisex

The tree of God is rooted and strong
Baby girl names starting with I are cherished for their elegant and distinct qualities. Parents choose these names not only for their aesthetic appeal but also for the meanings and associations they hold in different cultures. By selecting an I name for their daughter, parents hope to create a unique identity for their baby girl. They wish that the name symbolizes the qualities they believe in and the aspirations they have for their beloved child.
Frequently Asked Questions
1. Are there any famous or notable individuals with girl names beginning with the letter I?
Yes, many successful and famous women have names starting with the letter I. Italian model and actress Isabella Rossellini is known for being the face of the luxury brand Lancôme and for featuring in several American movies. Ivanka Trump, the daughter of former US President Donald Trump, is an American businesswoman. Swedish actress Ingrid Bergman is known for her acting films such as 'Casablanca,' 'Notorious,' and 'Gaslight.'
2. I'm looking for girl names with a strong and empowering meaning, starting with 'I.' Any suggestions?
The German name Irment'ud symbolizes power as it means 'great strength.' The Italian name Isabella stands for faith, as it means 'God is my oath.' The Spanish name Imelda is also strong as it means 'great battle.' Irma, another German name, means 'great' or 'universal.'
3. What are a few interesting girl names that start with I and can work well as middle names or paired with other names?
Isabel is a versatile and meaningful name with multiple origins. It can be used as both a first name and a middle name. The two-syllable Greek name Iris means 'flower' and can complement any long or short name. For a first name that is relatively simple, you can opt for the middle name Indigo. This English name refers to a type of dye. The English Inez is a vintage-inspired name that means 'pure' or 'holy' and can pair well with a more modern name.
Infographic: Ideal Baby Girl Names Starting With The Letter I
Baby girl names that start with the letter I are often admired for their pleasant sound and uniqueness. Parents choose these names for their daughters because of their positive connotations. In the infographic below, you will find names that start with the letter I, having varied and profound meanings that will make your girl stand out.

Look Up For Many More Names
Do you have a name in mind and want to know more about it? Or want to find names belonging to a particular origin, religion, or having a specific meaning? Use our search tool below to explore more baby names with different combinations.
The following two tabs change content below.