Origin, Meaning And History of Gloria
Gloria is derived from the Latin word Gloriae, which translates into "immortal glory." It also has several other meanings, such as "renown," "praise," and "honor." The English version of the name is Gloria. The name has several variations across cultures and languages, including Glória in Portugal and Spain. Gloriana and Glory are two other common variations of Gloria. Gloria is a common feminine name concerning divine glory and is commonly used in Hispanic communities.
The name is widely used in Europe and the Americas. It is primarily a religious name. Emma Dorothy Eliza Nevitte Southworth's novel Gloria, published in 1891, first introduced the name outside Spanish and Latin culture. Another major work of fiction that brought this name into the limelight was George Bernard Shaw's play, 'You Never Can Tell." The play made its debut in 1898 and featured several characters of Portuguese and Spanish heritage. Gloria by Benito Pérez Galdós, which is a reproduction of a book published before 1923, is another work with the same name.
The name Gloria has several pronunciations in different languages, including; "Glawr-ee-ǝ" in English, "Glo-rya" in Spanish, and "Glaw-rya" in Italian. Glori, Gigi, and Glo make ideal nicknames. This name has been used for baby girls, especially in religious communities.
Several notable figures throughout history have carried the name. Gloria Feldt is an American writer and New York Times bestselling author. She is also a feminist activist and a social and political advocate of women's rights. Gloria J. Romero is an American politician who was the first woman to hold the position of California State Senator.
Notable references of the name in fiction include Gloria, the animated hippopotamus, in the movie Madagascar and voiced by Jada Pinkett Smith. Gloria Stivic is a fictional character on the American sitcom All in the Family and portrayed by Sally Struthers. The show was aired on the CBS television network from 1971 to 1979.
How To Pronounce Gloria?
English
Famous People With The Name Gloria
Gloria Long Anderson

American pioneer of nuclear magnetic resonance spectroscopy

Gloria Jean Ladson-Billings

American pedagogical theorist famous for her critical race theory

Gloria Mildred DeHaven

American actress and star of MGM Studios

Gloria Frances Stuart

American actress famous for her role in the movie Titanic

Gloria Gaynor

American singer with known for "I Will Survive" and "Let Me Know"
Gloria On The Popularity Chart
Gloria enjoyed popularity in the 1980s and 1990s but saw a downward trend in the following decades. The lowest popularity of the name was recorded in 2020. Check out the graphs below for more information.
Popularity Over Time
In 1990, 1180 babies per million were given the name Gloria. Check out the graphical representation for detailed insights.
Source: Social Security Administration
Rank Over Time
The ranking of the name Gloria has taken a hit since the early 90s. The name was ranked 573 in 2021. Find the graph below to understand the name's ranking over the years.
Source: Social Security Administration
Names With Similar Sound As Gloria
Gloria sounds sweet. Here are some more baby names that sound like Gloria but have different meanings.
Popular Sibling Names For Gloria
Names With Similar Meaning As Gloria
Look no further if you are looking for baby names that emulate immortal glory, praise, and honor. Here are some names with similar meanings to Gloria.
Infographic: Know The Name's Personality As Per Numerology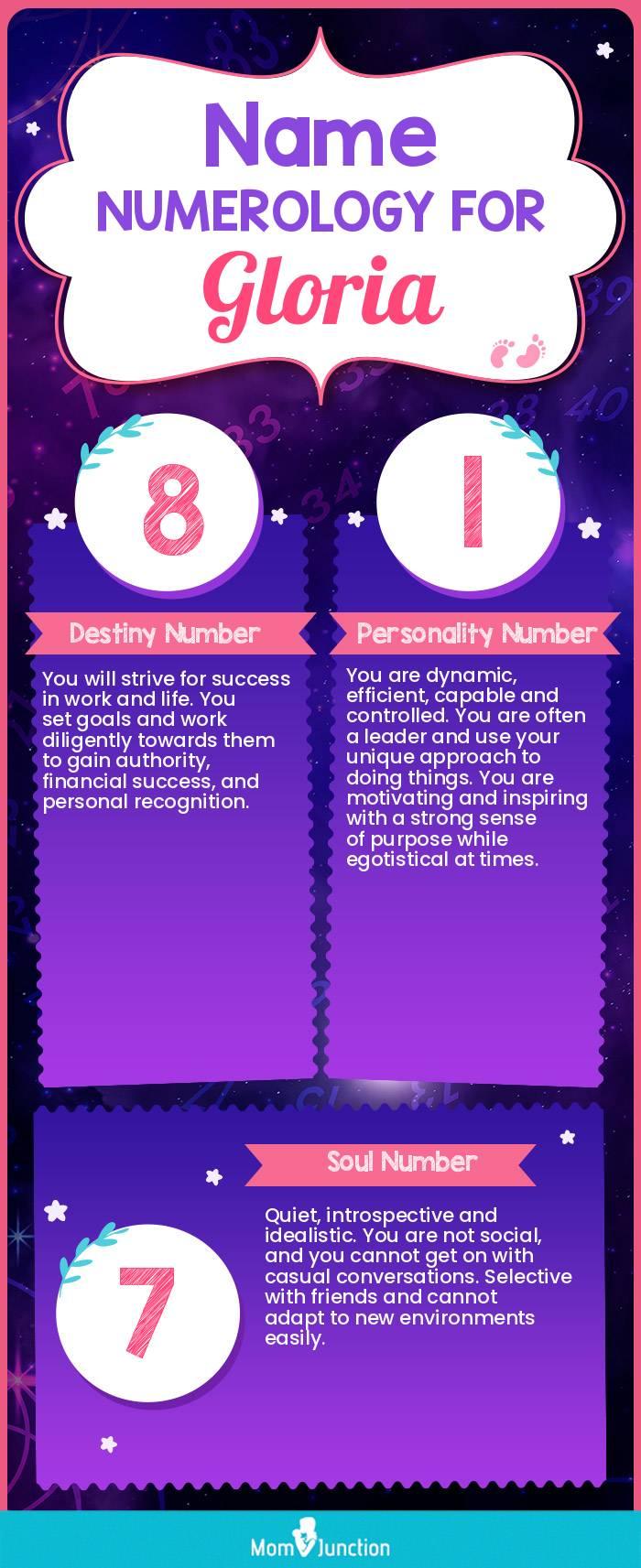 How To Communicate The Name In Other Languages
In Nautical Flags
gloria
In Sign Language
gloria
In Braille Alphabet
gloria
In Morse Code
gloria
Name Numerology For Gloria






The following two tabs change content below.