1217 Hindi Baby Names With Meanings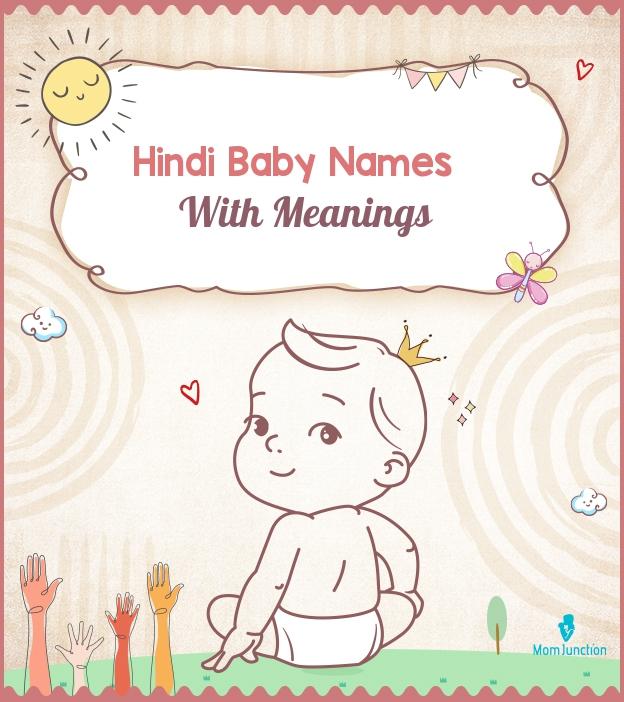 Many parents desire to give their children names from different origins and languages. Hindi baby names are a treasure trove of linguistic beauty and cultural significance that can offer many meaningful options. Generally, parents have varying strategies for selecting names for their babies. Some opt for names inspired by beloved pop culture figures, while others prefer names borne by historical personalities. Several others look back to their ancestors for baby name inspiration. However, Indians, particularly Hindus, prefer Hindi monikers to name their children. Functioning as the official language of India (1), Hindi boasts a huge vocabulary characterized by its profound capacity for communication. Beyond its role as a linguistic medium, Hindi encapsulates a repository of cultural heritage, ethics, and sentiments. In a nation as diverse as India, names transcend mere designations, encapsulating notions of selfhood, ancestral connections, and the nation's essence. As the vocabulary draws from four primary languages - Sanskrit, Arabic, English, and Persian - a diverse pool of inspiration emerges for baby names. The meanings behind Hindi names are often layered with symbolism, drawing from ancient texts like the Vedas, Puranas and epics like the Ramayana and Mahabharata. These names can also encompass virtues, qualities, and blessings parents wish to bestow upon their children. Whether a name signifies strength, wisdom, love, or devotion, each carries a piece of India's cultural mosaic. In a globalized world, Hindi names have gained recognition and admiration, often chosen by parents from diverse backgrounds who appreciate the depth and beauty of the language. This post provides an extensive collection of Hindi baby names with meanings. Each name on the list has a specific origin and prominent meaning that can adorn your child's personality. So keep scrolling to find a name that echoes your aspirations and dreams for your child's future.
Name
Gender
Meaning
Aabharana
Girl

Valuables; Jewels; Ornaments; The person who brings prosperity, happiness, and honor

Aachalendra
Boy

Himalayas; A person who is strong; Unchallengeable

Aachuthan
Boy

Another name for the Hindu Lord Krishna

Aadarsha
Girl

One who is ideal; Optimal; Perfect

Aadarshini
Girl

One who adheres to idealism; Idealistic

Aadhev
Boy

First; Most eminent; Exalted

Aadhi
Boy

Beginning; Friendly; Imagination; Creativity; Expression; Energetic

Aadhila
Girl

Honesty; The one who is Scrupulous with regard to telling the truth

Aadhish
Boy

King; Emperor; Ruler, Person with supreme power

Aadhunik
Boy

Modern; New; Latest; a name variant of Adhunik

Aadhya
Girl

The first power; The beginning; Another name of goddess Durga

Aadi
Boy

First; Most Important,Beginning; Starting; Source form of life

Aadidev
Boy

First of God; The one closest to the almighty

Aadijay
Boy

The first victory; Success

Aadinatha
Boy

Another name for Lord Vishnu or Lord Krishna

Aadishri
Girl

First; More important; Eminent

Aadita
Girl

The act of commencement of action

Aaditri
Girl

Another name of Goddess Laxmi; The person who brings wealth and prosperity

Aaditya
Boy

Belonging to Aditi or Sun

Aadityapal
Boy

The one having superior social standing; Exalted; Of high esteem

Aadityesh
Boy

The ultimate power of the sun; The God Sun

Aadrika
Girl

A cluster of mountains; The feminine version of the male name Aadrik

Aadurusta
Boy

one who is fortunate or lucky

Aadved
Boy

Unequaled or unmatched in the whole Universe

Aadvika
Girl

one who is unique in all aspects

Aadya
Girl

The first; Mother Earth; Name of goddess Durga

Aadyot
Boy

one who is surrounded by light

Aaghosh
Boy

To embrace; Lapped

Aagraha
Girl

to request or please with respect

Aagya
Girl

consent or formal permission to do a job

Aagyakar
Boy

One who is fearsome; Obedient; Willing to comply with elders

Aahana
Girl

Inner light; Immortal; First rays of the sun

Aahlaadita
Girl

One who is cheerful, delightful, and joyous

Aahlad
Boy

one who is happy, cheerful, and full of joy

Aahvan
Boy

Act of solicitation; Invitation; Enticement

Aainah
Girl

Mirror

Aakanksha
Girl

Eagerness; Inordinate desire for someone or something; An object of ardent desire

Aakarshaka
Girl

the quality of attracting by inherent force

Aakarshana
Girl

The force of attraction

Aakarshika
Girl

the one having the force of attraction to influence others

Aakashi
Girl

Heaven; The sky color; Destiny

Aakhya
Boy

One who has a high reputation and fame; State of being famous

Aakrit
Boy

Appearance or shape; The person who is unmoldable

Aakruthi
Girl

Appearance or shape; Female form of a person who is unmoldable

Aalavandan
Boy

The writing; Something Majestic

Aaloka
Girl

Lustrous; The very beautiful one

Aalta
Girl

The Lac dye; The one very colorful or joyous

Aamaya
Girl

the pleasant Night Rain that brings new hope

Aamrapali
Girl

A mango tree leaf

Aan
Boy

The one having self-respect and self-esteem

Aanal
Boy

Fire; God of fire

Aanandamayee
Boy

the one who is very happy and joyous in nature

Aanandamayi
Girl

the one who is very happy and joyous in nature

Aanandi
Girl

A very happy Woman

Aanandita
Girl

A very happy woman; The one bringing fortune

Aangi
Girl

The act of decorating God or a person close to god

Aanya
Girl

The one who is kind and warmly courteous

Aapti
Girl

The state of being fulfilled; Act of consummating

Aarati
Girl

Prayer; a kind of worship toward God

Aarika
Girl

The one who is admired for her looks

Aarna
Girl

Wave; Ocean; Another name of Goddess Lakshmi

Aarnik
Boy

being one of a kind or unique

Aarogya
Boy

The one having great health; Being healthy

Aarohi
Girl

The musical note; Being very sound

Aaryanna
Girl

Powerful and complete who is renowned by the Lord

Aashalata
Girl

The one who is the creator of hope or is very optimistic

Aashita
Girl

The one who is the creator of hope or is very optimistic

Aashiyana
Girl

A beautiful house

Aashni
Girl

a lightning bolt

Aashray
Boy

Originated from Sanskrit means giving temporary protection in any situation

Aashresh
Boy

Intelligent and quick to understand and apply ideas

Aashu
Boy

Another name of Lord Shiva

Aathreya
Boy

Progeny of Athri; The disciple of sage Vamadeva

Aatish
Boy

Fireworks; Explosive; Dynamic person; Name of Lord Ganesh

Aatmabandu
Boy

One who is a friend of his own

Aatmagupta
Boy

One who is self-protected

Aatmavash
Boy

One who is self-controlled

Aatulaya
Boy

Unique; The one who can't be compared; Incomparable

Aazvaar
Boy

practical and patient

Abahijeevan
Boy

Someone leading a fearless life

Abdhija
Girl

Born in the sea; Goddess Lakshmi

Abeedha
Girl

Stands for constant; Wonder girl and permanent

Abhaas
Boy

The sense; Awareness; Feeling or reflection

Abheesha
Girl

Goddess of ambitions or goals

Abhigna
Girl

Valuable; Clever mind or glowing

Abhignya
Girl

One who is sage and sensible

Abhigya
Girl

Skilful or expert or adroit

Abhijaata
Girl

Noble birth or high class born

Abhilasin
Girl

One who is full of desires and wishes

Abhimanini
Girl

One who has a self-respect or pride

Abhinaash
Boy

An immortal person; Cannot be destroyed

Abhinamin
Boy

One who is renowned or a famous name

Abhinandh
Boy

One who is celebrating or acknowledge

Abhinavan
Boy

Young; Fresh or modern

Abhinaya
Boy

The acting or the one who acts in a drama

Abhinayan
Boy

One who is an actor; One who acts

Abhinetri
Girl

The female actor of a film or drama

Abhinita
Boy

Highly finished; Well performed; Ornamented

Abhinn
Boy

One who is different or not common

Abhipada
Boy

One who is fearless or take fearless steps
Hindi baby names are versatile and reflect India's rich linguistic heritage. These names go beyond just being names – they embody India's deep history and cultural essence. Choosing a name is like paying tribute to the language and traditions of the country, blending old customs with new ideas. Each name links different generations and shows respect for the country's past, values, and identity. So whether you prefer names rooted in religion or those with modern flair, Hindi baby names offer several meaningful options worth considering.
Frequently Asked Questions
1. What is the meaning of the name Aarav?
Aarav, a Sanskrit name, carries the beautiful meanings of calm noise and peaceful melody, making it a popular choice for baby boys.
2. What are some Hindi baby names based on Hindu mythology?
Arjun, a Hindi name meaning white or clear, is inspired by Hindu mythology, where Arjuna was a courageous prince and skilled archer in the epic Mahabharata. Nandini, meaning daughter or delight, is an Indian name associated with the Goddess Parvati and represents her divine grace and beauty as one of her eight eternal companions.
3. What are some gender-neutral Hindi baby names?
Hindi baby names suitable for boys and girls may include Arya, meaning noble; Bhavya, meaning grand or magnificent; Gopi, meaning protector of livestock; and Harsha, meaning happiness.
4. What are some Hindi baby names inspired by nature?
Some Hindi baby names inspired by nature are Prithvi, meaning earth; Naina, meaning beautiful eyes; and Jalaj, meaning born or growing in water, and can also refer to a lotus.
5. What are some Hindi baby names that are easy to pronounce for non-Hindi speakers?
Some Hindi baby names that may be easier to pronounce for non-Hindi speakers are Aanya, meaning limitless; Arjun, meaning white or clear; Maya, meaning illusion or magic; and Rohan meaning ascending.
6. What are some Hindi baby names that are popular in both India and abroad?
Indo-American baby names for boys, such as Aarav (rustling sound), Dev (God), and Jai (victory), are trending. In contrast, Indo-American girl names like Aanya (limitless), Eesha (pure), and Disha (direction) are popular. Recently, other Hindi names have also gained international recognition, such as Aditi, Inaya, and Aarya being favorites for baby girls, and Shivansh and Dhruv being popular choices for Indian boys.
7. What are some Hindi baby names that have historical significance?
One popular historically significant name is Ashoka, meaning without sorrow and associated with Ashoka the Great, the third king of the Mauryan Empire known for the development of dhamma, a concept of pious social conduct (2). Another significant name is Indira, meaning beauty, and is associated with Indira Gandhi, India's first and only woman Prime Minister (3).
8. What are some Hindi baby names that are inspired by colors?
Arjun meaning 'white' or 'clear;' Arun, meaning 'reddish brown' or 'dawn;' Harita, denoting 'green;' and Neelima, meaning 'blue reflection' or 'dark blue' are some Indian names inspired by colors.
References:
Look Up For Many More Names
Do you have a name in mind and want to know more about it? Or want to find names belonging to a particular origin, religion, or having a specific meaning? Use our search tool below to explore more baby names with different combinations.
The following two tabs change content below.