865 Jainism Baby Names With Meanings
Embrace the inner peace and harmony of Jainism with these surreal naming choices.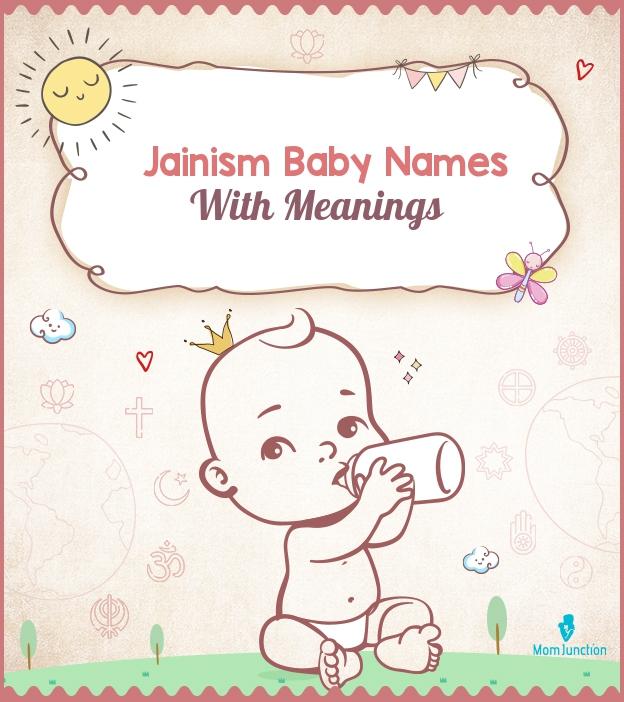 Jain baby names are elegant yet uncommon, although they are embodied in the philosophy of Jainism. Read on to know why these names can be your best pick. Parents want the best for their children, starting with a perfect name. A name is a lot more than an identity tag. It also gives cues to their region, religion, social background, and country. This is the main reason Indian parents take their culture and language into consideration while naming their children. In India, different sects and religions have specific naming conventions and traditions, which also holds in the case of Jains. But one thing is common in almost all the communities — the Namkaran ceremony. In Jainism, there are sixteen samskaras or ceremonies that every householder must partake in to be considered a true Jain. One of these is the naming ritual. Traditionally, the Namkaran is performed a few days or even weeks after the baby's birth. But strictly speaking, the Jain naming ceremony is held on the twelfth day after the child's birth (1). Just like all major Indian religions, even Jains use traditional methods, such as astrology, while picking the name for their children. They even refer to Jain Ramayana for choosing a name for their bundle of joy. Jain baby names hold spiritual importance and often have profound and positive meanings. These names are inspired by the holy scriptures, historical figures, mythology, and Jain philosophy. They evoke the essence of virtues like truth, compassion, and non-violence. For instance, Bramhila is a common Jain female name, a title for the goddess Saraswati who represents wisdom, knowledge, and music. Similarly, Samkit, a Jain male name, stands for self-realization and satisfaction. If you want to know more about some of the most popular Jain baby names, take a look at our list below. You will likely find a gem or more for your child.
Name
Gender
Meaning
Aanat
Boy

One who is humble and very courteous

Aanay
Boy

Another name of Lord Ganesha

Aasher
Boy

Happy; Blessed

Aatman
Boy

A happy soul or essence

Aaushi
Girl

One who is careful, knowledgeable, and blessed with a long life

Abri
Unisex

Strong; Independent; Radiant

Aceyn
Unisex

Full of joy

Addox
Unisex

A deep thinker

Adolin
Boy

Noble; Honorable

Aeli
Unisex

Ascender; Exalted

Aelin
Girl

Bright; Shining light

Aelis
Girl

Noble; God is my oath

Aeren
Unisex

Strong; Mountain

Aevin
Unisex

Strength; Creativity; Uniqueness

Ahsoka
Unisex

Powerful warrior, wise and spiritual

Aian
Unisex

Chief; Leader

Ajanae
Girl

One who is persistent or persevering

Ajey
Boy

One who is invincible, unconquerable and successful

Ajin
Unisex

Gold; Precious

Akyli
Unisex

Unique; Modern

Alakai
Unisex

The leader; Guidance

Albee
Unisex

Noble; Intelligent

Alinea
Girl

Elegance; Finesse; Refinement

Allena
Unisex

Bright; Attractive; Noble

Alleria
Unisex

Elevated; Confident; Elegant

Aluel
Unisex

Brave; Determined; Hopeful

Alyanna
Girl

Beautiful; Captivating

Alyra
Unisex

Iris flower; Lily; Cheerful

Ambellina
Unisex

Sacrifice; Powerful

Amoghvarsh
Boy

Name of Lord Ganesha; Name of a Jain king of medieval Maharashtra

Amren
Unisex

Bravery and strength

Amryn
Unisex

Strong; Bleoved; Inspired

Anaid
Unisex

Graceful, compassionate, unique

Anaise
Girl

Grace; Merciful

Anansi
Unisex

Trickster Spider

Anarchy
Unisex

Absence or rejection of any form of government or authority

Aner
Unisex

Strength; Warrior; Perseverance

Aneri
Girl

One who is extraordinary

Anet
Unisex

Grace; Favor

Anija
Unisex

Graceful, gentle, unique

Annalyse
Girl

God's promise of grace

Ant
Unisex

Abbreviation of Antony

Araluen
Unisex

Water lilies; A place of thewater lilies

Arawyn
Unisex

Magical; Nature-inspired; Independent

Arcane
Unisex

Mysterious;Understood by few; Secret; Obscure

Arean
Unisex

Honorable

Aree
Unisex

Wise; Intelligent

Areon
Unisex

Strong, noble, and courageous

Arhadas
Boy

Destroyer of enemies; A variant of Arhant

Arhnath
Boy

Destroyer of enemies; A variant of Arhant

Arim
Unisex

Lion of God; Brave; Skilled

Arisai
Unisex

Unique; Mysterious; Passionate

Aritza
Unisex

Oak tree; Strong as an oak

Arkham
Unisex

The fictional town in Massachusetts, used in stories by H.P. Lovecraft

Arlee
Unisex

Strong; From the hare meadow

Arlowe
Unisex

Barberry tree

Arris
Unisex

Strong; Courageous; Leader

Arson
Unisex

The act of intentionally setting fire to property

Arvee
Unisex

Creative; Energetic; Charismatic

Atem
Unisex

Supreme; Complete; Enduring

Ater
Unisex

Dark or black

Athel
Unisex

Noble; Honorable

Ativeer
Boy

One who is extremely brave and courageous

Atz
Unisex

Tree

Aureus
Unisex

Golden; Gilded

Auron
Boy

Golden light; Dawn

Avalin
Unisex

Graceful; Strong

Avara
Unisex

Young rose

Awesome
Unisex

Impressive and exceptional

Axia
Unisex

Valuable; Worthy

Aylene
Girl

Light bearer; Bright one

Ayvah
Girl

Voice; Sound

Azami
Unisex

Flower or thistle

Azkadellia
Unisex

Tin Man

Baelin
Unisex

Strong; Brave; Loyal

Baelyn
Unisex

White hawk

Baji
Unisex

Respected elder sister

Belcher
Unisex

Bellman; Beautiful face

Bhadrabahu
Boy

Name of a famous Jain Acharya from medieval India; Pious and blessed man

Bhamandal
Boy

Name of Seeta's brother mentioned in Jain Ramayan

Bharam
Boy

Esteem; Pride; Reputation

Bharateshwar
Boy

Derived from Bharat; Being maintained

Bharatraj
Boy

Variation of Bharat; Being maintained

Bhartendu
Boy

Moon of India

Bhavisha
Girl

Future; One who can see the future

Bhranti
Girl

Day dream

Blue
Unisex

Calm; Soothing; Tranquil

Boa
Unisex

A large, long, non-venomous snake from the boa family; A feathery scarf; A stole

Boudicca
Girl

Victory in battle

Brack
Unisex

Someone who lived near a stretch of uncultivated land

Bramhila
Girl

Variation of Bramhi; A name for Lord Saraswati

Breleigh
Girl

Broad meadow

Brex
Unisex

Creative; Unique; Brave

Brilliant
Unisex

Exceptionally intelligent or skillful; Outstandingly bright or shining; Remarkably impressive or succesful

Brindle
Unisex

Brunette

Brodin
Unisex

Strong, mighty, brave

Broly
Boy

Powerful; Fierce; Unstoppable

Bronn
Unisex

God-like; Strong

Brynhildr
Girl

Armor or protective battle maiden

Bubbles
Unisex

Small spheres filled with air or gas
Jain baby names are deeply rooted in the Jain religion and culture. These names are often derived from ancestral figures and holy texts. Although these names are primarily traditional, they have significant meanings and origins, appealing to a vast crowd. These names usually stand for tranquility, compassion, and spirituality. If you are looking for a name that is out of the ordinary yet holds a profound history and honors your roots, Jain names are the one for you.
Infographic: Lively Jainism Baby Names With Meanings
Jainism baby names are elegant and are a reflection of the core values and faith. These names are often inspired by the holy scriptures and historical figures. Jainism baby names reflect virtues like humility, simplicity, and spirituality. Check out this infographic for some radiant Jainism baby names for your little angel.

Frequently Asked Questions
1. How can parents balance traditional Jainism naming customs with modern naming trends?
Parents can balance traditional Jainism naming customs with modern naming trends by considering names that fulfill a meaningful connection to Jain principles while simultaneously giving importance to contemporary preferences. Some examples include Deshna (gift), Charmi (lovely), and Bhranti (daydream).
2. What are some Jain baby names with a deeply spiritual or philosophical meaning?
Some Jainism baby names with spiritual or philosophical meanings include Aaushi, meaning 'one who is careful, knowledgeable and is blessed with a long life,' Darshika and Dhimant, meaning 'one who is intelligent and wise,' and Samkit, meaning 'one who possesses the right knowledge' or 'one possessing self-realization.'
3. What are some factors parents should consider when choosing a Jain baby name?
Some factors that parents should consider when choosing a Jain baby name include the religious significance of the name. This may be related to Jain mythology, scriptures, saints or Tirthankaras who were the enlightened people. The chosen name should also follow the Jain philosophy and principles, such as non-violence (ahimsa), truthfulness (satya), non-stealing (acharya), celibacy (brahmacharya), and non-possessiveness (aparigraha). The parents may also take into account more personal factors, such as family traditions and ancestry. The naming ceremony is conducted between the 10th and 13th day after birth and this ceremony is performed by the paternal aunt or an appropriate female relative of the child.
References:
MomJunction's articles are written after analyzing the research works of expert authors and institutions. Our references consist of resources established by authorities in their respective fields. You can learn more about the authenticity of the information we present in our
editorial policy
.
Look Up For Many More Names
Do you have a name in mind and want to know more about it? Or want to find names belonging to a particular origin, religion, or having a specific meaning? Use our search tool below to explore more baby names with different combinations.
The following two tabs change content below.