Origin, Meaning and History of Joachim
Joachim is a masculine given name and surname with multiple related meanings. The given name Joachim is believed to have originated from the Hebrew name 'Yehoyaqim' which translates to 'raised by Yahweh' or 'raised by God.' Meanwhile, the surname Joachim has Germanic roots and is derived from the Biblical king Jehoiakim. The surname can be pronounced as 'wa-keem' or 'jo-akim.'
The name Joachim also has its roots in the Hebrew name 'Yoyakim,' which means 'God has granted (a son).' This name is based on a Biblical reference found in the Book of Nehemiah 12:10. Additionally, Saint Joachim, the husband of Saint Anne and the father of the Virgin Mary, also shared the name according to medieval legend.
The surname Joachim was first recorded in Kent, where individuals held a family seat as Lords of the Manor. While the name did not become popular in England, some of the earliest settlers in America with the surname were Fred Joachim, Friedrich Joachim, and Erhard Joachim.
Joachim is pronounced differently across various European countries, including 'yo-a-khim' in German, 'zhaw-a-kim' in French, and 'yaw-a-kheem' in Polish. The name also has several variants, such as Jochen, Joaquin, or Joaquín in Spanish, Jochim, Ioachim, Ioakeim, Yoke, Yokes, Joke, Jokes, Joach, Yoak, and Yoach.
The name also has unique spellings in other languages and cultures, including Joaquim, Chimo, Quim, and Ximo in Catalan, Jáchym in Czech, Joakim, Jokum, and Kim in Danish, and Joakim, Aki, Jaakkima, Jooa, Kim, and Kimi in Finnish. In Italian, the name is spelled Gioacchino or Gioachino.
Joachim has appeared in literature, television series, and video games. For instance, Joachim appeared as a character in the Star Trek episode 'Space Seed' and the Star Trek II: The Wrath of Khan movie. Additionally, Joachim de Wett is a Nilfgaardian commander in the Netflix series 'The Witcher.' The name also appears in Jostein Gaardner's novel 'The Christmas Mystery,' where it is the name of the Norwegian protagonist. In video games, Joachim is a character in 'Arcanum: Of Steamworks and Magick Obscura' and Joachim Armster in 'Castlevania: Lament of Innocence.'
How To Pronounce Joachim?
German
Famous People With The Name Joachim
Joachim du Bellay

French poet, critic, founder of the Pléiade

Patriarch Joachim

Eleventh Patriarch of Moscow and All Russia, founder of the Slavic Greek Latin Academy

Joachim Murat

French military commander and statesman, was the 1st Prince Murat and brother-in-law of Napoleon Bonaparte

Joachim 'Blacky' Fuchsberger

German actor and television host, first German ambassador for UNICEF and warded the Bavarian State Medal for Social Services

Joachim André Garraud

French DJ, remixer and record producer, collabed with many DJs and musicians and co-founded Gum Records label with David Guetta

Joachim Johansson

Sweden former professional male tennis player, won 3 singles titles and ranked World No. 9 in February 2005
Joachim On The Popularity Chart
The graphs provided by the Social Security Administration shows that the name Joachim has had many ups and downs. Take a look at them to get a better understanding of the name's journey in terms of popularity over the years.
Popularity Over Time
The usage of the name has been fluctuating over the decades. At its least popular, the name Joachim had 5 babies per million using it in 1988 and 1990, and was most popular in 2006 with 33 babies per million sharing it.
Source: Social Security Administration
Rank Over Time
The name ranking has gone down over the years. It held its highest rank in 1982 at 14,972 and went down to 26,645 by 2007.
Source: Social Security Administration
Names With Similar Sounds As Joachim
If the sound of the name Joachim appeals to you, here are some more choices with a similar ring to it.
Popular Sibling Names For Joachim
Names With Similar Meaning
Infographic: Know The Name's Personality As Per Numerology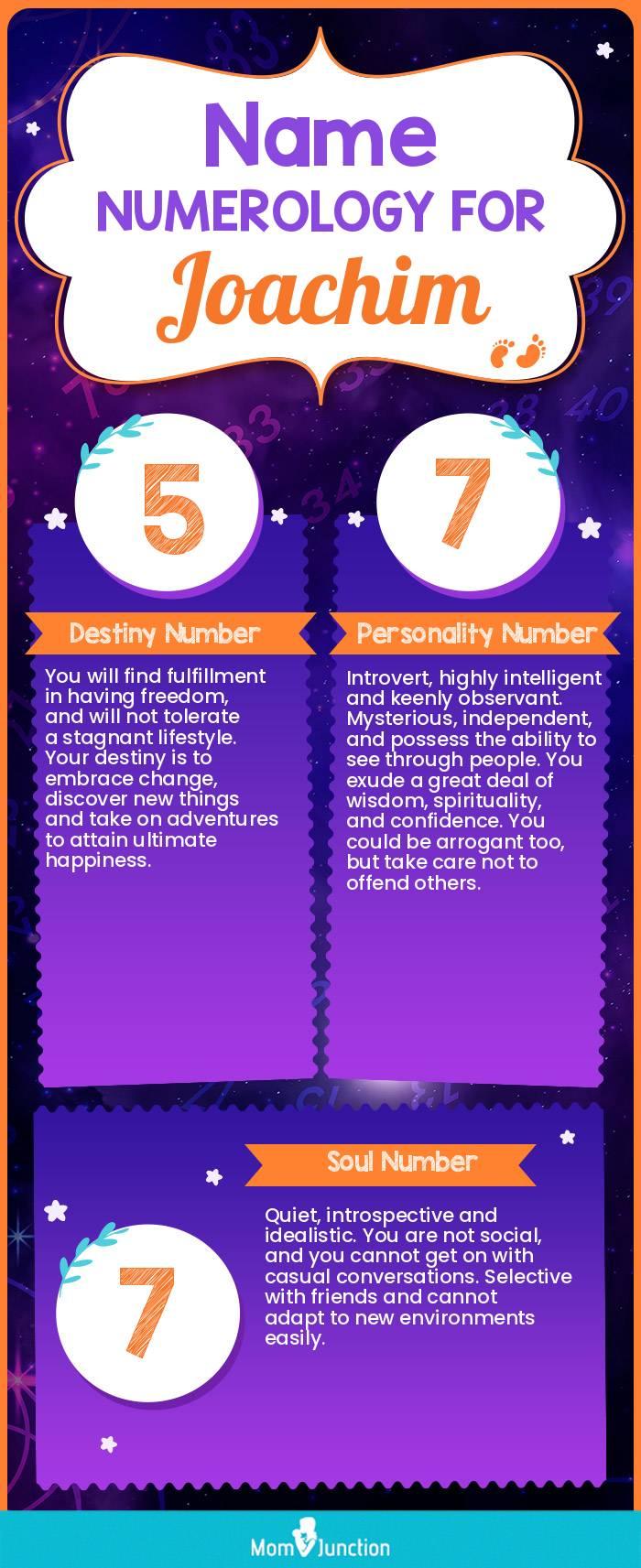 How To Communicate The Name In Other Languages
In Nautical Flags
joachim
In Sign Language
joachim
In Braille Alphabet
joachim
In Morse Code
joachim
Names With Similar Meaning As Joachim
A name that means a gift from God. If you are interested in names that share an identical meaning, here are a few more suggestions.






The following two tabs change content below.