12980 Judaism Baby Names With Meanings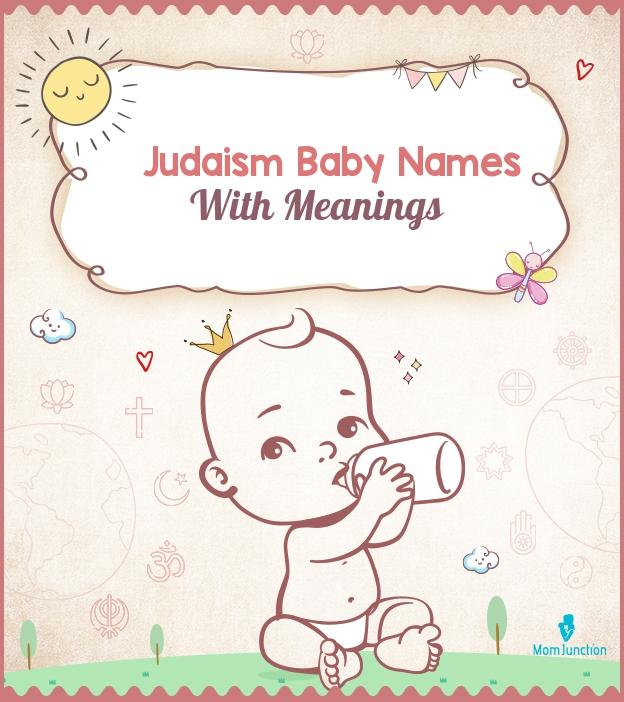 There are several traditions involved in choosing a Judaism name. In Ashkenazi community, children are named after a deceased relative. These folks believe that a person's name and soul is interconnected. So it would bring bad luck to name a child after a living person. On the other hand, in the Sephardic community, it is common to name a child after a living relative. The traditions are opposite, but one thing is common – naming the children after an admired family member. It's their way of honoring the dead and keeping their memories alive.
Those who do not want to name their children after relatives opt for Biblical names. They pick names of characters whose stories and personalities resonate with them. So there's no hard and fast rule when it comes to naming in Judaism, except one. Every child must be given two names, first Hebrew and second, a secular name for everyday use. The secular names must correspond to the traditional name in some way or the other. It could even be the anglicized version of the same.
If you're looking for a meaningful Judaism name for your child, peruse through MomJunction's list below. We have both traditional and secular Judaism names for you.
Name
Gender
Meaning
Aadina
Girl

Delicate; Slender; Friday

Aailayah
Girl

The one who is off to success; Going up; Ascending

Aaron
Boy

Enlightened; High mountain

Abbey
Boy

Father; My father is light

Abbot
Boy

Father

Abbott
Boy

Father; Priest; Father of abbey

Abdias
Boy

Servant of God

Abdon
Boy

Servant of God

Abell
Boy

Exhalation of Breath; A Variant of Abel

Aber
Boy

Yiddish form of Abraham which means Father of a mighty nation

Aberlin
Boy

Yiddish form of Abraham which means Father of a multitudes

Abi
Boy

Father; Elder brother; Priest

Abiah
Unisex

My father is Yahweh

Abidan
Boy

My father is judge

Abidin
Boy

Father of Knowledge; My Father Knows

Abie
Boy

Father of Many; Diminutive of Abraham

Abiela
Girl

God is my father

Abigael
Girl

My father's joy

Abigaia
Girl

My father's rejoice

Abigaill
Girl

The joy of my father

Abigaille
Girl

The rejoice of my father

Abigale
Girl

Father's joy

Abigayle
Girl

The joy or happiness of Yahweh

Abigeal
Girl

The father's rejoice

Abihail
Girl

The rejoice of my Yahweh

Abijah
Boy

God is my father; Yahweh is my father

Abilee
Girl

The land of mourning

Abilena
Girl

The father of a mourning person

Abilene
Girl

Grass; A Plain; A region in Syria

Abinadab
Boy

Father is willing or generou

Abinadi
Unisex

Messenger of God

Abiram
Boy

Strong, noble, exalted

Abisha
Boy

My Lord is my father

Abishai
Boy

One who is desirous of a gift

Abital
Girl

My father is the dew of night

Abiud
Boy

Father of praise

Abiyram
Boy

My lord is of high esteem

Abrahah
Boy

Father of masses

Abrahm
Boy

The father of many

Abramo
Boy

high father; father of a multitude

Abrams
Boy

An exalted father or high father

Abramson
Boy

The son of an exalted father

Abrasha
Boy

Yiddish form of Abraham, meaning Father of a multitudes

Abria
Girl

Strength or power; Father of many

Abrial
Girl

Variant of Abraham; Father of masses

Abriana
Girl

Female variant of Abraham; Father of multitude

Abriella
Girl

One who is derived from God; The pillar of strength

Abrielle
Girl

A woman of God or a woman from God

Abryanna
Girl

The father of all or many

Abs
Boy

The God of peace or the father of peace

Absalom
Boy

Father is peace

Absalon
Boy

God the Father is peace

Aby
Boy

Father of multitude or masses

Achan
Unisex

Troublesome; trouble-maker

Achar
Boy

To disturb or to trouble

Achaz
Boy

God is Holding; One that Takes or Possesses

Achim
Boy

Yahewh will establish; A name variant of Joachim

Achima
Girl

He will establish

Acre
Unisex

Wrong meaning

Adaia
Unisex

God's ornament; God's witness

Adaiah
Unisex

God has adorned

Adalai
Unisex

Noble, strong, graceful

Adaleen
Girl

Elegant and noble

Adar
Boy

Ruler; Prince; Fire

Adarah
Unisex

Exalted, noble, radiant

Adayah
Unisex

God's ornament; Adorned by God

Adbeel
Boy

Servant of God

Ade
Boy

Crown; Royal; Peak; Man

Adely
Girl

Noble and kind

Adem
Boy

Virtuous; Fair; Pure; Moral

Adiam
Unisex

Precious; Diamond

Adie
Boy

Little fire; Man; Man from Hadria; Dark one

Adiel
Boy

Ornament of God

Adim
Boy

Man; A variant of the name Adam

Adinah
Unisex

Delicate, graceful, serene

Adine
Girl

Noble; Honorable; Slender; Delicate; Ornament; Form of name Ada; A variant of Adina

Adla
Girl

Justice; Honest; My ornament

Adonay
Unisex

Lord or my Lord

Adonijah
Girl

Pleasure of God

Adorah
Unisex

Beloved or adored

Aeden
Unisex

Fiery or born of fire

Aedion
Unisex

Noble and powerful warrior

Aeryn
Girl

Enlightened; Mountain of strength; High mountain; Exalted; A variant of name Aaron

Agur
Boy

Compiler; Stranger; Gathered together

Aharon
Boy

Lofty; Exalted; High mountain; A variant of the name Aaron

Ahaziah
Boy

Yahweh has grasped

Ahiram
Boy

Brother of the exalted

Ahnna
Girl

God was gracious; God has shown favor; Grace; A variant of Anna

Ahron
Boy

Mountain; Yiddish form of Aaron

Ahrun
Boy

Exalted; Assyrian form of Aaron

Ahtziry
Unisex

Dewdrop

Aidel
Girl

Elegant, noble, virtuous

Aidette
Unisex

Princess; Noble helper

Aigner
Unisex

Noble; Graceful; Dignified

Aitan
Boy

Strong

Aithen
Unisex

Strong; Firm; Steadfast

Aizik
Boy

He will laugh; Yiddish form of Yitzchak

Aken
Unisex

Brave; Courageous

Alando
Boy

A unique and modern name

Alandria
Unisex

Noble, graceful, and strong
Look Up For Many More Names
Do you have a name in mind and want to know more about it? Or want to find names belonging to a particular origin, religion, or having a specific meaning? Use our search tool below to explore more baby names with different combinations.
The following two tabs change content below.