64 Baby Girl Names That Mean Creative
Unlock your darling daughter's inner artist with a moniker that ignites her imagination.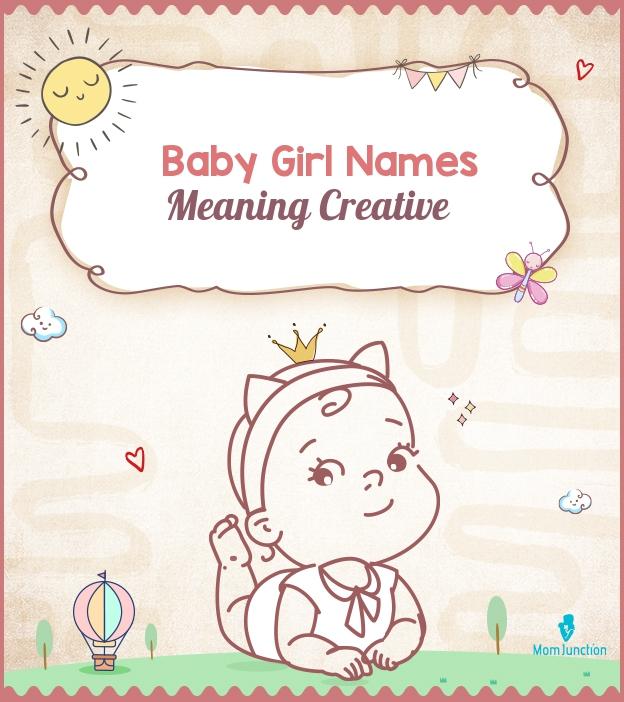 Parents choose a name for their girls, hoping they will exhibit the quality the name stands for. Baby girl names meaning creative are chosen by parents so they imbibe the quality as they grow. Creativity is a characteristic that can add colors to even a black canvas. This human quality can turn the ordinary into the extraordinary through imagination. Creativity is required in every field of life, from arts to sciences. It ignites inspiration that leads to innovation. It can defy conventions and create opportunities that were not possible in the past. Creative energy when harbored and channelised in the right direction can create something out of nothing. When parents choose these names, they do so, hoping their child will nurture the potential for innovation. These names can remind their child that their life is a blank canvas that they can make it more beautiful by filling it with the right colors. Their life is a storybook and everyday is a new chapter they can write themselves. Names associated with creativity are prevalent across cultures and languages. And this is because creativity is a valued quality. It is human's ability to imagine that has led to so many unimaginable creations. Baby names meaning creative, can act as a source of inspiration for a girl to be curious in life and look for answers that are not easily answerable. It can remind her that every problem can have a creative solution; she only needs to tap the inner creative energy. Creativity can also lead her to nurture her individuality and create a unique identity for herself. If you are looking for girl names that mean creative, then we have compiled a list of baby girl names that mean creative in different languages. Have a look.
Name
Gender
Meaning
Aashirya
Girl

Creative and strong personality from the land of God

Adwin
Unisex

An artist or creative person

Afternoon
Girl

One who is creative, a risk taker, practical, an art lover, and likes challenges

Aicusa
Girl

Visionary,; Imaginative; Creative

Alpana
Girl

A sophisticated and creative being

Alshafa
Girl

One who is gracious, generous, creative and light-headed

Alyenora
Girl

Creative, opinionated, and reliable

Alzena
Girl

Imaginative, creative, and analytical woman longing for freedom

Amanta
Unisex

To express, Versatile and creative

Amanthis
Girl

The one with a congenial nature and a desire to be creative

Andrena
Girl

Feminine form of Andrew; creative, outgoing and manly

Ariyana
Girl

One who has a desire to be creative and full of passion

Ashmiza
Girl

Creative; one who glows with intelligence

Aureliana
Girl

Golden, unique and creative individuals

Avenable
Girl

One who has a creative bend of mind

Avenlee
Girl

One with a creative bend of mind; honest

Badeea
Girl

She who is smart, creative and innovative

Blaisha
Girl

A creative, sensitive and loving individual

Cengifu
Girl

A creative and artistic individual

Cleotha
Girl

A creative woman

Cunovinda
Girl

Creative and attractive people

Denisse
Girl

One who is intelligent; A creative and excellent being

Dhundhun
Girl

In tune; Versatile and creative

Dilanne
Girl

A restless and creative person; created name

Dodde
Unisex

A person who is adaptable and creative

Dorinda
Girl

A creative individual with a gift of God

Dulcina
Girl

One who is lovely; creative

Eabae
Girl

A versatile and very creative person

Eiling
Girl

Bird; a versatile and creative being

Ellasyn
Girl

Children of Ellis; Creative; Productive

Ellee
Girl

One who works with everyone; A creative and excellent person

Ellenore
Girl

A foreign individual; Versatile and creative

Ellyda
Girl

The one with creative and restless nature

Elna
Girl

A creative person

Gal
Unisex

Wave; Creative and practical

Goldyeua
Girl

Optimistic, inventive, and creative

Goldyeue
Girl

Optimistic, inventive, and creative

Janberk
Girl

One who likes to explore; Creative and full of youth

Jimi
Unisex

Independent ; Urge to face new challenges in life and enjoy their life; Creative and focus on their physical appearance

Jinni
Girl

Helpful, creative, imaginative, and visionary

Jiselle
Girl

It means prettiest girl on earth Girls with this name are cutest and fun loving. They have good sense of humor and are creative

Jishna
Girl

Associated with Lord Ganesh and Vishnu; Analytical and creative

Jojo
Unisex

Full of high inspirations; Courageous; Honest; Determined; Original; Creative

Jolean
Girl

Gracious, pretty, expressive, humorous, and creative

Joleigh
Girl

Creative and adventurous type. They easily get bored and love changes. They are straightforward and easily make their life decisions

Juwete
Girl

An imaginative, creative and friendly person

Kalpita
Girl

Creative, imagined

Ligarda
Girl

A conservative, creative, and idealistic individual

Manasa
Girl

A creative person who creates with her mind

Mubdia
Girl

One who is smart, creative, and innovative

Nadeeka
Girl

Creative

Nimala
Girl

She who is creative

Ossenna
Girl

A creative, happy, and versatile person

Otta
Girl

A philosopher and creative individual

Pabani
Girl

An idealistic, creative, and imaginative person

Parzival
Girl

A clear sighted individual and a creative being

Pelava
Girl

A happy, full of fun, and creative being

Phia
Girl

A creative and self-reliant person

Rachita
Girl

Created; One who is creative and talented

Saethrith
Girl

An individual who is individualistic and creative

Shrijani
Girl

Creative

Sissota
Girl

A happy, creative and happy individual; soft hearted

Sohnian
Girl

A happy, artistic, and creative being

Vishali
Girl

Beautiful; Creative; One who has a big heart; Name of an Indian Goddess
Creativity is a quality that is sought after in most fields of work. Baby girl names meaning creative can inspire the little one to be imaginative and innovative. These names are present in different languages and cultures indicating the importance of this characteristic. Choosing such a name also serves as a life-long motivation to think out of the box and not conform to norms. These names also remind a child that they are writers of their own life story and can write a life they would love to live.
Frequently Asked Questions
1. What is the origin of girl names that mean creative?
Girl names that mean creative have diverse origins. For example, Aicusa, originating from America, signifies a visionary and imaginative nature. Blaisha, an Arabic name, reflects sensitivity, creativity, and love. Saethrith, of German origin, denotes an individualistic and creative personality. Rachita, an Indian name, represents someone who is talented and creative.
2. What Greek name means creativity?
The Greek name Gosa, derived from the Greek language, encompasses the essence of creativity and signifies a deep mind. Those named Gosa are known to possess a remarkable level of sensitivity, further enhancing their creative abilities.
3. What are some traditional baby girl names that mean creative?
There are several traditional baby girl names that convey a sense of creativity. Aicusa represents a visionary and imaginative nature. Alyenora signifies creativity, opinionatedness, reliability, and the establishment of one's unique identity. Alyseca represents noble individuals who are creative, outgoing, compassionate, and appreciative.
Look Up For Many More Names
Do you have a name in mind and want to know more about it? Or want to find names belonging to a particular origin, religion, or having a specific meaning? Use our search tool below to explore more baby names with different combinations.
The following two tabs change content below.