202 Baby Names That Mean Hero
From Achilles to Turan, these names serve as a testament to courage.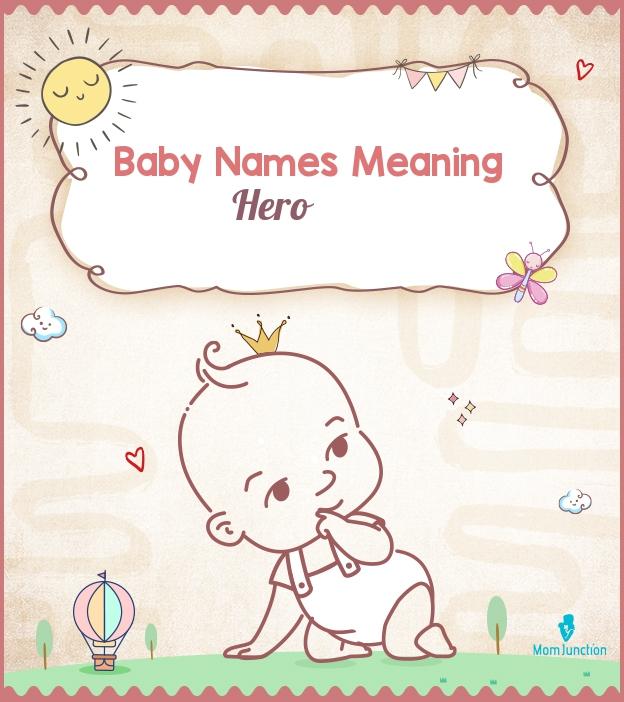 Baby names meaning hero have been quite popular among parents for generations. After all, who would not want to give their child a heroic name? Almost every culture has legends and mythological stories with multiple heroes and heroines. These characters and their names often imbue feelings of bravery, courage, and resilience. Since heroes are believed to possess powers or superpowers, a name meaning hero is typically associated with nobility, morality, brevity, and strength. They also display selflessness and courage when faced with adversity and danger, especially during wars, fights, and battles. Hence, names associated with mythological heroes are considered a source of motivation for individuals bearing the name and those around them. Achilles, for instance, is the name of a Greek legend who is regarded as the hero of the Trojan War (1). Kaleva, a hero in Estonian mythology, and Laertes, the Father of Odysseus, from Greek mythology, are a few more names inspired by legends and myths. Many names meaning hero could also be inspired by real people who courageously stood against anything unfair or unjust. They could be people who participated in wars and battles or those who never held a weapon but inspired many with their achievements and visions. Their heroic acts encourage others to believe in themselves and their innate powers. Perhaps that's why parents across religions and cultures opt for names borne by real-life heroes for their children. If you are drawn to such names and want to explore options, take a look at the list below. It has names from different origins, cultures, and languages with significant cultural associations. Pick a name based on your preferences and liking.
Name
Gender
Meaning
Aardburzin
Boy

Fire of exaltation; It's also the name of the son of the hero Framroz

Abhiveer
Boy

One who Commands; One who is Surrounded by Heroes or warriors

Abhivira
Boy

Surrounded by Heroes; A Commander; Respectful warrior

Abtal
Boy

A brave person or a hero

Achilles
Boy

Pain; Mythological hero from Trojan war

Adolfina
Girl

Noble wolf; Noble hero

Aeneas
Boy

Praise; A hero from Trojan war

Ajitkumaar
Boy

Hero

Akilles
Boy

Hero of the Greeks; A form of Achilles

Akin
Boy

Brave; Heroic; Man

Akio
Boy

Bright Man; Manly; Hero

Alih
Boy

Idol; Icon; Hero

Alp
Boy

Hero; Brave

Alper
Boy

Heroic; Brave warrior

Amaradhevan
Boy

A hero sent from heaven

Amaranayagan
Boy

A hero sent from heaven

Amarthevan
Boy

A hero sent from heaven; Ultimate warrior

Amarveer
Boy

A hero sent from heaven who is an ultimate warrior

Anh
Unisex

Flower; Brave; Hero

Antarah
Boy

Hero-like; Brave; Strong

Ardaviraf
Boy

The holy resplendent hero

Areli
Boy

Lion of God; God's hero

Arelis
Girl

Lion of God; Hero

Arshama
Boy

A man with the might of a hero

Aryo
Boy

Name of the Iranian hero who fought against Alexander the Great

Asfand
Boy

Pasto version of Esfandiyār; King; A brave hero

Atal
Boy

Hero; Leader; Guide

Baadur
Boy

Georgian form of Bahadur; Hero; Warrior; Brave

Bahaadur
Boy

A brave hero or a warrior

Bakavata
Boy

One who has the qualities of a hero; Very Attentive; Watchful; One who is vigilant or closely observant

Barbod
Boy

Hero

Bataar
Boy

Hero; A heroic figure

Batal
Boy

Brave; Hero; Champion

Bathilde
Girl

Heroine

Baudric
Boy

Brave ruler; Heroic monarch

Bertille
Girl

Heroine

Bihjan
Boy

A person who is a hero

Bijann
Boy

He who is considered a hero; A legend among men

Bijon
Boy

Ancient hero in the Persian language; A vairant of name Bijan

Bleddyn
Boy

Wolf Hero

Boadicea
Girl

A Queen of the Iceni Victory; Name of a Heroic Queen of Early Britain

Boopathi
Boy

King of Earth; The Hero of Stunts; Lord of the World; Supreme Being

Botilda
Girl

Old Norse - A commanding Heroine; Battle for Help

Brihadratha
Boy

Powerful hero

Cassander
Boy

The brothers of heroes

Casworon
Boy

Battle hero

Citlalmina
Girl

Greatest of all the female heroes

Clely
Girl

A french version of Clelia; A Roman heroine

Clotilda
Girl

One who is famous for her war skills; Known as heroine for her war tactics

Con
Boy

Heroic and wise; One who has lots of wisdom

Conlan
Boy

Hero; one who is courageous and is admired by everyone

Connley
Boy

Hero; the idol of men, who is courageous and bold

Corentyn
Boy

The Cornish form of the name Corentin meaning hero.

Crowley
Boy

Brave hero

Cuchulainn
Boy

A warrior hero

Curra
Boy

Spear; Hero

Currie
Boy

A dagger; Hero

Cymbre
Girl

A famous warrior; War heroine

Cynwrig
Boy

A born hero

Da Xia
Girl

Biggest hero

Dalvir
Boy

A hero

Danasur
Boy

A Hero Among the Donors; A generous and Kind person well known for his good deeds

Danavira
Boy

A hero among common people

Dayaveer
Boy

Heroically Compassionate; A warrior in being Kind and generous

Dayawant
Boy

A hero; God of mercy

Devasur
Boy

A divine hero; Warrior of god

Dhrishit
Boy

Courageous; Fearless; Heroic; Brave; Powerful; Mighty

Divers
Boy

A hero from heaven; Plays for the team

Dooley
Boy

Hero with a dark skin; A dark-haired person

Doria
Girl

A legendary Greek hero; Brave

Dorien
Boy

The legendary hero of Greece

Duer
Boy

Hero; Very mature and confident

Durand
Boy

A strong, heroic son

Durbail
Boy

A Heroic Son; Valiant; Brave; Gallant; Laudable

Ecgtheow
Unisex

Peace; quiet; harmony; a heroic name

Elysium
Boy

The place where heroes in Greek mythology go when they die

Eroica
Girl

Heroic

Ervar
Boy

Befitting a hero; One who is heroic

Fadiyah
Girl

A heroic and gallant woman

Farel
Boy

Heroic

Farol
Boy

A heroic and superior man

Ferhat
Boy

Winner; Smart; Male Hero

Finlay
Boy

A fair and heroic warrior

Finley
Boy

Fair hero

Fitela
Boy

Mythologically, both, the son, as well as the nephew of Sigemund, a Norse Hero

Floki
Boy

A heroic viking.

Gabi
Girl

Man of God; Hero of God

Gabrieli
Girl

God is my hero

Gabriell
Unisex

Heroine of God

Ganbaatar
Boy

Steel hero

Gandira
Boy

Hero

Ghazi
Boy

A heroic person; A hero

Gordafrid
Girl

A person created as a hero

Goron
Boy

Hero

Gul Makai
Girl

The heroine of the famous folk tale Musa Khan aw Gul Makai

Halbart
Boy

Brilliant Hero

Halbert
Boy

Shining jewel; Dazzling hero

Halebeorht
Boy

Bright Hero

Halfrida
Girl

A peaceful heroine

Hammam
Boy

Chief; A great man; A hero
Baby names meaning hero are popular among parents as they evoke a sense of bravery and courage. Almost every culture has legends and mythological stories from which these names may be drawn. Moreover, these names could also be taken from real-life heroes who touched human lives through their actions. In any case, these names inspire people bearing the name and those around them to always believe in themselves. So pick a name from the list above and give your child a gift that will always remind them of their potential.
Infographic: Gallant Baby Names That Mean Hero
Baby names meaning 'hero' are found in all cultures and languages. Most of these names originate from legends and mythological stories. Parents love these names as they exude a sense of power and resilience. If you are looking for baby names meaning 'hero' for your little one, give this infographic a look.

Frequently Asked Questions
1. Do baby names meaning 'hero' have any cultural significance?
Names meaning 'hero' often hold cultural significance as they pay tribute to individuals who embody bravery, courage, and strength. For instance, Malik, meaning 'king,' is of great significance in Arabic culture. It represents a heroic figure with leadership qualities. Another example is Ethan, meaning 'strong' or 'enduring.' In Hebrew culture, it symbolizes heroic strength and steadfastness.
2. What are some famous people with baby names meaning hero?
There are several famous people with names that mean 'hero.' They include Gabriel García Márquez (Colombian novelist, short-story writer, and Nobel laureate), Connie Britton (American actress), and Dorian Gregory (American actor and television host).
3. Can baby names that mean hero also have a spiritual or religious significance?
It is possible to find baby names meaning 'hero' that have both spiritual or religious significance. For example, in Greek mythology, the name Achilles is derived from the Mythological hero from the Trojan War, signifying heroic qualities. In Christianity, the name Gabriell is often associated with bravery and heroism due to the archangel Gabriel's role in delivering important messages and serving as a warrior of God. A few other examples are Ghazi, Halle, and Con, each related to hero or heroism.
References:
MomJunction's articles are written after analyzing the research works of expert authors and institutions. Our references consist of resources established by authorities in their respective fields. You can learn more about the authenticity of the information we present in our
editorial policy
.
Look Up For Many More Names
Do you have a name in mind and want to know more about it? Or want to find names belonging to a particular origin, religion, or having a specific meaning? Use our search tool below to explore more baby names with different combinations.
The following two tabs change content below.