98 Baby Names That Mean Ideal
Perfection in life and character starts with an exemplary name.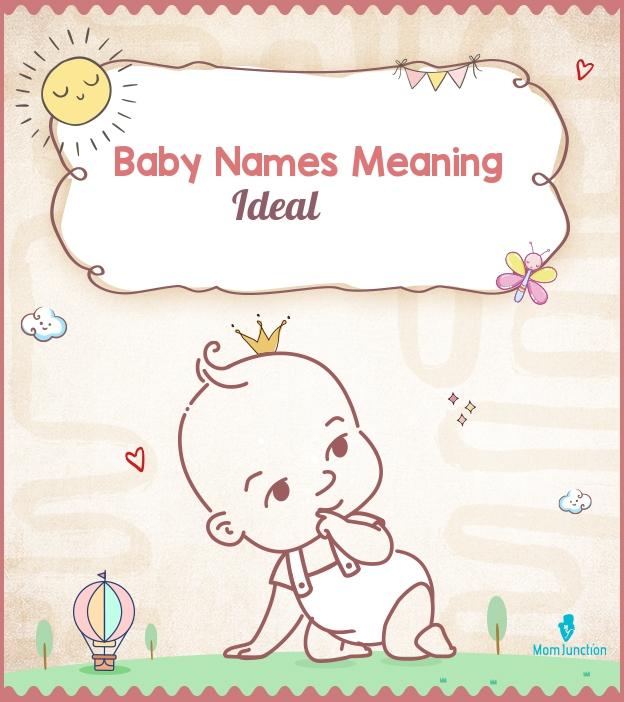 Naming your children can be challenging, let alone searching for baby names that mean 'ideal.' Getting the perfect name sometimes takes several months of brainstorming. Some take ordinary names and tweak the spelling to make it look extraordinary. At the same time, others take inspiration from their place of birth or occupation to select a moniker. But if you're one of those parents for whom meaning is the most important, then a name meaning 'ideal' would be apt for you. Ideal stands for two things – something that satisfies your conception of what is most suitable or perfect or a principle that one pursues as a goal in the context of ethics. Both meanings encompass beliefs, personality, behavior, and values under various conditions. All this and more makes 'ideal' a perfect naming inspiration for your little one. The concept of the ideal has traditionally been valued throughout many cultures. The nature of the ideal, whether in forms, qualities, or a way of life, has been a topic of discussion for philosophers from antiquity to the present. A child whose name is linked with such philosophical significance is associated with a lineage of thinkers, scholars, and pioneers. For instance, the name Pascal connotes the attributes of the ideal and associates it with the famous French philosopher and mathematician Blaise Pascal (1). Such names gently remind the child to pursue greatness consistently, seek out their best selves, and push the boundaries to establish a higher standard. Additionally, it fosters a sense of accountability in the youngster, inspiring them to serve as an example and an inspiration to others. This decision highlights a parent's desire for their child to personify perfection in all they do and be a shining example of life's virtue and righteousness. To help you, MomJunction has listed some sturdy and adorable baby names meaning ideal. You even have the option to mark your favorites and save them for future use. So what are you waiting for?

Name
Gender
Meaning
Aadarsh
Boy

One who has principles; The ideal man

Aadarsha
Girl

One who is ideal; Optimal; Perfect

Aadarshini
Girl

One who adheres to idealism; Idealistic

Aadhikesavan
Boy

One who is Ideal for Others

Adarsa
Boy

The ideal person; Mirror image

Adarsh
Boy

Ideal

Adarsha
Boy

The one who is an ideal person

Adarshpal
Boy

Keeper of Ideals; Well mannered and Principled man

Adarshpreet
Boy

An ideal love or affection

Adrsh
Boy

Sanskar; Ideal

Ailliva
Girl

Idealistic

Ailmar
Boy

Highly sensitive; Idealistic

Ailred
Boy

Sensitive; Idealistic

Akeel
Boy

Wise; Capable of creatingan idealistic and sensitive nature

Alsneta
Girl

Idealist beings embracing empathy and forgiveness

Aluerd
Boy

Intuitive and idealistic

Amdesh
Boy

One who is full of idealism and is Lord of the land

Anachorita
Girl

One with high ideals; Amusing; Unique

Anbucelvan
Boy

Aristocratic; Idealistic; Blessed

Anirvesh
Boy

Devoted one; Loving; Loyal and idealistic teachers

Anookul
Boy

Pleasant; Good; Ideal; Compatible; Fortunate

Arrant
Boy

Idealistic

Atheleisia
Girl

Infinite; They lack patience; Serious and idealistic

Aupinder
Boy

One who has an idealistic nature

Aushima
Girl

One with high ideals, innate abilities and visions

Avra
Girl

An idealistic person

Bahaddin
Boy

An idealistic and compassionate person

Baldehiua
Girl

To be idealistic, generous and forgiving

Baldehuia
Girl

To be idealistic, generous and forgiving

Bhaanish
Boy

Visionary; Having the Faculty of Seeing; One who has idealistic perspectives

Brictiua
Girl

Idealistic; Tactful; Individualistic; Candid

Cetuur
Boy

An idealist man

Daylof
Girl

An idealist; a youthful and lonely being

Deeraj
Boy

Idealistic one; one who has lot of patience

Dibric
Boy

An idealistic and sensitive person

Dosakara
Boy

One who has an idealistic nature and is an expert; Moon

Doyne
Boy

A sensitive person who is an idealistic being

Dubricii
Boy

A brilliant, untiring, and idealistic being

Dundhu
Boy

Punishment; Idealistic; Expressive

Eaduin
Boy

An idealistic, prosperous, and inspirational person

Eadwulf
Boy

A person who is idealistic and has inspirational qualities; Fortune wolf

Eardwulf
Boy

An idealistic and inspirational person

Eddricus
Boy

Strong in material sense and is idealistic

Eddusa
Girl

One who has strong spirit and is idealistic

Einilda
Girl

Battle; an idealistic and powerful natured person

Eleora
Girl

Idealistic; God is the ultimate light

Ellecia
Girl

Form of Elijah; An ideal human being

Elmyra
Girl

An imaginative and idealistic person; Noble

Gnandan
Boy

An idealistic, versatile and lovable being

Gramercy
Boy

Idealistic and hardworking

Grantley
Boy

Idealistic and hardworking

Grendel
Boy

Imaginative and idealistic

Grsamada
Boy

A generous, ideal, and resourceful person

Guillermin
Boy

One who is cheerful, gorgeous and ideal

Gurmukat
Boy

One who is idealist

Gwrddogwy
Boy

Idealistic; Impressive; Expressive; Inspirational

Gwrddylig
Boy

Idealistic; Impressive; Expressive; Inspirational

Haecci
Boy

Idealistic; Highly imaginative; Intuitive

Heortla
Boy

Sensitive; Imaginative; Idealistic

Hiuel
Boy

A happy, idealistic and level headed person

Hwaetmund
Boy

An idealistic, reasonable, and loving individual

Hwaetsige
Boy

A sensitive, humble, idealistic, and imaginative being

Jhawar
Boy

Idealistic and desirable individual

Jinadev
Boy

Victory of the lord; Energetic, creative, solution-oriented, idealistic, and attentive listeners

Joline
Girl

Idealistic; Potential for hardwork; Misusing power

Juli
Girl

Youthful; Dreamer; Idealistic; Strength and agility

Kameelah
Boy

Perfect; Ideal; Flawless; Great and Wonderful

Kopanaka
Boy

Sensitive and idealistic person

Kyeseam
Boy

idealistic; Loving

Ligarda
Girl

A conservative, creative, and idealistic individual

Liju
Girl

A beautiful and idealistic person

Loudi
Girl

A person who is inspirational and idealistic

Maivelyn
Girl

One who is fast, attractive, and has ideals

Marez
Boy

An idealistic person with strong desires

Nidhaan
Boy

Money; Paragon; Money; Ideal

Niraghan
Boy

Perfect; Spotless; Ideal; Flawless

Oldrich
Boy

One who is pleasing in appearance specially by reason of conformity to ideals of form and proportion

Ositha
Girl

An inspirational and idealistic person; very strong

Ostrythe
Boy

A divine Wolf; Idealistic person

Pabani
Girl

An idealistic, creative, and imaginative person

Paeccel
Boy

An idealistic and independent individual

Palam
Unisex

Idealists who are compassionate; Palm tree

Pariya
Boy

An idealistic and humble individual

Parneet
Girl

Married; one who is idealistic and sensitive

Pelson
Boy

Sensitive and idealistic natured

Perani
Unisex

One who has an idealistic and expressive nature

Prathia
Girl

A person with a very keen intellect or splendor; An idealistic and keen intellectual being; Brightness

Pulloc
Boy

One who likes harmony and peace; idealistic

Qudwa
Girl

Ideal; Exemplar

Rakeidra
Girl

Compassionate; Idealistic; Perfect

Saethryd
Girl

An idealistic and energetic individual

Similini
Boy

An innocent, lonely, insightful and idealistic being

Styfic
Boy

An idealistic person who wants freedom

Touilt
Boy

Versatile; Idealistic and inspirational individual

Tudeca
Boy

Idealistic and inspirational human being

Tuffa
Boy

One who has firm ideas and ideals

Turoc
Boy

A creative, idealistic and virtuous being

Uswa
Unisex

Exemplary, ideal, role model
When parents choose a baby name that means 'ideal,' it shows their high hopes and expectations for their children. Such names connect the child to a history of great philosophers and inspire them to strive for greatness in all areas of life since they are rooted in profound philosophical and ethical ideas. Choosing an apt title with deep significance ensures that the child carries a lighthouse of inspiration and a guiding vision for their future.
Frequently Asked Questions
1. What is the significance of choosing a baby name that means "ideal" and how can it reflect parents' aspirations for their child?
Picking a baby name that means ideal can be of great significance to the parents. It may depict the hopes and desires the parents have for their child. It might also be used as a name to symbolize the ideal vision that they see in their little one.
2. What are some factors to consider when choosing a baby name that means "ideal"?
When choosing a name which means ideal, it is important to keep in mind certain factors like the personal meaning the name holds for you and your family, the cultural background associated with the name should also be considered, the practicality of the name, and the future impacts that the name will have on your child.
References:
MomJunction's articles are written after analyzing the research works of expert authors and institutions. Our references consist of resources established by authorities in their respective fields. You can learn more about the authenticity of the information we present in our
editorial policy
.
Look Up For Many More Names
Do you have a name in mind and want to know more about it? Or want to find names belonging to a particular origin, religion, or having a specific meaning? Use our search tool below to explore more baby names with different combinations.
The following two tabs change content below.