13 Baby Girl Names That Mean Infinite
Names for your princess who is a constant reminder of infinite beauty.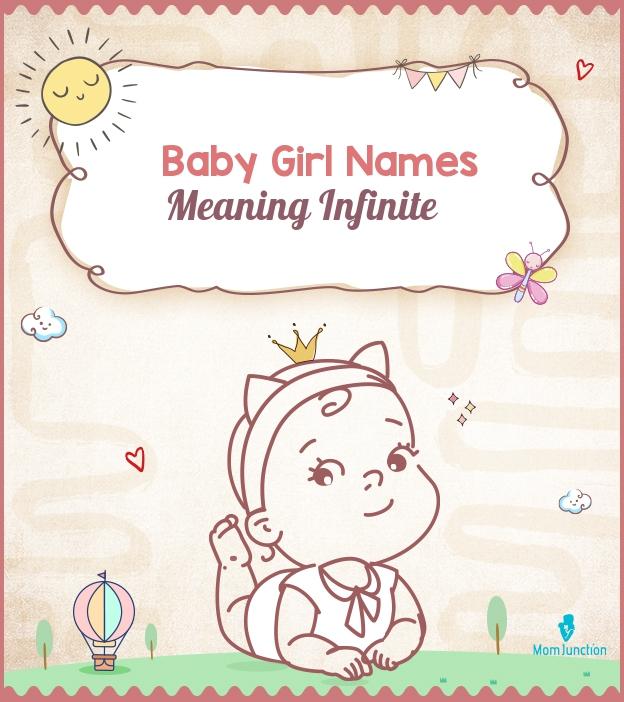 One of the most important decisions at the beginning of your parenting journey is choosing a name for your child. This decision symbolizes the virtues and qualities you and your family aspire for your child to embody. That is why parents search for girl names that mean infinite for their daughters. These names span across various cultures and are age-old. It is said that names are markers of cultural identities. The process of transitioning to parenthood is when people take time to reflect on their own identity roots, according to studies, and decide whether and how such identities will be transmitted to their child (1). The term infinite has a comprehensive meaning. Parents wish their girls to lead a long and fulfilling life by choosing a name that signifies it. Infinity is also symbolic of something beyond comprehension. Thus, giving your girl a name that means infinite can be a way to convey that she has unlimited potential and promise. It is a powerful affirmation that your child possesses limitless possibilities. Parents can use such a name to inspire their girls with the magnificence of the universe. As your girl grows, she will constantly be reminded that she holds infinite power to achieve her visions and dreams. Also, and more importantly, a name that signifies infinity or unlimited will also remind them to let go of limiting beliefs. Often, these beliefs and thinking patterns prevent people from realizing their full potential. When you give your daughter a name that defies the concept of limiting beliefs, she will be inspired to grow into a more confident and ambitious woman. You can easily find a name that means infinite and aligns with your culture and aspirations from our list below.
Name
Gender
Meaning
Amey
Unisex

Infinite; Lovable; Another name of Lord Ganesha

Anaahat
Girl

The one who is infinite and can never be defeated

Ananka
Girl

Countless; Infinite; Something which cannot be counted; Has no boundary or limitations

Anantya
Girl

An endless or infinite being

Annesha
Girl

Funny; Infinite and skillful

Annessia
Girl

Funny; Infinite and skillful

Atheleisia
Girl

Infinite; They lack patience; Serious and idealistic

Mabota
Girl

Infinite; Endless

Mahald
Girl

Beloved; Infinite; Endless; Variant of Maria

Mahalt
Girl

Beloved; Infinite; Endless; Variant of Maria

Manild
Girl

Beloved; Infinite; Endless; Variant of Maria

Opame
Girl

Infinite light

Varuni
Girl

Infinite
Names imbued with a sense of infinity make for a meaningful choice. You will find many unique options in this list of baby girl names that mean infinite, easing your search for a fitting name for your daughter. You can use such names to instill long-lasting confidence in your girl or connect her with your heritage. They will inspire her to believe in her potential and empower her. Whatever name you pick will surely make her proud once she understands its significance.
Infographic: Mesmerizing Girl Names That Mean Infinite
Infinity, the eternal nature of existence, is a concept that appeals to most parents. It can imply everything from limitless wisdom to boundless potential. So why not give your girl a name that captures this very essence? The name you choose can help your little one stay strong despite facing challenges. Read the infographic compiled below to discover the top choices for this theme.

Frequently Asked Questions
1. What are some baby girl names that mean 'eternal' or 'everlasting'?
A few names that mean eternal or everlasting include Lestari, an Indonesian name that means 'eternal' or 'abiding,' Navneet, an Indian (Sikh) name, combines the Sanskrit words nava, meaning 'new' or 'fresh,' and Nitya, meaning 'eternal.
2. What are some baby girl names that mean boundless or endless, like infinite?
Aditi, derived from Sanskrit, is a baby girl name that signifies 'boundless' or 'entire.' It finds its roots in Hindu mythology, where Aditi is revered as an ancient goddess associated with the sky and fertility and is considered the mother of the gods. Another name, Ananta, can be used for both boys and girls. Also originating from Sanskrit, it carries the meaning of 'infinite' or 'endless.' Ananta serves as an epithet for the Hindu deity Vishnu, as well as the goddess Parvati.
3. What are some baby girl names that mean vast or immense, like infinite?
Erdenedelger is a Mongolian name that combines the elements 'erdene,' meaning 'jewel' or 'precious,' with 'delger,' which signifies 'vast,' 'wide,' 'prosperous,' or 'abundant.' Additionally, the Chinese name Da is another name associated with meanings such as 'big,' 'great,' or 'vast.'
4. Can you recommend some baby girl names that mean depth or profundity, like Infinite?
Derin, meaning 'deep' or 'profound,' another option is the Vietnamese name Huyền, which represents 'deep,' 'profound,' 'mysterious,' or 'black.' Both Derin and Huyền make meaningful choices for parents looking for names that embody depth and profundity for their baby girls.
References:
MomJunction's articles are written after analyzing the research works of expert authors and institutions. Our references consist of resources established by authorities in their respective fields. You can learn more about the authenticity of the information we present in our
editorial policy
.
Look Up For Many More Names
Do you have a name in mind and want to know more about it? Or want to find names belonging to a particular origin, religion, or having a specific meaning? Use our search tool below to explore more baby names with different combinations.
The following two tabs change content below.