42 Baby Names That Mean Simple
Less is more, that's the testament to these options.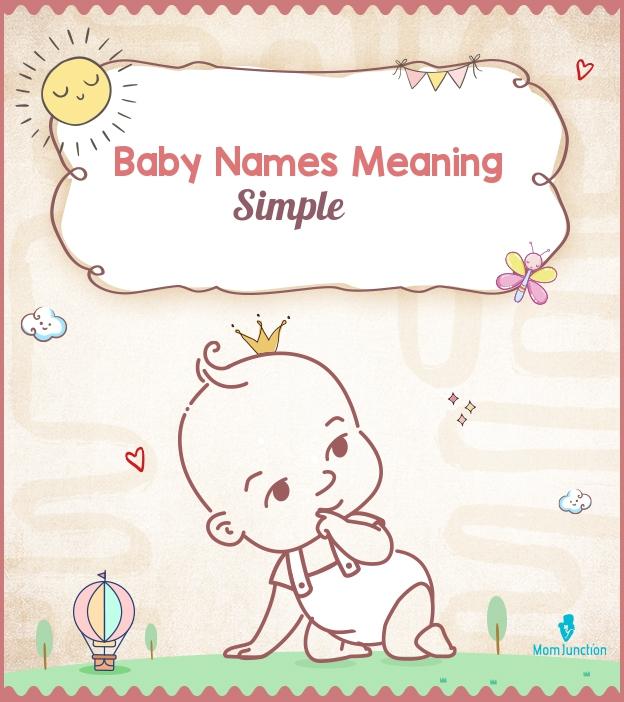 In their pursuit of selecting a baby name meaning simple yet meaningful, parents may explore different places for inspiration. They watch different movies and television shows, search through books, and even hunt their family tree. In this process, they forget that the beauty of a name lies in simplicity. Trendy and unique baby names often fail to stand the test of time, but simple names stay strong forever. Because beauty indeed lies in simplicity.
In a world where everything is complex, finding simplicity or being simple is rare. More so, because simplicity is equated with laziness in today's generation. It's only when you lead a simpler life, you discover and even get things that you actually want from your life. You worry less, have a sense of peace, and can slow down enough to notice and feel the beauty around it. Hence, baby names carrying the essence of simplicity have been cherished for generations. This characteristic makes people feel connected and steady, which is particularly comforting during changing times. Another advantage of baby names meaning 'simple' is that they are easy to remember and pronounce. This can make your little one feel more at ease when interacting with new people and making new friends.
Additionally, A simple yet significant name holds a special place in religious traditions since they are associated with humility, a virtue celebrated across religions and cultures. These names remind us of the essential religious teachings guiding a life aligned with those principles. Such a name adds a spiritual touch and supports the child's staying true to their beliefs. So, cherish simplicity and understand how valuable and important it is. The baby boy and girl names featured in our list may mean simple, but they make a significant impact. So which one will you choose for your child?
Name
Gender
Meaning
Adavak
Boy

Simple; Uncomplicated; free of deceit; Unpretentious

Aggie
Girl

One who is simple; Pure; Maidenly; Ladylike; Friendly nature; Innocent

Akutil
Boy

Straight Forward; Upright; Simple

Arcat
Boy

Simple; Brilliant; Happy

Atchuta
Boy

A simple and efficient person; stable

Bencelina
Girl

An easy-going, simple, and muscular individual

Coa
Unisex

Short; Simple; Unique

Diksheeka
Girl

A simple and sober person; silent type

Dikshil
Boy

A simple person; Respectful

Durvisa
Boy

One who cannot be attained by simple rites; Shiva

Elilchelvan
Boy

A Simple Good Looking Man; Handsome; Charming; Appealing; Attractive

Freware
Girl

A simple and poised individual

Hamamah
Girl

Like dove; Simple and beautiful

Jozefien
Unisex

Simple; Open; Joyful spirits

Juday
Boy

Quiet; Lenient; Sweet mannered; Friendly; Simple

Jugaad
Boy

One who is there since ages; One who finds simple solutions for complicated problems

Julieth
Girl

They are heavenly sorts of persons. They have a very simple lifestyle, are elegant, and are easygoing. People are impressed by their simplicity and strong spiritual nature.

Kateryna
Girl

Pure; Simple

Katheryne
Girl

Neat; Simple

Kathlyn
Girl

Pure and simple

Kerttu
Boy

Simple pleasure

Mallot
Boy

A variant of Mallot; Noble and simple

Mardav
Boy

Softness; Simple; Delicate

Nagu
Boy

Gentle and simple person

Nicha
Unisex

Natural; Simple

Ovia
Girl

A quiet and simple being; With deep inner desire

Pranit
Boy

God; One who is as dear as life; Modest; Simple; Straightforward

Pranith
Boy

God; One who is as dear as life; Modest; Simple; Straightforward

Pranjal
Boy

God; One who is as dear as life; Modest; Simple; Straightforward

Pranjala
Boy

God; One who is as dear as life; Modest; Simple; Straightforward

Pumba
Boy

Simpleton; Awkward

Rajju
Girl

A Star; Simple; Plain

Rinka
Unisex

Simple; Elegant; Flowing

Samwise
Boy

Half-wise; Simple, natural and pure

Saral
Boy

Simple; Straightforward

Sarala
Girl

Simple; Black tulsi

Saresh
Boy

One who is simple

Sarla
Girl

Simple; Black tulsi

Sayali
Unisex

Simple, graceful, beautiful

Sulabha
Girl

Simple; Easily available

Taheera
Girl

Simple or restrained person

Taiyan
Boy

A simple and sweet Boy
In a constantly changing world, baby names meaning simple epitomize timeless poise and wisdom spanning generations. These names, unburdened by complexity, are a quiet reminder of life's genuine beauty. Their humble elegance connects past, present, and future, serving as a bridge to one's heritage. They impart a sense of purity and strength into your little one's personality. Also, a name filled with simplicity and eternal power will gently guide your child through life's intricate journey.
Infographic: Pure Baby Names That Mean Simple
Choosing a name that means 'simple' for your baby is a considerate decision. It can make you feel peaceful and clear, especially in a busy world. These names have deep roots in old cultures and show qualities like being humble. From the straightforward Arcat to the pure Pranjal, our infographic has special names we picked just for your little one. Embrace the strength of simplicity showcased in this infographic – a name that says a lot in a simple way.

Frequently Asked Questions
1. Are there any common cultural or spiritual meanings associated with baby names that mean simple?
Some of the commonly associated meanings or qualities of names denoting simplicity are stability, liveliness, decency, and innocence while prioritizing inner beauty over material possessions or worldly desires. For instance, the Chinese name Jian and the Sanskrit, Pranjal, meaning simple, are associated with modesty and sincerity.
2. What are the implications of picking a baby name that means simple?
Choosing a baby name that means simple signifies the parents' hopes for their baby to grow up with simplicity, approachability, modesty, and clear determination. It may also imply a desire for an unpretentious and uncomplicated way of living.
Look Up For Many More Names
Do you have a name in mind and want to know more about it? Or want to find names belonging to a particular origin, religion, or having a specific meaning? Use our search tool below to explore more baby names with different combinations.
The following two tabs change content below.