55 Baby Girl Names That Mean Treasure
A wealth of golden names for your precious little jewel.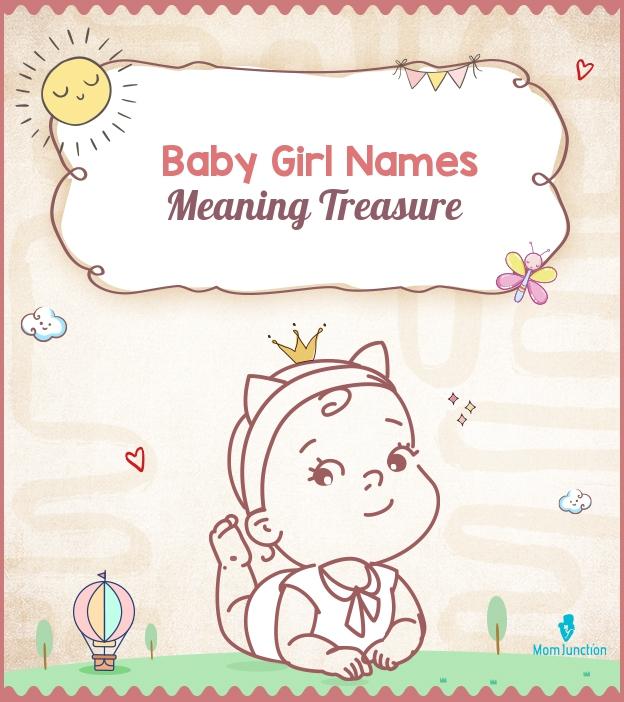 In the voyage of embracing a new addition to your family, selecting the ideal name for your baby girl resembles unearthing a hidden treasure. During this pursuit, choosing baby girl names meaning treasure, emerges as a befitting selection. The word 'treasure' has profound significance and value, typically denoting cherished possessions or items of great worth. This concept extends beyond material wealth, encompassing esteemed individuals, cherished memories, and highly valued qualities. Material riches usually take the forefront when the concept of treasure comes to mind. Girls bearing names symbolizing treasure are often thought to hold a rich spirit, endearing attributes like kindness, empathy, creativity, and a strong sense of purpose. These virtues establish them as gems in their own regard, motivating others to explore their inner treasures. The word 'treasure' carries significant symbolic weight across different faiths. Within Christianity, it signifies spiritual abundance and the riches of the divine realm. Buddhism views it as a symbol of life's preciousness and the journey toward inner serenity. Meanwhile, in Hinduism, it stands for achieving enlightenment and spiritual contentment. Mothers cherish their children as their ultimate treasures, a bond unchanging throughout their lifetimes. The sight of their newborn's joyous smile fades all else, evoking an instinctual connection. Selecting a name symbolizing 'treasure' for a girl resonates with the parents' dreams, conveying their deep affection. This choice echoes their love and reinforces her value in their hearts. Our compilation of baby names, each signifying an invaluable essence, offers a radiant and vibrant essence to infuse into your child's existence. Using this list as your guide, you can uncover the hidden gems behind these names and select a name that perfectly captures your innermost hopes for your daughter. Whether you're inclined towards names representing resilience, insight, elegance, or happiness, our thoughtfully selected compilation offers choices for all preferences. Explore this collection and discover the radiant possibilities it holds!
Name
Gender
Meaning
Aashna
Girl

Beloved; Devoted to love; Someone who treasures love; Dearmost; Close to heart; One who fulfills wishes

Aghigh
Girl

Name of a stone; A stone that is precious, treasured, priceless, immeasurable, and rare

Aghla
Girl

One who is the most precious, most valued, dearest to all, treasured and kept protected

Ainalsaba
Girl

Treasure of the eye

Araseli
Girl

A wonderful treasure

Arcelia
Girl

Treasure chest

Argelia
Girl

The one filled with treasures; Illuminating

Arianell
Girl

The one filled with treasures

Bao
Unisex

Jewel; Treasure; Precious

Bolorerdene
Girl

Crystal treasure

Caspara
Girl

A keeper of treasure

Ceren
Unisex

Gifted, blessed, treasure

Charish
Girl

Treasure; graceful person

Cherish
Girl

To treasure

Chestina
Girl

A treasured individual

Dinara
Girl

A treasured individual; a sensitive person

Ermengild
Unisex

Immense treasure

Ermenhilda
Unisex

Huge treasure

Gasper
Unisex

Treasurer; The keeper of treasure

Gefion
Girl

One who bestows treasures

Hazeena
Girl

Autumn; Treasure; Forever

Hazina
Girl

Treasure

Jasperine
Girl

A keepr of treasure

Jin Ae
Girl

Truth, treasure, and love

Jin Kyong
Girl

Truth, treasure, and brightness

Johara
Girl

Jewel; Treasured; Important

Joona
Girl

God will add blessings, treasure friendship, expressive, joyful

Jozette
Girl

God will add blessings; Treasure friendship and express the feelings; Joyful in nature

Kansa
Girl

Treasure

Kaspian
Girl

Keeper of treasure or protector of treasure

Kenza
Girl

Treasure

Khazeena
Girl

Plenty of treasures

Kura
Girl

The name means Treasure House

Lakita
Girl

The treasure that is found

Leta
Girl

A hidden and forgotten treasure

Mahangun
Girl

A woman treasured for her great virtues

Nafis
Unisex

A person who is treasured and valued

Nathania
Girl

God's treasure

Nerisha
Girl

That can reveal hidden treasure

Nerissa
Girl

One who can reveal hidden treasures

Nkechi
Girl

The precious treasure from God

Orva
Girl

Asset as gold or valued as golden treasure

Pounamu
Girl

A treasured gift

Segulah
Girl

Treasure

Shrinidhi
Unisex

Wealthy treasure

Sima
Girl

A treasure

Simah
Girl

One who is a great treasure

Soo Jin
Girl

Treasure, excellence, and truth

Srinidhi
Unisex

Wealth or treasure

Takara
Girl

Beloved jewel; Treasure

Tamatoa
Unisex

Treasure seeker

Tomiko
Girl

Child treasured by many

Tresor
Unisex

Treasure or precious

Varya
Girl

Treasure; Something precious

Yujin
Unisex

Abundance or precious treasure
Baby girl names meaning treasure reveal a child's inherent worth and significance, a sentiment perfect for expressing your boundless love. These names hold more than mere words; they bridge to a future of beauty, awaiting your cherished bundle of joy, providing them with beloved identities. Our article aids your journey in discovering the ideal name that aligns with your heart's wishes. May your chosen title radiate affection, happiness, and aspirations for your child, reminding her of her value and importance in your life.
Infographic: Invaluable Baby Girl Names That Mean Treasure
The term 'treasure' is associated with value and worth, representing an invaluable entity. Names bearing the essence of treasure mirror the deep significance parents attribute to their daughters, expressing the irreplaceable role she holds in their hearts. Check out our infographic below for a comprehensive selection of feminine names meaning treasure.

Frequently Asked Questions
1. Which Indian feminine names mean treasure?
The word treasure and its symbolism are significant in Indian culture. Some baby girl names that denote it include Jaladhi (treasure of water), Kalanidhi (treasure of art), Nidhi (wealth), Sreenidhi (treasure of prosperity), and Seema (precious thing).
2. What name means God's treasure?
Nkechi is a girl's name with roots in Africa that means 'precious treasure from God.' Other names with a related meaning include Aadrisha, or gifted by God; Aariaani, or gift from God; and Gia, or God's gracious gift. These names signify that a girl child is nothing less than a remarkable blessing from the Almighty.
3. What girl's name means hidden treasure and treasure chest?
Guronui is a baby girl's name that means ancient, like a hidden treasure. Kunza and Kanza are other female names that mean the same. Arcelia and Manjoosha mean treasure chest. These unique names will be a thing of price for your girl.
4. What feminine name means priceless and precious gift?
Amulya and Anmol are Indian girl names that signify 'priceless.' Aantuut is a Greenlandic name that means the same. Oashni is a unique Indian girl name that means 'God's precious gifts.' As you can observe, most of these names have Indian origins.
Look Up For Many More Names
Do you have a name in mind and want to know more about it? Or want to find names belonging to a particular origin, religion, or having a specific meaning? Use our search tool below to explore more baby names with different combinations.
The following two tabs change content below.