217 Nigerian Baby Girl Names With Meanings
A treasure trove of the beauty and values of the Naija people.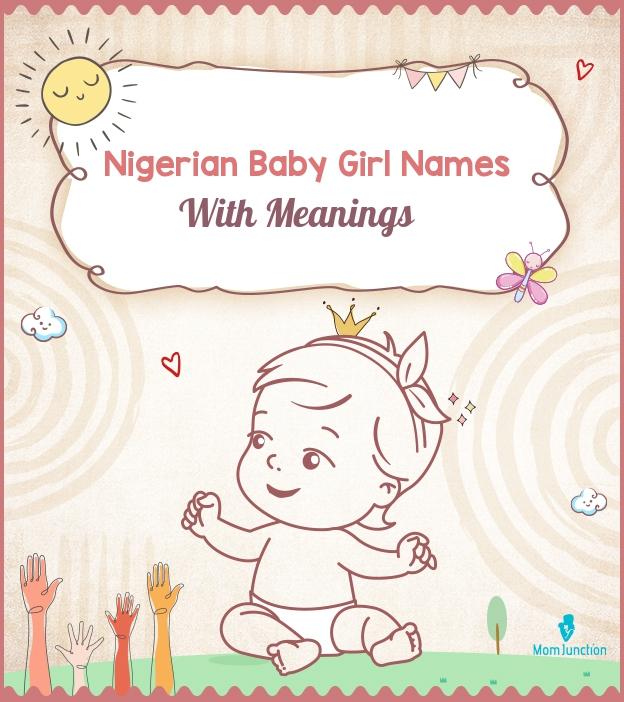 Nigeria, a culturally rich and diverse country in West Africa, boasts an array of fascinating traditions and customs, which is reflected through the collection of these unique Nigerian girl names. These names embody centuries of history, connecting each individual to their ethnic heritage and familial roots. Nigerian girl names are more than just a combination of syllables; they reflect the true essence of the nation's multifaceted background and deep-seated values. In the Nigerian culture, a child holds a significant position which is reflected in their names. For instance, bestowing names such as the Igbo title Chiagozie, meaning 'God has blessed me,' proves that in Nigerian communities, a child is considered a gift of God (1). The country has several ethnic groups, among them Igbo, Yoruba, and Hausa are the most prominent ones. Each ethnic group within Nigeria has its own unique naming traditions, resulting in a plethora of captivating options. Among the Yoruba people, the traditional naming ceremony for a newborn occurs seven days after their birth, on the eighth day. The selection process is typically done by elders, and the name often reflects the circumstances under which a child was born. They may be named after the day of the week on which they were born or the order of their birth relative to their siblings. Igbo names are often abbreviated consisting of compound words and carrying a Western nickname of Biblical origin, while Hausa names are particularly influenced by Islam and embody attributes of Allah (2). Moreover, Nigerian names reflect the country's religious diversity, with many names being inspired by Islamic, Christian, or indigenous spiritual beliefs. So, this post unravels the enchanting world of exotic and spiritual names that encapsulate the essence of Nigeria's culture and traditions that transcend time and generations. Go ahead and take your pick.
Name
Gender
Meaning
Abigail
Girl

Father's joy

Blessing
Girl

Consecration

Esther
Girl

Star; Hidden

Gabriel
Unisex

God is my strength

Joy
Girl

Happiness; Great pleasure; Delight; Rejoice; Beautiful jewel

Kebe
Girl

Strong man with no fear

Mary
Girl

Beloved; Exalted

Redeem
Girl

A woman who has redeemed herself

Rose
Girl

Rose; Flower

Stephanie
Girl

Crown; Reward

Abebi
Girl

We asked for a girl child

Adaego
Girl

Daughter of wealth

Adaeze
Girl

Princess; Daughter of a king

Adaku
Girl

A girl born into a wealthy family or the one who brings wealth to the family

Adankwo
Girl

One born on the fourth day

Adaobi
Girl

The first daughter in the family compound

Adaolisa
Girl

God's daughter

Adaoma
Girl

A good and virtuous lady

Adaora
Girl

Daughter of all

Adaugo
Girl

Beautiful daughter or daughter of an eagle

Adaure
Girl

Daughter of Uruala, a town in Imo state

Adefolake
Girl

Your wealth supports us

Aderiyike
Girl

The pampered crown

Ahunna
Girl

One with the body of her father

Akpenvwoghene
Unisex

To praise God

Akpobome
Unisex

My own life

Akporovwovwo
Unisex

Good life in later years

Akuada
Girl

A girl born into a wealthy family

Anaborhi
Unisex

One who is born with good destiny

Anwilichukwu
Girl

God's joy

Anwuli
Girl

Joy; A joyous and happy girl

Anwulichukwu
Girl

Joy of the Lord

Anwulika
Girl

My joy is great; Joy is greater

Apunanwu
Girl

A precious and beautiful girl untainted by the sun

Aretta
Girl

A charming and enchanting woman

Asaroyoma
Girl

Comfort zones

Avwunudiogba
Unisex

Those who profess strength with mere talk

Binyelum
Girl

Stay with me

Bolanile
Girl

The wealth of this house.

Chiagozie
Girl

God has blessed me

Chiasoka
Girl

God is too sweet

Chiazokam
Girl

God has saved me well

Chibarameze
Girl

God has made me a king

Chibinobim
Girl

God dwells in my heart

Chibundo
Girl

God is my shelter

Chibuogu
Girl

God is my strength

Chichima
Girl

A sweet and precious girl

Chinara
Girl

Received by God

Chinechezirim
Girl

God thinks good of me

Chisimdi
Girl

God says I shall live

Daberechi
Girl

Lean on God; One who is dependent on God.

Daluchi
Girl

Thank God

Daraja
Girl

One who is valuable and important to everyone

Dayo
Unisex

Arrival of joy

Ebunoluwa
Girl

God's gift

Efemena
Unisex

Here is my wealth

Efetobo
Unisex

Wealth is achieved

Eghwrudjakpor
Unisex

I have come to stay

Eguono
Unisex

Love

Ejaita
Unisex

Let them say

Ejiroghene
Unisex

Praise God

Ejokparoghene
Unisex

Trust in God

Ejomafuvwe
Unisex

Let peace reign in my life

Ejoyovwi
Unisex

Let it be good

Ekemma
Girl

One who was born on Eke market day

Emarejedje
Unisex

The elderly also run for life

Emetemedia
Girl

I will always remain a lady

Emeterhire
Girl

Girls have arrived

Emilohi
Girl

Only God is great

Emuobosa
Unisex

Your own thing is precious

Emuvoke
Unisex

Everything has time

Enajemete
Girl

These are also girls

Enivwenaye
Unisex

Compare my success with those of my enemies

Enohor
Girl

Blessing

Epkereamaka
Girl

One who finds prayer is good and wonderful

Erhimeyoma
Unisex

My guardian spirit (God) is good

Erhinyoja
Unisex

God hears our prayers

Erhinyuse
Unisex

God answers our prayers

Erhiroghene
Unisex

The spirit of God

Erhuvwun
Unisex

Beauty

Erukainure
Unisex

We have helped them

Eseoghene
Unisex

God's gift

Eserovwe
Unisex

God's grace

Eziamaka
Girl

One who believes that good things are obtained by going out

Ezichi
Girl

Good God!

Ezinne
Girl

The good mother

Folade
Girl

Honor arrives

Folashade
Girl

Honor bestows a crown.

Ginika
Girl

What can be greater than God

Ginikanwa
Girl

What is greater than a child

Hassana
Girl

Twin girl

Ibironke
Girl

The family will love this child

Idaramfon
Girl

Happiness is free

Ifechiluru
Girl

What God has done

Ifechukwu
Girl

The light of God

Ifedimma
Girl

Something good

Ifekristi
Unisex

The light of Christ

Ifeoluwapo
Girl

God's love is plenty

Ifeyinwa
Girl

Nothing can be compared to a child

Ifunanya
Girl

Love
Nigerian girl names reflect a perfect blend of the country's cultural history and traditions. These names carry divine meanings, often symbolizing blessings, virtues, and aspirations for a prosperous future. Each name represents a story of its own and serves as a testament to the beauty of this vibrant nation. The melodic Nigerian girl identities celebrate life on the one hand and showcase deep philosophical significance on the other, which may bring a sense of pride and unity to the bearer.
Infographic: Authentic Nigerian Baby Girl Names With Powerful Meanings
Nigerian girl names bear rich significance, reflecting the country's diverse ethnic groups and traditions. These names often carry deep meanings, symbolizing attributes like beauty, strength, or prosperity, which make them popular worldwide. Go through this infographic to explore some Nigerian names with their meanings.

Frequently Asked Questions
1. Why do Nigerians have many names?
The presence of multiple names among Nigerians may result from diverse cultural and religious influences. These encompass names originating from their ethnic background, Christian or Muslim names, and those associated with the specific day or time relative to the baby's birth. In the Yoruba tradition, it is believed to be customary for both parents and grandparents to contribute at least one name, leading to a wide variety of names within the Nigerian naming tradition.
2. What is the importance of a naming ceremony in Nigeria?
The naming ceremony is vital in Nigerian culture as it is a significant event to formally introduce and name a newborn child. Since in most Nigerian cultures, the names of individuals are believed to shape their identity and life, a great deal of research, family traditions and beliefs, and history is considered in the ceremony with the help of the family members and the community.
References:
MomJunction's articles are written after analyzing the research works of expert authors and institutions. Our references consist of resources established by authorities in their respective fields. You can learn more about the authenticity of the information we present in our
editorial policy
.
Look Up For Many More Names
Do you have a name in mind and want to know more about it? Or want to find names belonging to a particular origin, religion, or having a specific meaning? Use our search tool below to explore more baby names with different combinations.
The following two tabs change content below.