155 Norwegian Baby Girl Names With Meanings
Unique names signifying the brave Viking spirit from the land of the fabled Valhalla.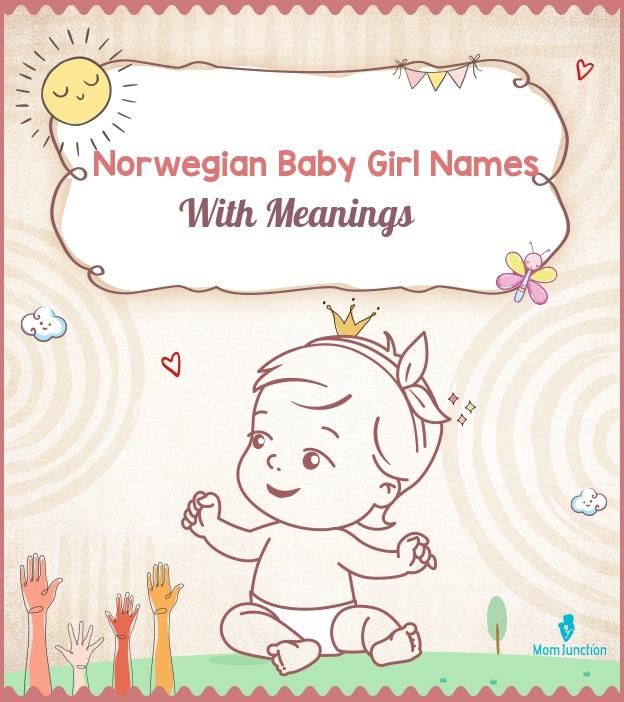 Just as the Scandinavian mountains in the Kingdom of Norway stand tall and majestic, these Norwegian baby girl names will let your child reach new heights. Norway is located in Northern Europe, specifically in the northernmost part of the Scandinavian Peninsula. The Kingdom of Norway was formed in 872 after the unification of numerous petty kingdoms. Norway has a unique culture that is rooted in farming and exists to this day. The people of Norway had to resort to agriculture due to the scarcity of resources resulting from the harsh climate and unfair property laws. This struggle brought about a romantic nationalistic movement in the 19th century, and its traces are still noticeable in the Norwegian language and media. Norwegian names are tied to the country's history, culture, folklore, and literature. Some names have connections to Christianity, as children, to this day, are named after biblical characters and famous saints. Many names are also based on mythological characters. A distinct quality of Norwegian names is that people rarely use hereditary surnames. However, this is an exception for the upper class and a few families that had members serving as civil servants. The Norwegian people followed a three-part naming system consisting of the first name (given name), a patronymic name (father's first name), and a farm name, which indicates where they were born or where they resided. The farm name usually changes whenever a person relocates (1). Certain suffixes are attached to the patronymic name as an indication that he or she is the son or daughter of so and so. The suffixes are -ønn, -son, and -sen for sons and -datter or -dotter for females. Another unique feature of Norwegian names is that a person may have multiple names, but it will be considered a single personal name. Below, we have compiled a list of some of the best-known Norwegian baby girl names, so scroll on!
Name
Gender
Meaning
Ella
Girl

Beautiful light; Goddess

Emilie
Girl

Someone who is extremely laborious and hard working

Emma
Girl

Whole; Universal

Ingrid
Girl

Goddess of fertility

Maya
Girl

Illusion; Magic

Noah
Unisex

Rest

Norah
Girl

Honor; Respect; Shining light; Sunrays

Olivia
Girl

Peace; Olive tree

Sarah
Girl

Princess; Noblewoman

Sophia
Girl

She who possesses great knowledge and wisdom

Sophie
Girl

She who is wise

Aasta
Girl

Love

Abellona
Girl

The sun Goddess

Aegileif
Girl

Daughter of Hrolf Helgason

Agot
Girl

A woman who is good-hearted

Angerboda
Girl

A giant

Angerbotha
Girl

One who is a giant

Annikin
Girl

A form of Anne, Grace or mercy

Anrid
Girl

Wife of Ketil Fjorleifarson

Ashilda
Girl

A variant of Ashild; God fighting

Astlyr
Girl

Divine strength

Astryd
Girl

Divine strength

Asvor
Girl

Wife of Asrod

Asvoria
Girl

One who is divinely prudent

Aud
Girl

Deserted or isolated

Audhilda
Girl

Rich warrior woman

Audhumbla
Girl

Name of a giant cow that nursed Ymir

Audney
Girl

New found wealth

Audny
Girl

New prosperity

Auduna
Girl

Deserted

Aundy
Girl

New founded prosperity

Beret
Girl

A glorious and bright individual

Bergdis
Girl

Spirit protection

Bergliot
Girl

Helpful light

Bergthora
Girl

Thor's spirit

Bestla
Girl

Mother of Odin

Bifrost
Girl

The bridge from the Earth to Asgard

Birget
Girl

A protecting woman

Bodile
Girl

A fighting woman

Bodilla
Girl

A fighting woman; A variant of Bodile

Borghilda
Girl

Wife of Sigmund; A variant of Borghild

Brisingamen
Girl

Freya's necklace

Brunnehilde
Girl

The armored and fighting woman

Bryne
Unisex

From the brook

Bryngerd
Girl

The mother of Tonguestein.

Brynhilde
Girl

The armored fighting woman.

Dagrun
Girl

A secret lore

Dalr
Girl

From the valley

Diss
Girl

One who is spirited

Dordi
Girl

A gift from God

Dorte
Girl

God's gift

Eir
Girl

Finnish form of Edwin; A rich friend

Ellisif
Girl

Consecrated to God

Ericka
Girl

A feminized form of the name Erick meaning ruler of people

Erika
Girl

Eternal ruler

Erikka
Girl

A ruler

Erkengota
Girl

An ancient character of mythology

Ernaline
Girl

Capable; Serious; Battle to the death

Erneburga
Girl

A historical figure in Yorkshire

Errika
Girl

One who rules eternally

Eryka
Girl

Someone who rules for eternity

Estrith
Girl

A royal person of Norway

Fjord
Unisex

Narrow, deep inlet

Fjorgyn
Girl

Mother of Thor

Frikka
Girl

A peaceful ruler

Garthf
Girl

Protection

Geirbjorg
Girl

Sister of Bersi; The Godless

Geirrid
Girl

Sister of Geirrod

Gimle
Girl

New heaven

Ginnungagap
Girl

The abyss that gives birth to all living things

Gjalp
Girl

A giant

Gna
Girl

One of Frigga's ladies in waiting

Grid
Girl

Name of a wife of Odin

Grima
Girl

Son of Njal; Feminine form of Grim

Grimhilda
Girl

Mother of Gudrun

Grimhilde
Girl

A variant of the name Grimhilda. It means mother of Gudrun.

Gudrid
Girl

Divinely inspired wisdom

Gullveig
Girl

Name of a witch

Gunhilde
Girl

Battle maiden

Gunnhildr
Girl

Battle maiden

Gunnlod
Girl

Mother of Bragi

Guthr
Girl

Warlike

Gydda
Girl

Aggressive; Destructive; Forceful

Gytha
Girl

Warlike; Aggressive in doing everything

Haldana
Girl

A woman who is half-Danish

Haldora
Girl

One who is half-spirited

Halla
Girl

An unexpected gift; Half protected

Halldis
Girl

A firm helper

Hallfrid
Girl

One who is half beautiful

Hallgerd
Girl

One who is half-protected

Haralda
Girl

An army ruler

Hela
Girl

Goddess of the underworld

Helja
Girl

Name of a saga

Herdis
Girl

A group of warriors

Hildigunn
Girl

A warrior woman

Hiordis
Girl

The second wife of Sigmund

Hlif
Girl

Mother of Atli.

Holter
Unisex

From the wooded hill

Hrodny
Girl

Mother of Hoskuld

Hvergelmir
Girl

The home of Nidhug
Norwegian baby girl names are deeply connected with the nation's history, folklore, literature, and culture, especially its farming culture. A unique feature of Norwegian names is that they do not use hereditary surnames. Instead, they include suffixes to the patronymic names and, sometimes, even farm names that change depending on the location of the individual. The list we compiled will help you explore these names from Norway so you can decide on a perfect one for your daughter.
Infographic: Marvelous Norwegian Baby Girl Names With Meanings
Norwegian names contain in them the essence of the Scandinavian culture, which traces its roots all the way back to the Viking Age. Norwegians often bear more than one personal name. Have a look at the following infographic, which lists some of the most beautiful Norwegian names for girls and their meanings. You can pick one or maybe even two!

Frequently Asked Questions
1. What do the most popular Norwegian girl names mean?
Emma is a famous Norwegian name for girls that means 'great.' Maja is another name that has become popular5 and means 'good mother.'
2. How do I choose an authentic Norwegian name for my baby girl?
Choosing an authentic Norwegian name for your baby girl can be a wonderful way to celebrate your heritage or simply appreciate the beauty of Norwegian culture. A popular database like Nordic Names is invaluable as they provide extensive lists of authentic Norwegian names, often including their meanings and pronunciations. This helps in understanding Norwegian literature and folklore and the significance of given names, family names, and any cultural or historical influences that might shape Norwegian names.
3. Can I combine a Norwegian name with a name from another culture?
Yes, you can combine a Norwegian name with a name from another culture. This practice is widespread in multicultural societies or when parents have diverse backgrounds. When combining names from different cultures, it's essential to consider pronunciation, meaning, and cultural significance to ensure the name remains respectful and appropriate.
4. What are some unique Norwegian names that are not commonly used?
Unique and extraordinary Norwegian names like Ingrid, meaning 'Ing is beautiful,' Oda, meaning 'fortune,' and Freya meaning 'lady,' surely make your little sunshine stand out.
5. What are some Norwegian names that have historical or cultural significance?
Freya is one such name in Norse mythology that means 'lady' and is associated with the Goddess of love, beauty, war, and death. Another important name is Gudrun, which means 'God's secret lore' and is the name of Sigurd's wife in Norse mythology (2).
References:
Look Up For Many More Names
Do you have a name in mind and want to know more about it? Or want to find names belonging to a particular origin, religion, or having a specific meaning? Use our search tool below to explore more baby names with different combinations.
The following two tabs change content below.