From the desk of Anusha Sharma,
Bandra, Mumbai,
June 2016
Dear fellow mother,
What do you think is the ONE THING your infant must have for proper growth and development?
Think about it.
Adequate parental care? Rest? Or is it good nutrition? Or wait, a conducive and happy environment?
Well, all of those are there. They are important for obvious reasons. But I am talking about something else.
Something that is often overlooked. Something whose importance is not well understood by most parents
(I too was one of them).
What is it?
Think. Think.
If you haven't figured it out yet, then let me break it to you. It is his play-toy(s).
Let me put it again -

"A CHILD'S PLAY-TOY IS A VERY IMPORTANT TOOL THAT CONTRIBUTES TO HIS PHYSICAL AND MENTAL DEVELOPMENT."
How? You ask.
There is research. Mind-blowing research. According to the National Center for Biotechnology Information, a good variety of toys is very important for a child's development.
Okay. Coming back to toys -
… how about getting a toy for your newborn that can soothe and calm him on its own?
… how about getting a toy for your newborn that improves his motor skills?
… how about getting a toy for your newborn that grows as he grows?

You think you are dreaming now, don't you?
Well, this ain't some random joke from a fantasyland.
It actually is true. There is a toy that does all this, and much more.

The Fisher-Price Newborn To Toddler Rocker -"THE TOY THAT CAN SOOTHE YOUR CRYING BABY AND COMFORT HIM IN MINUTES"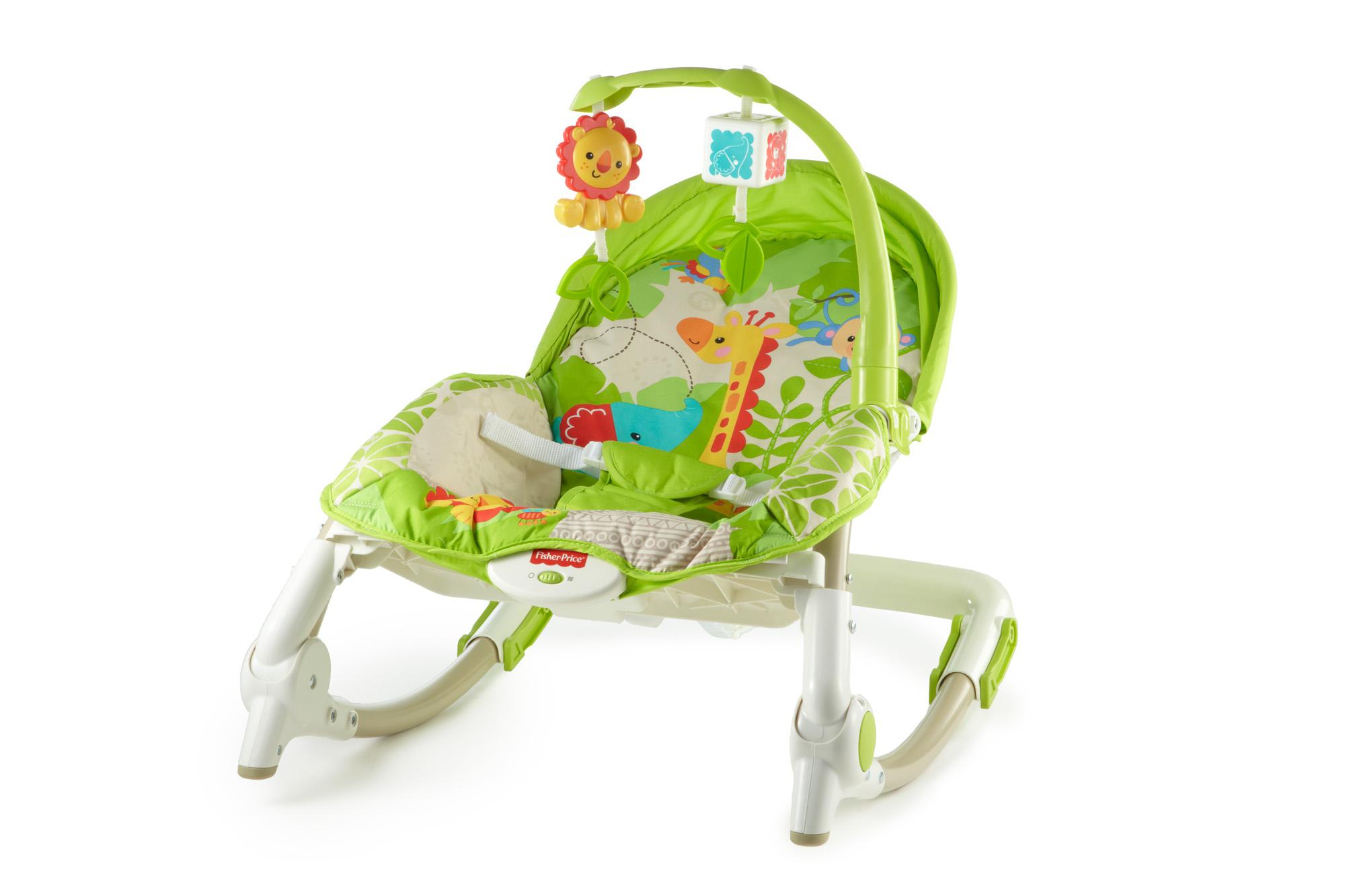 As already mentioned, my name is Anusha Sharma. An ordinary mother of 2 (ages 1 and 4) who stays in Mumbai. And just like any other mother, I wanted a toy that can help my newborn stop his wails and put him to sleep.
Only that I couldn't get one such toy. I went to stores. Looked up for toys on the internet. There was, indeed, a wide range of toys. These could make him laugh and entertained. Probably could amuse him and keep him occupied for a while.
But when it came to soothing him and putting him to sleep, they were far from what I had wanted them to be.
Trust me, putting a crying baby to sleep is probably one of the hardest things. You are a mother too. You would know it.
That is when, upon a friend's suggestion, I got to know about Fisher-Price and its children's toys. At first I
wondered if these would also be the same as everything else.
But no. They weren't. In fact, each of the toys had something unique about them.
Like the newborn to toddler rocker I picked – which soothed and calmed my wailing child in minutes!
And it could do that always.
ALWAYS.
The Fisher-Price rocker operates on a battery and offers a gentle rocking motion. This provides a smooth vibration throughout, calming the child and helping him relax and sleep within minutes.
A Myriad Other Benefits Of The Fisher-Price Newborn To Toddler Rocker
What you read is just one benefit the rocker offers. In addition, there are a number of other ways the toy benefits your child.
The Fisher-Price rocker grows as your child grows! It contains a reclining canopy that comforts your newborn, which can be easily converted into a toddler lounge seat featuring interactive play bars.
The Fisher-Price rocker has enough space for the child's feeding, playing, and resting activities.
The Fisher-Price rocker is easy to carry as it contains a built-in handle. So you can carry it around when you want to sit in the balcony or the garden with your baby.
The Fisher-Price rocker consists of several different recline positions to suit your growing child's posture.
The Fisher-Price rocker contains a secure restraint system that takes care of your newborn until he can get in and out of it on his own.
The Fisher-Price rocker contains a toy bar containing two interactive hanging toys, which develop your child's motor skills.
The accessories of the Fisher-Price rocker are soft and dryer-safe, and hence can be washed and maintained easily

This Is What Other Mothers Had To Say

Not just me, but there so many other mothers who are now loving the Fisher-Price newborn to toddler rocker. And this is what they had to say -

---

"Very happy with the product. Now my 1 and half month old baby is happy rocking. Else I had to take him into the lap all the time."

- Madhavi V, verified buyer at Amazon.in (Rating – 5/5)

---

"This was given as a gift and it was a great one. It soothed bubs with the vibration feature and was amazing when bubs discovered cartoons. He would watch them in his rocker then fall asleep for hours. A great buy."

- rachbrown78, productreview.com.au (Rating – 5/5)

---

"Very happy with this rocker functionality wise. We use it ALL the time. My baby can spend a lot of time in it happily playing with the toys."

- will_rachelle, productreview.com.au (Rating – 4/5)

---

"Quality product. It's been 4 months since we used this. Durable plastic and washable material. My baby really enjoys it. Worth the price."

- Soni Jose, verified buyer at Amazon.in (Rating – 4/5)

Now With A 27% Discount -An Offer No Mother Would Want To Miss!

There is good news. And there is bad news.

The Fisher-Price newborn to toddler rocker actually costs Rs. 5,999. But right now it is coming at a discount of 27%.

Hence, the current price is Rs. 4,399.

That's the good news.

And the bad news...

...if you don't buy the product before 31st March, 2017, you might lose the discount.

Now that's something no mother would want to do – especially when it concerns things about her child.