How The Shift To Online Classes Have Affected Parents And Teachers In India
The Coronavirus pandemic has changed our lives in many ways!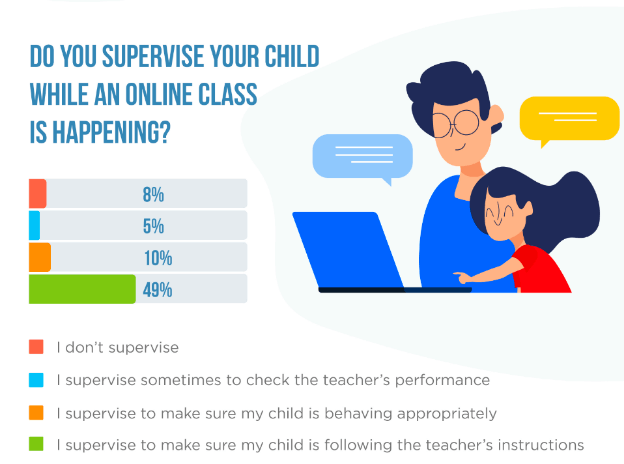 As social distancing became a crucial factor in preventing the spread of coronavirus, offices, schools, and other public places have largely been closed down for more than a year now. In efforts to curb the spread of COVID-19, classes and examinations were canceled in schools and universities around the world. To ensure that students don't lose an academic year, teaching shifted online. Although this was a simple and seemingly convenient alternative, once online classes commenced, students, teachers, and parents had to face several difficulties in adapting to this new way of learning. To understand these issues in detail, MomJunction held a nation-wide survey involving its vast network of moms and caregivers. The survey results gave us important insights into virtual learning— its effectiveness and the areas where it comes short.
Here are some of our findings from the survey:
Technological Access
One of the major issues in the effectiveness of virtual learning or e-learning is the lack of internet accessibility. The internet infrastructure is not uniform throughout the country. In some remote areas, internet connectivity can be patchy and inadequate. Most people who do have access to mobile network coverage rely heavily on mobile hotspots rather than steady but slightly more expensive broadband services.
A report by NITI Aayog states that around 55,000 villages in India do not have mobile network coverage. According to UNESCO, approximately 50% of the students (826 million students) worldwide do not have access to a computer at their homes, and 43% of them (706 million) do not have internet access at their current residence.
In addition to steady internet services, online classes also require access to technological gadgets, the most basic of them being smartphones and laptops. This could be a hefty investment for some Indian households.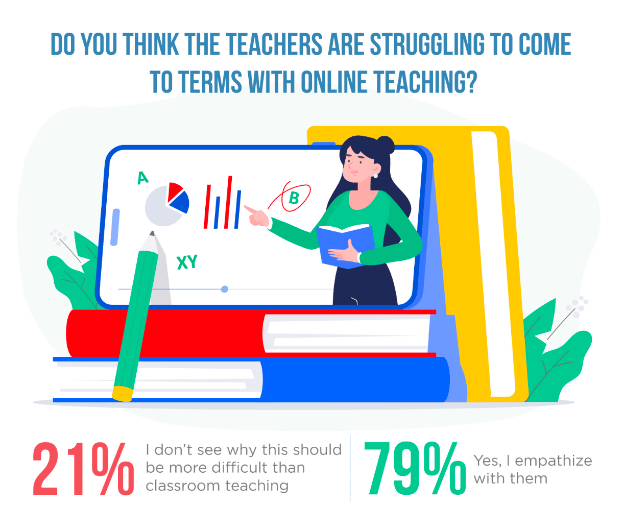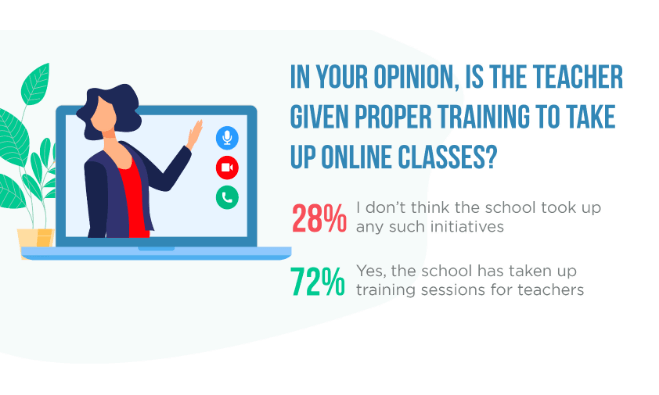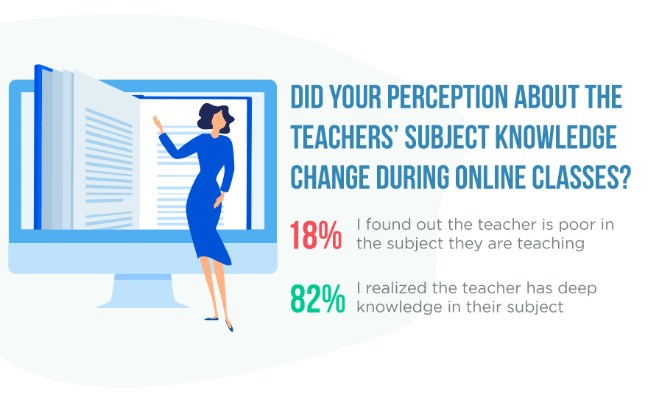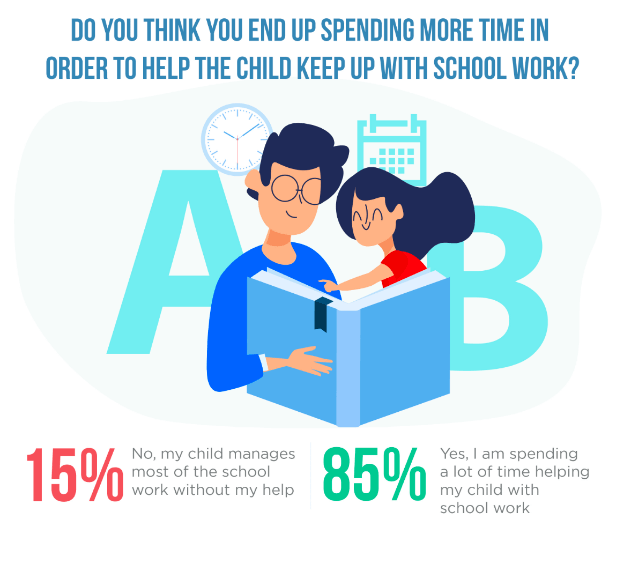 Has The Parents' Role Changed?
The sudden shift to online classes has demanded more involvement from the parents in their children's academic activities. According to the MomJunction survey, around 48% of the parents supervise their children during these sessions to ensure their active participation. 41% of the parents claim that they think students are having trouble grasping the lessons despite their teachers' best efforts.
Digital illiteracy on the part of the teachers or their inability to update their teaching methods to accommodate virtual learning might be among the reasons why parents feel dissatisfied. 79% of parents who participated in the survey think that teachers are struggling with the new methods of online teaching. 28% of them claim that no training has been provided to the teachers to equip them to conduct online classes effectively.
However, most parents (82%) said they found the teachers knowledgeable about the subjects they teach. This suggests that technological difficulties, inadequate training, distractions, and the short attention span of students might be the main hurdles in online education. This, in turn, leads to an increased demand for parents to be involved in their child's academic life. The survey results indicate that around 85% of the parents now have to spend more time with their children to help them with their school work.
Future Of Education
Despite the glitches we currently face, there is no doubt that that e-learning has its own advantages. Media, in the form of videos, podcasts, and documentaries, can be embedded into the curriculum to give the student a better grasp of the subjects. Teachers can also utilize AI to give students a more personalized experience. Academic tools like this can not only generate more interest from the students but also make them more excited to learn.
It is evident from our daily life how intertwining technology with learning can make a positive difference. Meanwhile, we should focus on fixing the glitches in the current online education system, such as strengthening technological and internet access throughout the country, giving proper training to teachers to conduct online classes, and modifying the school curriculum to suit the constraints of online classes.