The International Fertility Centre

With more than 10,000 IVF cycles, International Fertility Centre has helped childless couples have a joyful parenthood experience with consistent delivery of highest success rates in our services including IVF, Natural IVF, IVF with Egg Donor, ICSI, IUI, Surrogacy, Surrogacy with Egg donor, Embryo Donation, Assisted Hatching, PESA/TESA, Hysteroscopy, Laparoscopy, Blastocyst and much more.
Dr. Rita Bakshi, One of India's Best IVF Specialists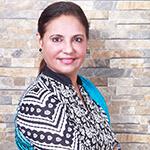 Dr. Rita Bakshi is the founder and chairperson of International Fertility Centre, the oldest fertility clinic and one of the most renowned Test Tube Baby clinic in Delhi. She graduated from the Lady Harding Medical College, New Delhi and received her MBBS in 1983. She completed her MD (Gynae & Obs) from Safdarjung Hospital, New Delhi in 1990. Dr. Rita is specially trained in fertility and women's health and holds Diploma in Obstetrician and Gynaecologist from St. Stephens Hospital in 1987. Her areas of expertise include IVF treatment, IUI, ICSI, recurrent miscarriage, endometriosis and ovulatory disorders and their treatments.
Hear What Successful IVF Parents Have To Say About Us
Mrs. Veena & Mr. Hemchand, IVF, India
I have a great regard for Dr. Rita Bakshi. We have been married for 13 years. I was obese, weighed 94 Kgs. For boosting my fertility, I lost 31Kgs but still there was no hope. I put my faith on temples - Shirdi, Yogmaya, Mata Vaishnodevi but it was only at the doors of Dr. Rita Bakshi that I got my boy on 22nd February 2012. I named him Yogeshwar because it was with the kripa of Yogmaya temple and Dr. Bakshi, I cherished the parenthood dreams. 'May God bless her & her team'.
Mr. Shivam Kumar, IVF, India
I started consultation with AIIMS first. And after two or three years of thorough check up, they told me that my wife will not be able to conceive. But I was optimistic and did not give up. One of the senior doctors at AIIMS suggested me to meet Dr. Rita Bakshi. She listened to my case carefully and advised that IVF is the last hope for my wife. On 17th March, I started the treatment and on April 9, the doctors came to me and told me that my wife has become pregnant. Listening to this, I had tears in my eyes and this became the happiest moment of my life. This is my story and I will ask every couple to visit her without any delay.
Mrs. Taru & Mr. Gaurav Singhal, IVF, India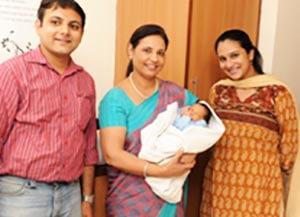 My husband and I had an amazing experience with International Fertility Centre. They were wonderful and carefully helped us all the way through - and we are pregnant. I would certainly recommend Dr. Bakshi for anyone considering IVF. We met with 3 other clinics before opting to go with IFC. We were treated like their only clients from the moment we stepped foot in the office. Each visit they knew us by name, were prompt, very supportive, patient and knowledgeable. We thankfully were successful in the first try of IVF and now have a very happy, healthy, baby boy! Our hearts are full, and we are forever thankful for the International Fertility Centre team. We will be back next year for a try at a second baby. The experience was memorable.