Get your pack of Mamaearth right now!
Close
Mamaearth Soothing Massage Oil For Babies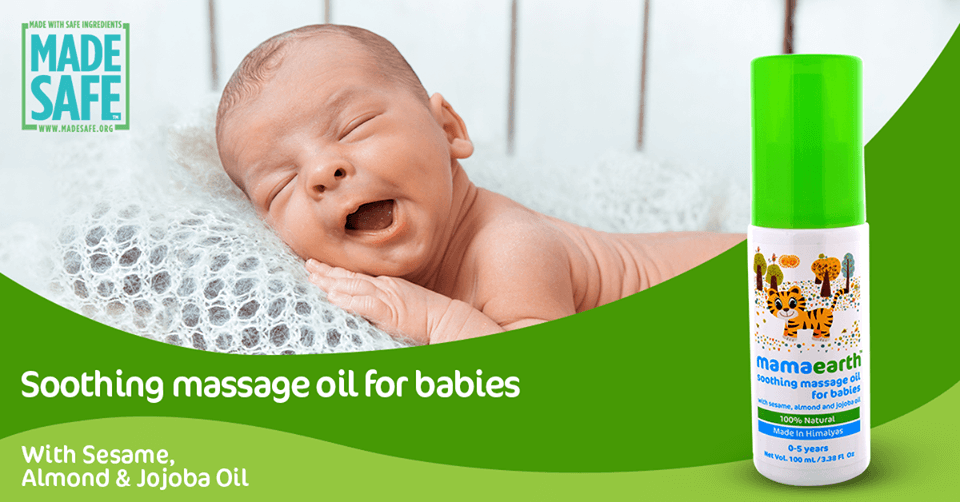 This soothing oil is a product which you will never regret buying. It is made up of the goodness of natural and effective oils. You will not have to worry about any harm to the baby's skin as it is a product with zero side-effects!
The MadeSafe Certificate
MadeSafe is America's first comprehensive human health-focused certification for nontoxic products. It certifies baby products, personal care products, household products etcetera. Their goal being, the elimination of use of toxic chemicals in the making of these products.
MadeSafe screens ingredients against their exhaustive Toxicant Database of known harmful chemicals. It scientifically examines all ingredients for bioaccumulation, persistence and aquatic toxicity.
All these examinations make sure that your MadeSafe certified Mama Earth products are completely toxin free and safe for use. And not only this, Mama Earth is the only MadeSafe certified brand in the whole of Asia! Yes, you read that right.
Components Straight From Mother Nature
Absent: Lipids, Parabens, Sulfates, Phthalates, Mineral Oil, Petroleum, Synthetic Fragrances or Dyes
Present: Cold pressed Sesame (Til) Oil, Coconut, Olive, Sweet Almond & Jojoba oils.
Sesame oil is said to be the best oil for massages and is extremely beneficial for the kids. It acts as an anti-inflammatory agent and helps in providing relief to your baby from diaper rashes.
Virgin coconut oil helps in moisturising the skin and also has antibacterial qualities.
Olive oil, jojoba oil, sweet almond oil and chamomile oil help in nourishing and soothing the skin and make it smooth and supple.
During massages, when the oils are absorbed by the baby's skin you need not worry about them causing any harm. Mamaearth Soothing Massage Oil is 100% natural and is void of any kind of chemicals which are usually found in other baby products.
Value For Money
Directions for use
Massage into baby's skin as often as needed, especially after bathing.
Our Customers Review
---
---