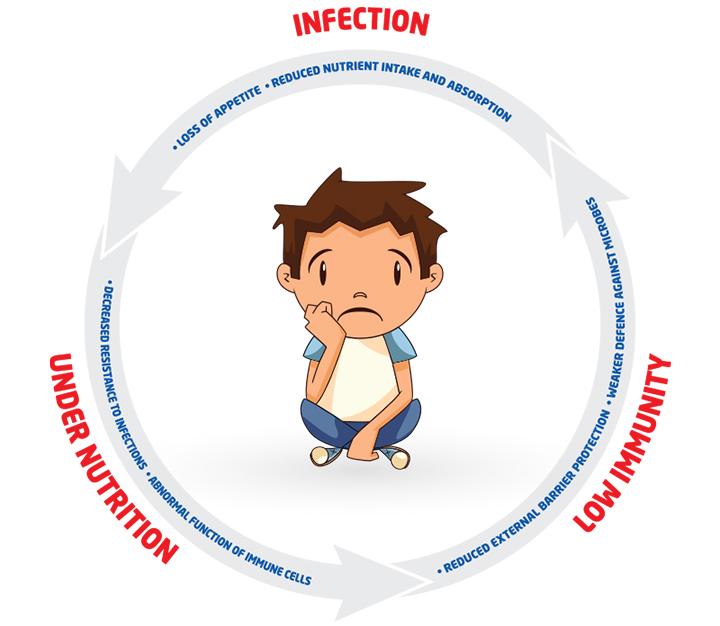 It is depressing to see your kids fall ill. An upset tummy, cold or cough is not a serious ailment but is definitely troublesome. You cannot see your kid visiting the washroom several times a day due to a bad stomach and look drained out; you cannot relax if your kid is struggling with a blocked nose or a severe cough.
This is precisely why we take extensive care to build our kid's immunity because the stronger the kid's immunity, the fewer the chances of him/her falling ill.
I, too, didn't want my kids to suffer or miss school because of frequent cold and cough or some other illness. So, I began adding immunity-boosting foods in their diet quite early in their lives. And this I did only after proper research.
Things were fine initially. But as they grew; fruits, vegetables, and other foods were just not enough. When they started to fall ill frequently, I took them to a doctor, who told me about the obvious – weak immune system. He explained that poor quality produce, high pesticide content and numerous other impurities affect the nutrients in the food we eat.
As per the doctor's advice, I began trying immunity boosting products.
However, the supplements in the tablet form were a complete no-no as my kids found them difficult to chew or gulp. The powders that need to be consumed with milk or warm water weren't great either because kids found them difficult to digest, and I had to add spoonfuls of sugar to make the mix drinkable.
During this summer vacation, I made it my mission to find an immunity product that is good for my kid's health and also tasty to eat. I didn't want my kids to fall sick due to the rains, especially right after their schools reopened.
A secret product that meets 100% RDA: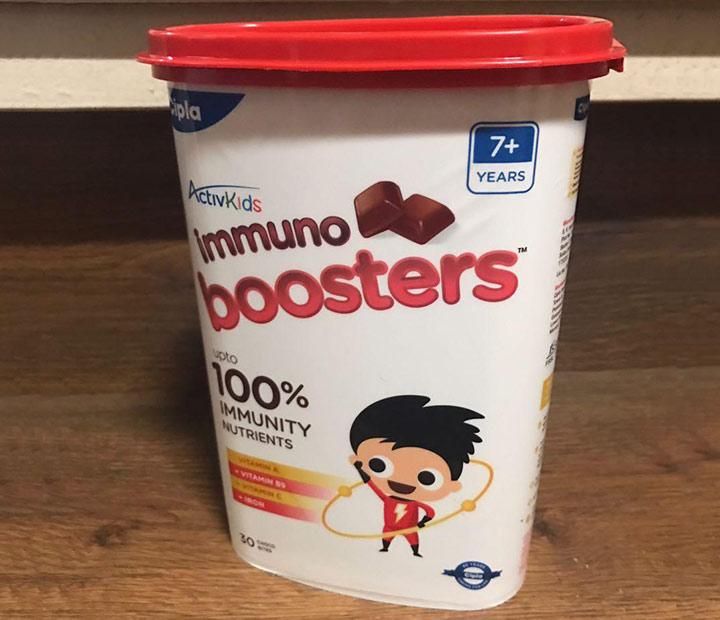 That is how I found ActivKids Immuno Boosters by Cipla. ActivKids Immuno Boosters helps kids receive up to 100% recommended daily allowance (RDA) of key immunity nutrients as they contain not one or two but 11 essential nutrients – vitamins A, B1, B2, B3, B6, B9, B12, C, D3 and iron, and zinc.
The product, developed systematically by the scientists at Cipla in consultation with paediatricians, works in multiple ways to boost the kid's immunity:
It provides the kid's body with the strength to fight germs and infections
Helps in the formation of blood and immune cells
Protects the cells from damage
Strengthen the skin's defence system
ActivKids Immuno Boosters has been specifically developed to meet the requirements of Indian kids, as four out of 10 kids do not receive full immunization, 67% have vitamin A deficiency and 75% suffer from anaemia (1).
Keeping the best part to the last:
The major problem I had with other products was that my kids did not like the taste and hence refused to undergo the 'punishment' everyday.
With ActivKids Immuno Boosters, I was sure I would not face such a problem and I was right because Immuno Boosters come in the form of a choco-bite. Yes, you read it right. A first-of-its-kind product, it comes in bite-sized bars that are coated with chocolate. And we don't have to worry about the sugar content because it is less than 1% of the daily calorie requirement of a kid. It means there is no problem for their teeth or weight!
Available for two age groups:
My kids are aged eight and four and I buy them two different variants of Immuno Boosters, as the choco-bites come in two categories – 4-6 years and 7+ years – to meet the RDAs of that specific age group.
Earlier, I used to run behind my kids to feed them their immunity foods, but now it is the other way round. They just can't stop at one choco-bite and can't wait for one long day before they get to eat another. This is what we call a win-win proposition. What do you think?
Where To Buy: ActivKids Immuno Boosters can be purchased from Amazon.in
Price: Rs. 299
Pack Size: 30 choco-bites
Age Group: 4-6 years and 7+ years
Recommended usage – 1 choco-bite per day
Comments are moderated by MomJunction editorial team to remove any personal, abusive, promotional, provocative or irrelevant observations. We may also remove the hyperlinks within comments.