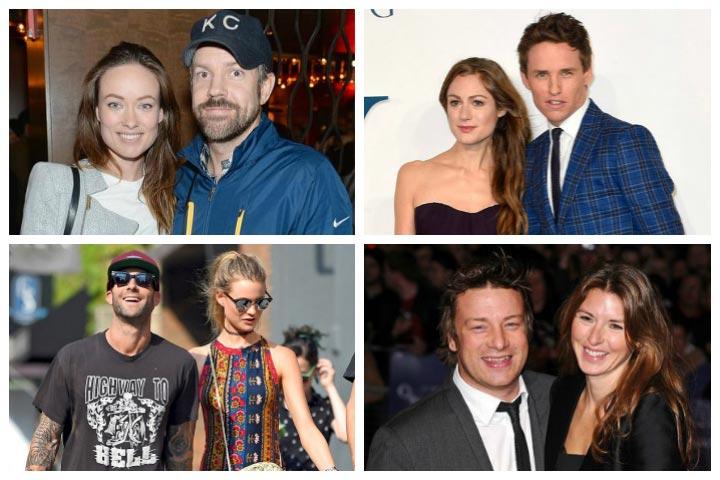 Babies seem to be taking over the world – not in the evil genius sense, but like there seems to be a baby boom! For starters, Hollywood seems to have started the trend of people getting pregnant left, right, and centre.
Thanks to social media and the internet, we've caught up with all the baby announcements and celebrities who are soon going to be parents.
So if you like your daily dose of pop culture, here is a list of celebs due this year. Prepare yourself for a future of famous babies running around.
1. Olivia Wilde and Jason Sudeikis
Actress Olivia Wilde announced her pregnancy on Instagram ('pics' or it didn't happen, right?). She and her husband Jason Sudeikis are expecting baby number two, which makes their first born – two-year-old son Otis a soon to be big brother!
2. Jools and Jamie Oliver
Celebrity chef Jamie Oliver and his wife Jools announced that they're expecting their fifth child. Yes, fifth! Perhaps they could start a show called Keeping up with the Olivers? The expecting dad stated, "This was not expected. I can't even believe I'm saying it. My own family were shocked too." Jools and Jamie have four kids – Poppy Honey (14), Daisy Boo (12), Petal Blossom (6), and Buddy Bear (5). Unique names, much?
3. BehatiPrinsloo and Adam Levine
Victoria's Secret Angel BehatiPrinsloo and lead singer of Maroon 5, Adam Levine have officially confirmed that they are expecting their first bundle of joy! Adam Levine couldn't be happier, as he stated during an interview, "I want to have 100 kids. I want to have more kids than would be socially responsible." How adorable is the expecting rock star? We're curious about this baby, as the parents-to-be's genes are drop dead gorgeous.
4. Eddie Redmayne and Hannah Bagshawe
Award winning actor Eddie Redmayne and author wife Hannah Bagshawehave announced that they are expecting their first baby. Redmayne and Bagshawe got married on December 15, 2014. A year after, they excitedly announced that they would be having a mini Redmayne!
5. Anne Hathaway and Adam Shulman
Anne Hathaway needs no introduction whatsoever, but this time she is in the news because she is having a baby with her husband Adam Shulman. According to sources, motherhood will be her most challenging albeit exciting role yet!
6. Kimberly and James Van DerBeek
James Van DerBeek, known for the infamous show The Dawson's Creek, and his wife Kimberly are expecting their fourth kid! The couple have two daughters aged five years and 21 months, and a son aged three.
7. Jamie Dornan and Amelia Warner
Hollywood's very own Christian Grey also known as Jamie Dornan, and his wife Amelia Warner are expecting their second baby. Their three-year-old daughter is about to be a big sister!
8. ChrissyTeigen and John Legend
Power couple ChrissyTeigen and John Legend are the ultimate 'It Couple'. The supermodel wife and musician husband have been trying to conceive for a while now, but were met with struggles. For example, Chrissy states, "John and I are so happy to announce that we are pregnant :) As many of you know, we've been trying to have a baby for a while now. It hasn't been easy." Today, as we speak, the happy couple can proudly say that after a long time of struggling, trying, and having hope, they have finally welcomed their baby girl into this world.