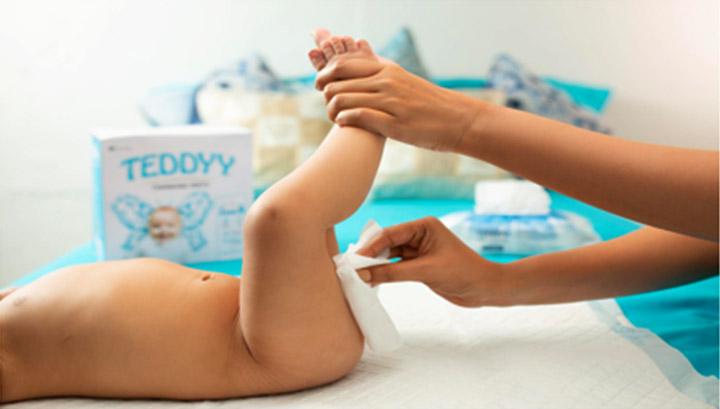 Motherhood is complicated. It turns your life upside down. And yet, it is totally worth the time, effort and sleepless nights, isn't it? One smile on the face of your little munchkin and poof! All your troubles and worries go out the window. Don't you agree, new mommy? And yes, how could we forget the diaper duties! They are the most important and at times, the most tedious of the lot. So today I am going to let you in on a secret that could change your life forever (Okay, fine, it will surely make it easy at the very least)! I am going to introduce you to this one product that made diaper changing a breeze for me – Teddyy Diaper Changing Mats.
Go on, ask me, what is the big deal about diaper changing mats? I am a mother and let me tell you, everything is a big deal when it comes to your baby. When my son was born, I realized how difficult it is to find an actual diaper changing mat in the market. All I was offered were rubber or plastic sheets which were unhygienic and not baby skin friendly. I was not ready to take a chance. So I consulted a friend who had faced something similar with her kid, and she suggested Teddyy. I was already using their diapers and my baby was comfortable and happy in them. So, I ordered a changing mat too, and trust me, it made all the difference. Here's what makes Teddyy Diaper Changing Mats different from any ordinary changing mat.
1. Comfort. Convenience. Care. -The Three Cs Of Childcare
My pediatrician told me it is extremely important to ensure that diapers are changed at regular intervals. Now when I was travelling with the baby or happened to be at a restaurant, these regular changing intervals became a nightmare. Teddyy mats came to the rescue! The top sheet of the mat is made of soft and spongy material that ensures your baby remains comfortable until the time you complete your task. It is also super-absorbent which keeps the mat mostly dry. Whereas the back sheet is waterproof which acts as a protection on damp or wet surfaces. Mall bathrooms for instance! Been there, done that.
Upon using Teddyy changing mats, I noticed that my child was much less cranky. He even stopped crying while diaper changes. Of course, the 'Baby Shark Doo Doo' always helps! For those who still haven't bought a changing mat, please know that putting your baby on a cold, damp surface makes them uncomfortable. Also, it is quite unhygienic as well. A good changing mat is a tool that you definitely need as a new mother. Because life is so much easier when your baby is happy, isn't it?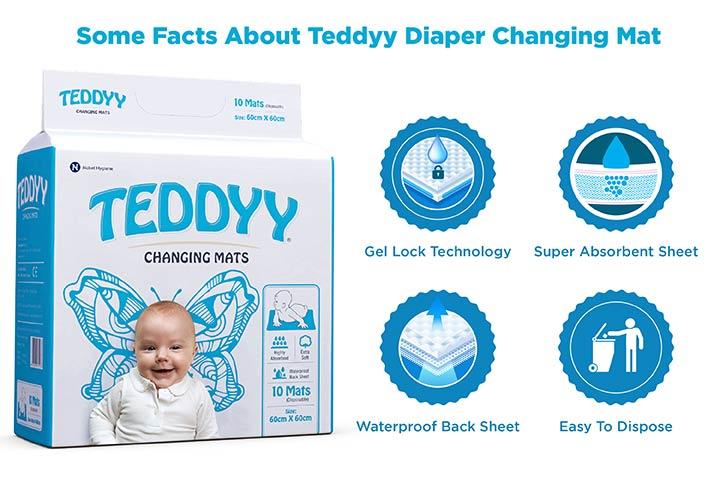 2. A Hygienic Environment For Diaper Changes
Hygiene is another important reason why you should change a soiled diaper immediately. If your baby remains in the soiled diaper for too long, he is more likely to get allergies or bacterial infections.
It is equally important to change the diaper in hygienic conditions, free from germs. The Teddyy Diaper Changing Mats come with anti-bacterial and hypoallergenic formulas that keep your baby free from allergies and infections. Not only that, Teddyy Diaper Changing mats – being disposable – go a step further, when it comes to reducing the presence of bacteria that is often left behind in reusable changing mats despite repeated cleaning.
3. A Thoroughly Thought Through Baby Care Product
Yes, it is important. Very important! My worst nightmare has always been a diaper burst! Especially when it comes unannounced and happens at the most random moments. In such an emergency (don't judge me, it is a mommy lingo for diaper bursts) Teddyy Diaper Changing mat is the lifeline you need. One time I was out for dinner with my family and our little man pooped his heart out. When I put him on the mat, I realized it's criss-cross design ensured that my baby didn't slip from the mat. Plus the gel-lock technology and waterproof back sheet saved me a lot of mess thereby making diaper changing a breeze. I bet they have changed many diapers before getting this product out in the market!
4. Ease To Carry And Dispose
With mommy duties round the clock, who doesn't need a break from the routine. A quick coffee with friends or just a stroll in the park never harmed anyone. But who will go through the ordeal of packing baby bag! Well, I did. For my mental peace. One important point about Teddyy diapers is that it is light to carry and easy to use and dispose. Your diaper bag will already be stuffed with things like feeding bottles, diapers, bibs, napkins, etc. So, your diaper changing mat needs to be such that it does not add to the burden and is fuss-free to use.
I could squeeze Teddyy changing mats in one corner of my bag and move on. The idea of a disposable mat calms me down to another level. It could be a personal priority, but it made me feel much cleaner (for my baby and me) after every change. The last thing I want is to roll the poop-filled mat and put in back in the bag. Yuck! No.
5. Quality Is The King!
When it comes to my little bundle of joy, there is no compromising on quality. When I opened the pack of Teddyy changing mats, I could just feel the quality of this product with my own hands. Soft to touch, clean to look at. Such great quality, for that modest price tag, is indeed a steal!
Other than changing diapers, I have found many ways to use these mats. I have used them as a protective layer in the cradle, on the floor, in the car, on the bed, in a crib and pram as well. I like to let his skin breathe for a bit. So, when there's no diaper on, a diaper mat does the job! Smart, isn't it?
Motherhood has changed me, for good. I am more aware of baby care and the problems mothers face day in, day out. That's why I wanted to share my experience to help other mums who might be in a similar situation. And if it saves you a little time and mind space, I think my job here is done. Don't believe it because I am saying it. Pick the Teddyy Diaper Changing Mats once, and you will know what I mean.
Here's where you can get them: www.amazon.in
Happy diaper duties, and an even happier motherhood.
Comments are moderated by MomJunction editorial team to remove any personal, abusive, promotional, provocative or irrelevant observations. We may also remove the hyperlinks within comments.