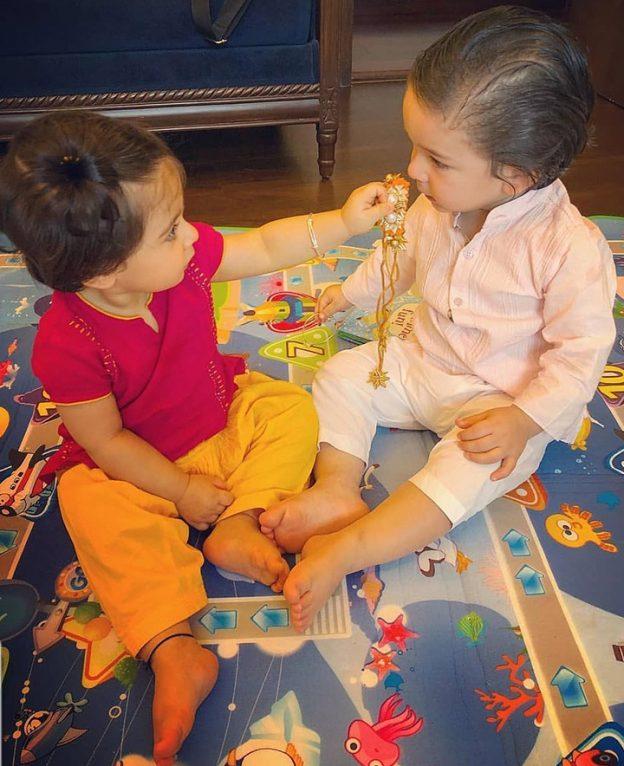 Bollywood celebrities! We never get enough of them, do we? When we are not watching their movies, we are busy following their personal lives. Whether it's their dating gossips or rumors of an impending wedding, we follow them everywhere. And just when we think we are done after watching pics of their secret wedding at an exotic location, the guessing game starts again. Are they in the family line? Will it be a boy or a girl? How will he/she look? As if this wasn't enough, we even get obsessed with their babies. No wonder then, in today's times, even celebrity babies have social media pages and already have a huge fan following online. If only they knew what the hue and cry is about. There are many reasons that these babies have become social media stars. Apart from having Bollywood celebrities as their parents, sometimes their unique features also grab all the eyeballs (pun intended). One such feature is the color of the eyes of these kids. We bring to you 6 such recent celebrity kids with unique eye color:
1. Inaya Naumi Khemmu
She is the cute little darling daughter of actress Soha Ali Khan and actor Kunal Khemmu. Although both Soha and Kunal have dark eyes, their daughter, Inaya Naumi Khemmu, was born with uniquely colored eyes. Kunal attributes this feature to his distant aunts though. Her unique grey-green eyes are attention-grabbing and highlight her facial features further. However, let us not miss her equally mesmerizing smile and adorable hair.
2. Taimur Ali Khan
Just like his cousin sister Inaya, Taimur Ali Khan is an internet sensation already. This cute little munchkin who has Bollywood star Kareena Kapoor Khan as mommy and the dashing actor Saif Ali Khan as papa breaks the internet every time a new picture of his surfaces. People simply go crazy seeing his beautiful blue eyes. However, unlike cousin Inaya (whose eye color genes had people guessing), Taimur has a long list of close relatives from whom he could have inherited them. Be it great grandfather Raj Kapoor, grandfather Randhir Kapoor, or even aunt Karisma Kapoor.
3. Iqra Dutt
Sanjay Dutt's younger daughter with wife Manyata Dutt, Iqra, has mesmerizing grey eyes. Generally clicked by her mother, all of Iqra's pictures stand out due to her beautiful grey eyes, which are completely captivating!
4. Imara Khan
This adorable little daughter of actor Imran Khan and Avantika Malik has definitely bowled us over with her looks. Her deep-set light grey eyes have already made us her fan. We're sure she's a cynosure of all eyes (pun intended) wherever she goes. We wish to see more of Imara on the social media though.
5. Aarav Kumar
Akshay Kumar and Twinkle Khanna's son Aarav has grown up to be good-looking and fit just like his dad. But the one thing that sets him apart is his light green eyes. Shy and unassuming, Aarav's eye color just adds more to his charm.
6. Ibrahim Ali Khan
Looks like having uniquely colored or captivating eyes runs in the family. With Inaya and Taimur already leading the pack, how can Ibrahim be left behind? This dapper son of actor-dad Saif Ali Khan and actress-mother Amrita Singh has hazel brown eyes. Although his eye color may not be blue or grey-green like his cousins, his honey-colored eyes perfectly compliment his complexion. Enough to melt your hearts and make pretty girls go weak in the knees.
Now you know another reason why these celebrity kids are ruling the internet these days. While a few of them are already rumored to be making their Bollywood debuts sooner or later, the rest of them also cannot be ruled out. Already a force to reckon with, you never know, they may not even wait to grow up. We'll probably get to see some of them in child roles at least. No one's complaining though!
The following two tabs change content below.

Sadiya is a writer and editor with a passion for writing about parenthood and children. Her focus areas are health, wellness, and beauty. For MomJunction, she writes on kids' health and nutrition.  Sadiya believes in doing in-depth research and providing accurate information to help parents with concerns on their children's growth and development.