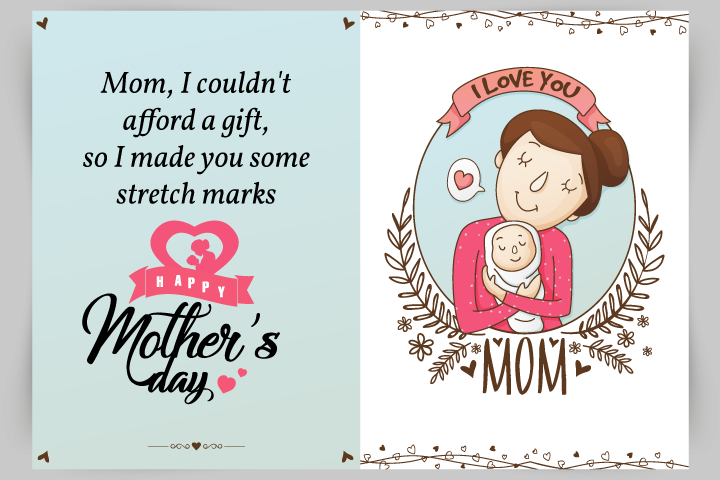 Mother. The mere word gives a sense of comfort and unconditional love. A woman who brought you into this world and made you believe in the world of your own. Your laughter is her music; your life is her priority. If not for moms who would hear your unreasonable rants? Who would assure you – "come back home, and I will set it all right," who would tell you that you are the most beautiful person in the world? From food craving to exam raving, she has dealt with all your tantrums and traumas.
So today let's celebrate this wonder-woman, this genie who has an answer to every possible question.
Here are ten honest and heart-felt quotes that you can write on your Mother's Day card. Though no words can do justice to what you feel for her, these might just cut it close. Go, win her like a boss!
This poem is sure to melt mommy's heart, and a bone-breaking hug is coming your way. Wanna bet?
Finally! Now say it 346278 more times. And that's just the beginning of what your supermom deserves.
There couldn't have been a more honest Mother's Day message than this one. Go girl, yet that shit out of your way. Momma has your back!
The. Truth. Has. Been. Said.
And this one is for all the times your mom told you – You are the most good-looking thing under the sun! There's a reason to it mom. It's you.
She had put up a tough face when she was crumbling inside. She made it all seem like a fairy tale. All her sacrifices are the stepping-stones to your success. Always remember that!
And with this message, she will be rest assured that she has fixed them all. Well-done child! You have made your mother's day this Mother's Day.
Always. Always. Always. The way she looks at me makes me believe – everything, absolutely everything can be worked out!
OMG, my mother is so wise. OMG, my mother has every answer. OMG, my mom is the best cook ever. OMG, she knows exactly what I am thinking. OMG, OMG, OMG. Mom, you are God!
This last and the best one is icing on the cake! And the list doesn't end here. Well, the list can never end. Our moms have done so much; no words can match up to their effort and love.
These wishes are just to get you started. Speak your heart out this Mother's Day. Tell her what she means to you, word by word. Connect with her. Give her reasons to smile. Rekindle old memories. Talk. Laugh. Hug. Happy Mother's Day. There's a reason the reflection of MOM is WOW.
Comments are moderated by MomJunction editorial team to remove any personal, abusive, promotional, provocative or irrelevant observations. We may also remove the hyperlinks within comments.