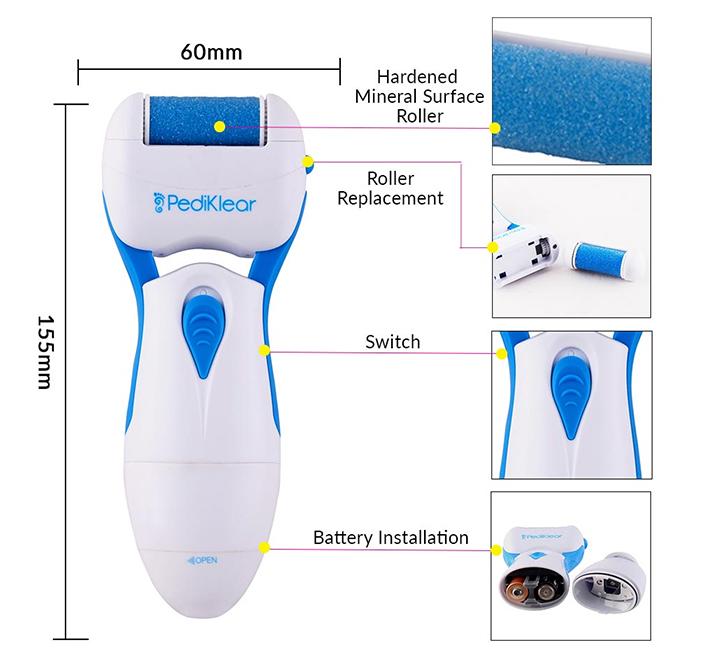 MomJunction Rating: 4.5
Pregnancy, an amazing time for all the mothers. But, to think it through, is it all amazing? Not really. There are several changes in the body that keep cropping up every other day. The growing belly, those back aches and swollen feet. Due to the increase in weight, a lot of pressure is applied on your feet which often get neglected in the whole process.
Cracked and dry feet are issues which trouble not only moms-to-be but almost every woman in this country. Not only do these cracked feet hurt but they also take away your confidence and force you to keep your favorite footwear out of reach.
Pediklear- A Sure Shot Solution To Those Cracked Heels
The all new Pediklear is India's fastest electronic callus remover. So you can say bye to hours of scrubbing with those pumice stones and take care of your feet with full comfort from your home.
It comes with a mineral surface roller which takes care of your cracks and gives you smooth and velvety feet. This device will do away with all your regular to the salon and save you that money and time!
Why Only Pediklear?
As a mother you have to do a lot of running around and most of the time you're doing that barefoot around the house. We often fail to realise how important it is to take care of the feet and how many diseases can be caused due to it.
With pediklear you will only have to invest a maximum of five minutes to get rid of your cracks and walk your way to healthy and beautiful feet that everyone will surely envy. Pediklear will save your time and money and give you the salon looking feet in just five minutes!
The Pros And The Cons:
The Pros
Fast and efficient- Treats cracks within 5 minutes
Waterproof- Pediklear is waterproof so it can be comfortably used on wet feet too
Easy to maintain- All you have to do is brush the Pediklear with the brush provided or wipe it off after every use
Portable- The gadget operates on batteries and can be carried around easily wherever wanted
100% safe to use- Doesn't involve any blades or razors so you wouldn't have to worry about the safety of your feet at all
Pocket friendly- Using the device will not burn a hole in your pocket and will cost you much cheaper than visiting your salon for a pedicure
The Cons
The only downside was that it doesn't come with a carrying case, pouch or stand, making it difficult to be carried around.
An Absolute Value For Money
Pediklear, which originally costs Rs 2399/- is available at a discounted rate of Rs 1999/- only for a limited period of time.
Not only this, Pediklear is shipped to you free of cost ,anywhere across India and if you're not satisfied within 30 days of your usage you also get a money back guarantee.
Final Verdict: Considering all the amazing benefits this product has to offer in this price, it is definitely a catch and absolutely worth trying.