Summer is here! This bright and cheery season brings with it plenty of family outings, quality time in the sun with the kids and loads of fond memories. But all that time you spend soaking up the sun can take a toll on your skin. So can the sweat and the pollution that seem doubly worst at this time of the year. The result? Dull skin that looks lifeless – completely in contrast with the season!
The only way to restore your skin's natural radiance is to go for a summer skin detox ritual. If you don't know how to go about one or need some handy tips to help you out, we've got your covered. Here are 4 amazingly simple tips to help you get healthier skin in just a week!
1. Add a vitamin-rich serum to your skincare routine
We have no doubt that you follow a very specific skincare regime for the summer season. And while we're sure that works for you, why not try adding a vitamin-rich face serum to it? Trust us, it'll make all the difference! Most such serums are made of skin-resurfacing elements like vitamin C, vitamin E and mix of beta hydroxyl and alpha acids for example. These serums help in bringing back your skin's lost glow while also nourishing it! You might want to add a target-specific serum to sort out the skin problem you face during summers as well as to take your beauty routine to the next level!
2. Follow a diet rich in antioxidants and healthy fats
To have better quality skin (and hair) during summers, you need to ensure that you're eating right. Healthy fats and antioxidants are absolutely crucial for good skin as the former helps slow down the aging process while the latter cleanses the impurities accumulated on your skin (1), (2). Foods can that must be a part of your diet includes nuts, berries, olive oil, leafy greens and salmons. You should also sip on green tea and have as much water as you can.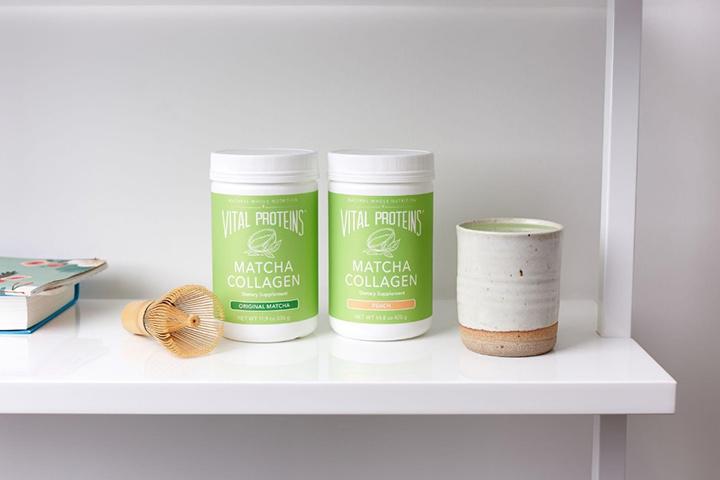 Not fond of the foods on the list? Don't worry, there's a great alternative – the Vital Proteins Matcha Collagen. This health drink supplement packs in both chlorophyll (found in leafy greens) and antioxidants so you can get your fill without eating the foods you don't like!
3. Boost your detoxification with supplements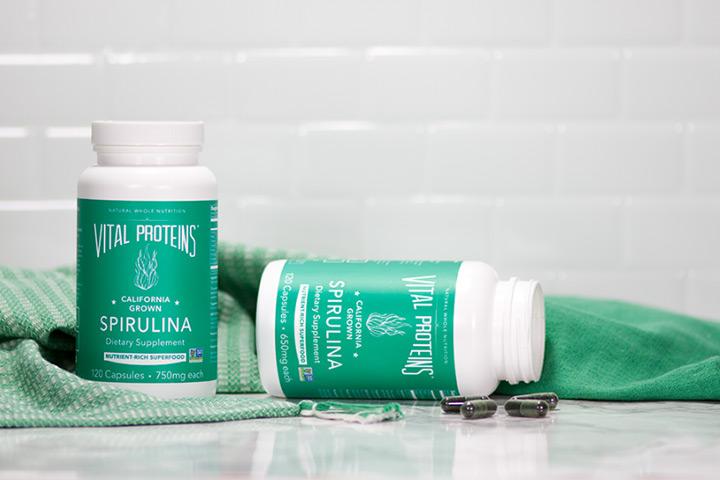 Even if you adhere to a strict, skin-friendly diet and beauty regime, you'll need to give your summer skin detox a boost if you want quick and lasting results. Adding the Vital Proteins Spirulina health supplement to do your daily skin routine is a great way to speed up the detoxification process! This health supplement from Vital Proteins improves your immune system and balances the healthy bacteria in your gut so you get clearer skin.
What's more, the spirulina in this health supplement can assist the detox process and also improve your skin from head to toe! Besides, just like the Vital Proteins Matcha Collagen, the Vital Proteins Spirulina is also packed with the goodness of chlorophyll, which by the way, is a great detoxifier! The structure of chlorophyll is just like human blood's and it aids in renewing of your skin cells (3).
4. Select a date to start
With all the preparations done, it's now time to commence your skin summer detox! We suggest you start on a Friday as it'll give you the chance to focus on your usual skincare routine through the weekend and the time to purge your skin during this detox ritual!
Don't underestimate the importance of summer skin detox. It's absolutely crucial! And with Vital Proteins Matcha Collagen and Vital Proteins Spirulina, there's no way you won't get healthy glowing skin within a week!