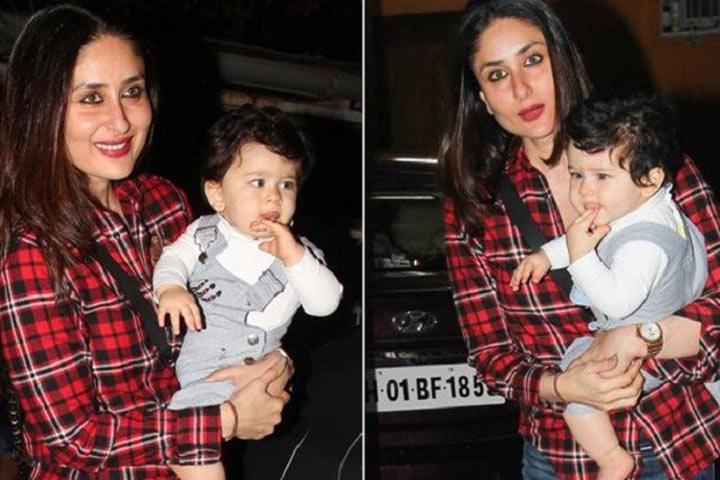 Kareena Kapoor has been charming the audience with her on-screen performances for years. It was no different when the Bollywood superstar caught the eyes of paparazzi as she once again displayed her typically sensational flair for fashion by posing and flaunting her impressive post-baby body for numerous photo-ops.
In the past few months, the paparazzi have spotted Kareena – who welcomed son Taimur into the world in December last year – working out and exercising on many occasions after her pregnancy, and now she is seen at an outing with her little boy, Taimur Ali Khan.
Quick to lose her post-pregnancy weight, the actress is reaping the rewards of her fruitful fitness regime. While she avoided rushing into a high-octane fitness regimen, the Bollywood star – who put on 18kg during her pregnancy – threw herself into calculated workout routines, which included yoga, Pilates, and walking – all in preparation for her big comeback in the film industry. Besides exercising, healthy eating has been a part of Kareena's diet even before she was expecting.
During the outing, the mother-son duo were all smiles and they displayed a fabulous winter style that caught the eye. Kareena flaunted her toned post-baby frame by wearing a red and black tartan shirt, paired with stonewashed blue jeans and the ever-so-classic knee-length boots, proving she has snapped right back into shape following her pregnancy last year, while simultaneously adapting to the temperature drop in impeccable style.
Exuding an air of 90s fashion, she accentuated her natural look with a swipe of shiny red lipstick and heavily kohled hazel eyes.
Although Kareena has been busy preparing for her Bollywood comeback, the superstar absolutely loves making public appearances with Taimur as the two have been seen hanging out together quite often. As the filming of her upcoming movie 'Veere Di Wedding' is reaching its closing stages, it is absolutely clear that she is now making the most of her time with the toddler.
Like his celebrated mother, Taimur, too, captured the attention of the paparazzi and looked adorable as always. The 11-month-old son of Kareena and hubby Saif Ali Khan wore blue dungarees and a white turtleneck. Taimur, some may say, shares a strong resemblance to his mother.
As the little one gears up for his first birthday party next month, he has already stolen hearts in the film industry by just being himself. There's no doubt that he's made himself a paparazzi favorite and one of Bollywood's most popular babies.
After taking some time away from acting following her pregnancy, the 37-year-old is currently gearing up to get back in front of the camera, playing a role in Shashanka Ghosh's 'Veere Di Wedding.'
She will be acting alongside Sonam Kapoor, Swara Bhaskar, and Shikha Talsania. The plot of the 'Hindi female buddy comedy film' revolves around Kareena playing a bride-to-be, while her three girlfriends attend her wedding. The movie, which was delayed due to Kareena's pregnancy, is all set to release in May next year. The movie was mostly shot in New Delhi, with sequences being shot in Bangkok.
In her nearly 17 years in the industry, Kareena has boasted a rare natural ability that not many of her peers can replicate. Kareena rarely has an off day at work and is now set to wow audiences when she makes her Bollywood return.
It has been reported that Kareena is now preparing for a visit to Kenya, where the star will walk the ramp at a fashion event for designer and close friend Manish Malhotra.
Well, we certainly look forward to seeing this effortless beauty rock the ramp soon. If only the adorable Taimur made a special appearance, then our Christmas wishes would be sorted!