For couples planning a vacation in the US, there are a lot of choices when it comes to unique and interesting vacation spots for couples. The US is home to various vacation spots, from picturesque mountains to calm lakes, sunny beaches, and outstanding wildlife parks.
You could also choose vacation spots for couples on all budgets, right from luxurious stays at seven-star facilities to budget rentals. You will also find several romantic getaways for couples in the various parts of the country, from idyllic beaches to cold mountains where you can spend quality time with your loved one.
Read this post to know about the best romantic couple vacation spots in the US.
21 Romantic & Best Couple Vacation In The US
1. Maui, Hawaii
There is nothing like Hawaii for a romantic vacation for couples. Maui never fails to impress visitors with its magnificent beaches and coastline bordered by thick rainforests, ocean caves, craggy cliffs, and waterfalls. Take a chopper for an unparalleled bird's-eye view of Hawaii's terrain, snorkel in Honolua Bay or around Molokini, sneak a kiss while admiring the turquoise Pacific Ocean. You can unwind in the sun at Makena Beach State Park or spend a day at Waianapanapa State Park.
2. Miami, Florida
If walking hand-in-hand through some of Miami's best vacation spots is your ideal romantic date, Miami has picture-perfect beaches to choose from. A trip to Miami is essentially two holidays in one: an exotic beach getaway and a metropolitan getaway with classic art deco buildings and a pulsing nightlife.
3. Santa Fe, New Mexico
Picture a luxurious weekend spent basking in the delights of the palate, wonder at Georgia O'Keeffe's art and Meow Wolf, or simply relaxing to the expert hands at a sensual spa. Santa Fe is an eclectic vacation spot for couples with numerous delights, such as museums and art galleries on Canyon Road, high-mountain hiking trails, architectural marvels, hot air balloon rides, wine and spirit trails, river rafting, and skiing.
4. Washington, D.C.
Washington, DC offers an array of adventures, ranging from wine tasting escapes to stress-busting walks to Lake House getaways with your love. You can spend your holiday reading by the sea and hiking mountains in Shenandoah National Park or visiting a Civil War battlefield. With a thriving local wine and beer industry, there are more reasons than ever to get out of your rut. You can go to the world-famous Smithsonian National Museum of Natural History.
5. New Orleans
Whether it is jazz streaming out of nightclubs or crowds forming on Bourbon Street, or a live music concert, there is everything you look for in New Orleans. Dance floors and booths provide a great place for couples to get cozy at night. Take a carriage ride along the French Quarter, explore Art District's museums, and ride your bike in City Park.
6. New York City, New York
New York is one of the best vacation spots for couples, whether you'd like to watch the sunrise over the East River or experience An Affair To Remember moment atop the Empire State Building. The Hudson Valley in New York is a lovely romantic vacation spot, or you may stroll through Central Park or go boating at Loeb Boathouse. The city has uncommon "dinner and a movie/theater" combos, bridges, Hayden Planetarium for stargazing, riverside parks, and other attractions.
7. Scottsdale, Arizona
You can hike through mountains, climb a valley, or play golf. Take your time exploring Arizona's Scottsdale, whether you're hiking red rock paths in the Valley of the Sun, taking an amazing hot air balloon ride over the Superstition Mountains, or climbing up Camelback Mountain. Take a boat cruise on Lake Scottsdale to paddle your love or visit Saguaro National Park, which has great hiking paths.
8. Golden Gate Bridge, San Francisco
Visit San Francisco for a walk through the dense forest or a romantic photo session at the Golden Gate Bridge. Enjoy strolling around the San Francisco Botanical Garden gardens, or take a Cable Car ride to see San Francisco from above. In the North Beach or Marina districts, you can enjoy a wonderful meal at one of the finest restaurants.
9. Savannah, Georgia
Savannah, Georgia's oldest city, is steeped in history and charm. There are countless romantic adventures that you can do with your partner. Savannah's cobblestone streets will give you a Cinderella moment as you ride in a carriage. Take a spooky tour of Savannah's haunted mansions, historic homes, or haunted pubs and taverns if you need another reason to hug your lover tighter than normal.
10. Aspen, Colorado
What could be more romantic than taking a ride in a hot air balloon shortly after sunrise or strolling hand in hand through downtown Aspen? Aspen offers countless outdoor activities for couples, including skiing, snowshoeing, hiking, kayaking, and horseback riding.
11. Big Sur, California
Big Sur is a dreamlike romantic vacation destination nestled between high mountains and the Pacific Ocean. Big Sur is an enchantress, with her limitless blue Pacific Ocean and towering cliffs of the Santa Lucia Mountains. You can travel through picturesque coastal villages and along beautiful beaches. Couples can hike through hidden curves, camp in national parks, and swim where waterfalls meet the sea.
12. Mount Desert, Maine
This picture-perfect romantic vacation spot is brimming with coastal New England charm. This vast region of New England is best known for its pristine Acadia National Park. Fill your romance with adventure day trips by taking a trail hike on Cadillac Mountain and getting a glimpse of distant Canadian Nova Scotia and the Porcupine Islands.
13. Asheville, North Carolina
Asheville is another best couple vacation spot with safe backcountry access and spectacular views of the Appalachian Mountains. At Biltmore Estate, you may taste one of the finest wines, or you can take a romantic stroll around Downtown Asheville. The Pisgah National Forest, with its high peaks and waterfalls, is a wonderful vacation spot for couples to relax.
14. Yellowstone National Park, Montana
Yellowstone National Park, with its beautiful panoramas, magnificent geysers, thermal springs, and a diverse array of flora and fauna, provides visitors with a wholesome experience. You can go horseback riding, hot air ballooning, and fishing on the Snake River, and Big Sky's winter skiing rivals Jackson Hole's.
15. Fredericksburg, Texas
Fredericksburg is another romantic and best vacation spot for couples. This Hill County village founded by German immigrants is famous for its German eateries and bakeries. Also, visit the National Museum of the Pacific War to see the steamboat-style monument that celebrates World War II hero Chester Nimitz.
16. Florida Keys, Florida
Stroll down Duval Street, which is home to modern art galleries, museums, and delicious restaurants, and then head over to Bahia Honda State Park for bird watching, beachcombing, and hiking. You can snorkel in Dry Tortugas National Park or get inspired by Ernest Hemingway's 17th-century home and museum.
17. Alaska
Alaska is by far one of the best romantic vacation spots for couples looking for an outdoor adventure. Exploring Alaska and its seemingly limitless expanse of mountains, forests, and rivers, whether by seaplane, remote country railways, glacial cruise, or road trip, is sure to excite your senses.
18. Zion National Park, Utah
The stunning red cliffs and limitless vistas of Zion National Park offer a thrilling romance trip filled with outdoor activities. Zion is a verdant oasis in the heart of the desert, with rich flora covering its landscape. The park is simple to navigate, offering pathways for novice hikers and the most daring romantic couples.
19. Outer Banks, North Carolina
The Outer Banks are a cluster of barrier islands blessed with pristine expanses of virgin sandy coasts, magnificent beaches, stunning sunsets, and charming coastal towns. Western North Carolina's beautiful smoky blue, lush mountain ranges are enticing for a cozy romantic vacation. Outer Banks is the best bet for a low-key, beach-centric, and budget-conscious vacation.
20. Jackson, Wyoming
Jackson is a good place if you want to include hiking trails in a national park in your romantic adventure. Jackson's resorts offer world-class skiing and snowboarding. There are romantic dog sled trails and more energetic snowshoe adventures in the winter and horseback riding and white water rafting in the summer.
21. Yosemite, Idaho
Yosemite National Park is known for its gorgeous vistas and tremendous waterfalls. The Half Dome, a massive slab of granite that rises almost 5,000 feet from the valley below, is one of the park's most impressive attractions. One side is a vertical cliff, while the other half resembles a circular dome. Ride around the Curry Village Ice Rink with your loved one, creating hearts in the ice.
Take a vacation from the hustle and bustle of life and spend quality time with your partner. These romantic and best couple vacation spots In the US are perfect for unwinding with your partner. So, let love fill the air when you go where it's abounding.
The following two tabs change content below.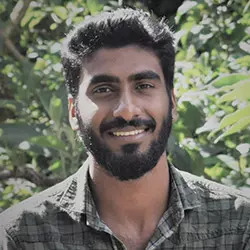 Akshay Nair
Akshay is an associate editor and former journalist with over three years of experience. A post graduate in Mass Communication and Journalism, he has strong professional and academic background in the field of content writing and editing. Akshay interned and worked with various newspapers and the Public Relations Department of the University of Calicut. At MomJunction, he ensures the articles...
more