We all are under the Covid-19 grip and locked up at our homes. We bring you a list of some fun quarantine date ideas to keep up with your romance even during the pandemic. Inculcating these ideas in your routine could help you maintain your relationship in high spirits even when you are far away from each other.
When you understand each other's needs, you could try unique ideas to keep surprising that special someone. So, make the most of the lockdown time, unleash your creativity and have fun at your quarantine date.
Quarantine Date Ideas
Here are some quarantine date ideas for you to try at home.
1. Play a card game
Card games are most enjoyable when played with a group of friends at a house party, but they can also be a fun date activity! You can play mentally stimulating games such as Poker and have a great time trying to bluff each other. The loser does the dishes.
2. Cook dinner together
While dining out at your favorite restaurant may be out of the question, you can still make some of your favorite dishes at home! Order the ingredients online and prepare your kitchen for a fun night of cooking. Open a bottle of wine, play music, and enjoy a fun night of cooking with your loved one. It doesn't have to be Michelin-star food, but it will taste great because of the love and effort you put into it.
3. Play video games
Playing video games online is enjoyable, but it is even more enjoyable when played with your significant other. Choose a genre, such as action or strategy, and embark on a virtual adventure with your date night! It's not only entertaining but also something you can pause and resume at any time because it's just the two of you playing.
4. Do a blind wine tasting
We usually associate wine tasting with vineyards or upscale restaurants. However, wine taster packs are now available from companies that include anywhere from 6-18 small samples of wine for you to try. To make it enjoyable, try the wine blindfolded and see if you and your partner can guess the vintage wines.
5. Have your little dance party
Going out clubbing or dancing is not an option with social distancing norms. However, it doesn't mean you can't bust some moves at home! If you and your partner enjoy dancing, you can create a two-person dance party at home by selecting an excellent dance playlist. Remember not to get too carried away with fun, and make sure the volume doesn't bother your neighbors.
6. Give your partner the spa experience
If you or your partner enjoys the occasional spa dates, you will undoubtedly miss them for a long time in quarantine. So, go ahead and recreate the ultimate spa experience at home. It's straightforward; order some scented candles and essential oils for massage and turn on some relaxing music. You can even take requests for a pedicure or anything else your partner might enjoy, making it an authentic spa-like experience.
7. Plant some saplings or do some home gardening
Hard labor isn't the definition of most romantic dates, but this activity will be both romantic and rewarding. You could spend time gardening or landscaping any appropriate area, or you could plant some saplings in a nearby location and watch them grow over time. Regardless, not only will this be a fun activity to do with your date, but the results will flourish and grow right before your eyes for years to come.
8. Check out virtual tours
Virtual tours are available at many museums, attractions, and tourist destinations. You can explore any of these locations using your laptop from the comfort of your home. Navigate through French Chateaus, Dutch museums, or just a great hiking spot and learn more about the world with your partner right next to you. If you want a truly immersive experience, you can invest in a pair of VR headsets that will transport you to another location.
9. Try a Yoga class online
Yoga is a fantastic hobby, and with gyms closed or restricted during quarantine, it is an excellent backup option for staying fit. There are numerous yoga classes available on YouTube or even Zoom conferences where a professional can walk you through some basic poses. This is a romantic activity to do with your partner.
10. Have a painting contest
You can challenge each other and paint- something if you're creative and competitive. You could either try to recreate the same image from a reference picture or paint an original from scratch. You can then hang the paintings on the wall. You don't need to be Picasso to have a good time doing this, and it will bring out your creative juices.
11. Have a workout together
You can always have your workout sessions together if you're both fitness conscious or just aware of how much exercise you're missing out on during the lockdown. It can be motivating and enjoyable to have someone with you during your workout sessions.
12. Do some DIY projects
From dream catchers to homemade soap, there are many rewarding and straightforward DIY projects that you and your partner can do together. You can order the materials online and then follow any online guides to figure out how to use them. You will feel a great sense of accomplishment after making your homemade decorations, soaps, and perfumes, besides having a romantic date together.
13. Recreate your first date
While this may be impossible to do because your first date was most likely not at home, you can try to do this as faithfully as possible. You can try to recreate everything from your outfits to the food you ordered, the movie you watched, and even the music you heard on your first date. Taking this trip down memory lane will help you forget the quarantine and pandemic for a while and transport you back to a simpler time.
14. Watch a comedy show
Find a comedian you both enjoy, or browse the comedy section of a streaming service for a new one you haven't seen before and watch it with your partner. You can have a relaxing date with some light takeout and a few drinks to help you unwind and connect with your partner after a long week at work.
15. Take an online martial arts course
Martial arts are gaining popularity during the lockdown. They aren't just about fighting or self-defense but physical activity and discipline. If you and your partner can develop a decent level of competency in martial arts, you will both walk away with a great sense of accomplishment and valuable skill.
16. Have a breakfast date
When we think of dates, we usually think of dinner or brunch. However, nothing can beat a perfect breakfast date. You could either surprise your partner by preparing everything while they are sleeping and surprise them with breakfast in bed, or you could split the effort by making different dishes, juices, and coffee together. Regardless, the experience will be memorable and romantic.
17. Do a home improvement project
Maybe there's an attic you've wanted to clean or a home theater system you've wanted to set up. If finding an electrician or carpenter has become difficult due to the Covid-19 lockdown, you could do it yourself! You can do anything from rewiring an appliance or putting together a piece of furniture. Not only will this give you a sense of accomplishment, but you will also learn some critical skills along the way.
18. Get out of a virtual escape room
During the lockdown, everyone likes to escape from their mundane routine. What better way to combat that trapped feeling than to participate in a virtual escape room together? You will both need to look for clues, solve puzzles and riddles, and use your wits and instincts to find your way out of the virtual escape room. It will require teamwork, communication, and a good sense of humor to make it out in the allotted time. This is an ideal date night for any couple in quarantine.
19. Bake some delicacies
Baking is therapeutic when you cook the perfect cake or some bakery delicacies. Simply baking with your partner can turn these feelings into a great date! Everything from a simple chocolate cake to baking your bread can be a delightful and satisfying experience. It can also be fulfilling for both of you to relish the baked goods.
20. Host a karaoke night
We know it won't be the same without a good karaoke bar and some friends to laugh along with you, but having your karaoke night with your partner at home can be exciting. All you need is some good music, some songs, and a few drinks to get that liquid confidence going, and you're good to go! Take turns singing to each other and don't worry about whether or not it sounds good or accurate. Just focus on each other and having a good time!
21. Play charades
Everyone enjoys the classic game of charades! It's an incredibly engaging and fun activity for all ages, from playing with your siblings on long drives to playing with your friends at parties. You can make this a staple of date night by playing charades with your partner and changing the topics each time, from movies to celebrities and shared memories. This will not only bring you closer together, but you'll also have a great time doing it.
22. Watch old concerts or live ones
Nothing beats the magic of listening to live music at a concert, especially when it's by one of your favorite bands. You can, however, partially recreate it by watching and listening to that concert with your loved one again. You can choose an old concert or even a new one live, as many bands and artists are now streaming their music live during the quarantine.
There are some advantages, such as the ability to avoid lines, pause the music, and replay a song whenever you want! If you set the right tone, this can make for a great listening experience with your partner.
23. Plan vacations
When it is safe to travel again, you and your partner can break out of the lockdown with a pre-planned itinerary that you worked on while in quarantine. So get out your laptops and mobile phones and start planning for vacation when travel is possible again. Assume you have only one night to plan a trip and explore landmarks and hotels at reasonable prices and deals. The act of planning a vacation can be therapeutic to you and your partner while being entertaining and educational.
24. Have a sports night
While most sports are suffering due to the pandemic, some TV channels are broadcasting live matches. Plan a sports night that both of you enjoy or one that neither of you has seen before. If you are not a big sports fan, we recommend watching a boxing match or playing tennis because they are simple to understand and participate in.
25. Make a scrapbook
If you and your partner have memorabilia from your dates, this will be a lot of fun! You can spend a night making a scrapbook of all your memories together, being as creative as you want with glitter, creatively cut paper, and ribbons. Tickets from movie dates, concert ticket stubs, bills from a restaurant you enjoyed, and polaroid pictures from vacations are some of the classics that should be in any couple's scrapbook. If you don't have many pictures, you can always print some digital ones to include in the scrapbook.
26. Redo a part of the house
If you are a couple living together, chances are at least one of you wants to redo parts of the house. It could be as simple as reorganizing the kitchen shelves or clearing some space in the attic or basement. Perhaps you want to decorate the living room or create a small kitchen garden for yourself. Regardless, home improvement is a great activity to do with each other, and the results will give you a lot of satisfaction irrespective of how big or small the scope of your project is.
27. Perform standup comedy for each other
If you have a strong sense of self-confidence, this is one of the more daring options. You can always go out of your way to please your loved ones by performing a one-person comedy show just for them! It doesn't have to be an award-winning comedy routine with incredible jokes as long as the content is relatable and not too offensive (you should make some personalized jokes, however, if they're in good taste). You can take turns, so you don't have to memorize the entire sketch. This will undoubtedly be a memorable date night.
28. Have a costume night
You don't have to wait until Halloween to put on your costumes and outfits! Throw your costume party for your loved one and dress up as something goofy, scary, or creative. You could be a superhero or a vampire as long as your costume is creative and both of you are invested in the date night's theme.
29. Meditate
This may not appear to be a "typical date," but nothing is usual or typical during quarantine! Plus, with everything going on with the pandemic and health hazards, you could both benefit from some meditation to calm yourselves and process it all while maintaining your mental health at optimal levels. Light some incense, turn on some background noise, such as rain or waves at a beach, and lose yourselves as you meditate as a couple. If you are unfamiliar with the concept, you could also choose from various guided meditations available online.
30. Have a themed movie and dinner combo date
We've all been on classic movie dates and dinner dates, but why not combine the two for the ultimate immersive experience? You could watch a classic film about a culture or theme, such as The Godfather, and pair it with authentic Sicilian/Italian takeout food and wine. You could also watch something hilarious, such as Nacho Libre, and pair it with Mexican food.
31. Make some cocktails
This might appear to be a compromise, but it is a beneficial skill to learn! You might even prefer to do this after quarantine is over because you can make your cocktails instead of buying overpriced ones from a bar the next time. All you need is to look up some recipes online, keep a good supply of alcohol and other ingredients on hand, and then experiment and have fun making these cocktails! Of course, the best part is drinking the cocktails, but making them with your partner can be a lot of fun.
32. Have a couple's photoshoot
When you look back on these weeks and months of lockdown, you might find it helpful to have your quarantine photoshoot! This is incredibly entertaining if you're trying out a new style in lockdown or growing your hair out as a man for the first time. Set up your smartphone or camera and snap some romantic couple photos to add some spice up the lockdown. You could even turn these into a couple's calendar if you feel like it.
33. Solve a puzzle
Solving a puzzle is a highly fulfilling and satisfying activity. There are puzzles with thousands of pieces that can take hours to complete, even as a couple! Solving these can be challenging, but it's also a lot of fun, and you'll feel a sense of accomplishment when you're done. Some people even frame their completed puzzles if they are complex enough or have 5,000 pieces or more. Solving puzzles is also a great mental exercise for keeping your brain healthy and occupied, adding another layer of value to this activity. Doing this as a couple can bring you closer together as you work through this "problem" together.
34. Have a cook-off
Cooking a meal together is enjoyable and romantic, but have you tried cooking against each other? You can make your cooking date into a friendly cook-off for the two of you to see who can make the best dish. Not only will this motivate you to improve your cooking skills because the stakes are higher, but it's also a fun and competitive activity for couples and people who enjoy cooking together.
35. Have a music night
Music is one of the few things that can bring people together. Plan a music night with your partner in which you jam together, play, or sing your favorite songs. You don't have to be a master musician or singer to enjoy yourself. Ideally, you only need one instrument, such as a guitar or keyboard, as long as you're both willing to sing. It doesn't matter how it sounds as long as you're both having a good time.
The pandemic has undoubtedly impacted our mental health and love lives, especially when it comes to dates and going out. However, this does not imply that we must be prisoners of our circumstances. We can use the quarantine to rediscover what it means to have fun by ourselves, from the comfort of our own homes, by employing any of the ideas mentioned above.
So, discuss these ideas with your partner, or surprise them with one! With these ideas, you can make your quarantine more romantic and enjoyable for both of you as a couple.
The following two tabs change content below.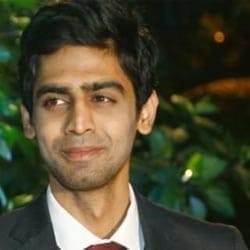 Rohan Sinha
Rohan was an HR analyst before transitioning into a freelance writer/ editor. He holds a bachelor's degree in Business Administration with a specialization in Human Resources and previously worked as an analyst in Goldman Sachs. Having also worked in a media and post-production firm, he has special interest in films. Rohan is an avid reader with a passion for defense,...
more