The Covid-19 pandemic has forced corporates and companies across the world to shift to a remote working model, i.e., work from home. Work from home with kids around has become the new normal, and parents often find themselves in a tricky situation managing both work and children. With schools and other educational institutions remaining closed to check the spread of the virus, children and parents are under the same roof throughout the day. In this post, we present some useful tips to help working parents function efficiently at home with their kids around and maintain a healthy work-life balance. Scroll down.
Tips To Work Productively From Home With Kids
Get up early: With the kids around, it is best to get up a couple of hours before them. You can utilize those additional hours to schedule, plan, or execute important tasks, free from the usual distractions.
Follow a schedule: Working from home doesn't mean you let go of your routine. Get up and follow a routine like your regular workdays. Start with the "going to office" mindset, even if your children are around. Moreover, try to stick to the same working hours you follow at your workplace.
Utilize your kids' nap time: Use your children's nap time to take up important calls or tasks that require more concentration. If your kids are old enough and do not take naps, then plan some quiet activities. You can give them interesting books to read or encourage them to play some engaging games.
Be flexible: Sometimes, despite your best efforts, children don't take a nap or keep themselves engaged. In such a scenario, be flexible. You may, therefore, finish your work when kids are asleep at night or early in the morning before they are awake.
Hire a helper: There may be situations wherein you may not be able to do your work as well as look after your kids. Do not hesitate to seek help from a babysitter.
Set up your workspace: You may find it comfortable to sit on your bed and sofa to work. However, getting too comfortable won't help, especially when you sit along with children as they are playing or watching TV. Set up a designated space for work. This will not only help you avoid distractions, but also maintain good posture and give you a feeling of completion or achievement once you leave the room after a day's work.
Give attention to your kids: Working from home can be tricky. If your kids are vying for your attention, they will continue to do so until you give them some. Spend time with your children and give them your undivided attention during your free or break time. Keep them entertained during that time. The biggest perk of working from home is that you can do your work and also spend quality time with your kids.
Keep your children engaged: Encourage your children to play independent games or engage in activities that do not require your presence. You can get them involved in activities like reading, painting, solving puzzles, or practicing crafts. You can also create busy bags or boredom boxes (e.g., craft boxes or DIY projects) that are filled with things to keep them engaged for long hours.
Prepare for distractions and disruptions: With kids around, disruptions are bound to happen even when you plan things well. Make your children understand through nonverbal cues when they need to keep quiet, such as tying a ribbon on your door. If you are on an important call, mute background noise by changing the settings on your phone.
Create a schedule for your children: With the schools and daycare centers closed, their routine gets disturbed. Therefore, create a schedule for them when at home. Set a time for their meals, nap, and activities. This will help you to keep your schedule on track and keep them occupied during the day.
You may need to relax screen time: If you have an important call or urgent tasks to complete, then you may have to relax rules for children's screen time. Although you may feel guilty, it may work if the work at hand is absolutely necessary.
Talk to them: Talk to your children and explain to them about the ongoing situation. If they are big enough to understand, let them know how the coronavirus outbreak has changed your daily routine and what is expected of them when you are working from home.
Segregate your roles: When at home, keep your roles as a parent and a working person separate. Give time to each without mixing them up. Otherwise, you will end up feeling that you haven't performed any of these roles well. Keep a kids-free zone or close the door to work. And when you take a break or wrap up your work for the day, leave that area to enjoy time with your kids.
Involve your partner: If you and your partner are working from home, then communicate about your routine so that both of you are on the same page. Divide time and responsibilities. Depending on both of your workloads, you can take turns to handle chores and take care of children.
In addition, you may try these practical tips to plan your day better and work productively.
Take out time for breaks: Schedule your breaks, say 15 minutes for tea, and an hour for lunch. This will help you break the monotony of work and give you time to refresh. Do not cut short your breaks. For instance, if you have finished your lunch in 40 minutes and still have time left, take a walk or play with your kids before returning to your desk. Also, keep stretching in between and do some physical exercise.
Dress up: Put on clothes that make you feel that you are leaving home for work. For some people, it might be difficult to keep themselves motivated when they are in their pajamas or sweatpants. Just a bare minimum such as clean clothes or a pair of jeans and a shirt can work magic too.
Stay in touch with your colleagues: When you are working in an office, you are connected with your colleagues. Follow the same at your home. If you are part of a team, discuss your daily to-do tasks, and keep them informed about the progress of your work. You may use online conferencing or messaging platforms.
Don't just sit in a box: Doctors have advised to stay inside and avoid crowded places amid this outbreak. You may open windows to let some natural light and fresh air inside your room for some time. You may also take a quick stroll around (if it's not a populated area), but make sure to wash your hands when you return home.
Don't get entangled in chores: It is good to take breaks, but you shouldn't end up doing chores and wasting away your productive hours. When you leave for office, you manage your chores, such as preparing and packing meals, doing your laundry, or cleaning, in a certain way. Follow the same routine when you are working from home; otherwise, you will end up multitasking, with no fruitful outcomes.
Leave off work: Once you are done for the day, leave your workspace. It is important to disconnect from work and maintain a work-life balance even when you are at home. In addition, when you outline your tasks for the next day and leave like you do from work, you will have a sense of a productive day.
Follow your after-work routine: Earlier, you might be spending hours driving or traveling to your home after work. Now, you may utilize this time to make a routine for yourself. You may listen to your favorite music or podcast, read, or cook. Reward yourself at the end of the working hours.
Give yourself some slack: Do not be too hard on yourself, if for a minute or two, you end up checking something else during your work. It is sometimes possible to lose attention. Think logically—would you do the same thing at work? If yes, then relax and continue with your work.
Make sure you are equipped with tech: If you have to work remotely, then it is important to equip yourself with the right technology, including a laptop, charger, mouse, and keyboard. Also, make sure you have all the required software applications installed on your system. These applications can be related to your work or for telecommuting. Do check with your IT or tech department in advance and make all the necessary arrangements to work remotely. Most importantly, make sure your internet is up and running.
Working out of the office lets you be at home, but work from home with kids may become difficult to handle. Try scheduling your tasks as you have done when going out to the office. Setting up a dedicated workspace will help you implement the "in-office" mindset. Have your partner coordinate with you in household chores and caring for children. Hire help if feasible, and make arrangements to keep the children occupied with activities. Try scheduling important calls during your children's nap time. Distractions are inevitable, but avoid sacrificing your breaks to remain productive on both fronts.
Key Pointers
Working from home while managing a kid can become stressful at times.
Following a set schedule can help you work efficiently from home while managing your child.
Maintaining an after-work routine, taking time to relax, and several other tips have been listed below.
The following two tabs change content below.

Sanjana did her graduation in Pharmacy from Andhra University and post graduation in management from GITAM Institute of Management. It was during her first job, she recognized her skills in writing and began working as a freelance writer. Later, she completely moved into content writing and began working as a full-time content writer. Sanjana's articles in MomJunction cover topics related to...
more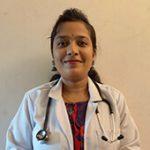 Dr. Sadhvi Mythili
(MBBS, Psychiatrist)
With a passion for reading and understanding about the human mind and how it functions, Dr Sadhvi Mythili took up Psychiatry after completing her graduation in Medicine from Kakatiya Medical College, Telangana. She pursued post graduation from the prestigious Asha Hospital. With over five years of experience in Psychiatry (adult and child), Dr. Mythili is currently working with Apollo Clinic...
more