Have you started noticing those pregnancy changes in your body already? Do you notice any other changes in your stomach, other than the fact that it is growing in size?
Changes in the appearance of a belly button are also common during pregnancy. Have you heard of an 'outie' belly button? Your protruding baby bump may push your navel outward as your pregnancy progresses. Want to know more ? Read on!
Your belly button is a scar on your abdomen that marks the point of attachment of the umbilical cord is (1). 'Innie' is a slang for the belly button, as it is mostly inward. In cases where the belly button is protruding outwards, you can call it an 'outie.'
When you are pregnant, your body undergoes a sea change. You pile on weight, and your uterus expands as your baby grows in your womb. In addition to all this, your body retains fluids, and there is a buildup of the amniotic fluids too (2). All this leads your uterus to press your belly button. As a result, your belly button starts protruding outwards, or turns into an outie.
It is a very normal occurrence during pregnancy, and you need not fret. According to Michael Bermant, M.D. of Bermant Plastic Surgery, your belly button will go back to its original shape in a few months after you are through with your pregnancy.
[ Read: Can You Keep Your Belly Button Ring During Pregnancy ]
While you are pregnant, you cannot prevent your stomach from growing and similarly you cannot prevent your belly button from protruding outwards and becoming an outie. Some people have an inward shaped belly button while some have an outward shaped belly button even before pregnancy. The original shape of your belly button will not decide whether or not or how much it will protrude while you are pregnant. Similarly, you may not experience a protruding belly button even while you are pregnant. All these situations are perfectly normal.
During pregnancy, the skin around your belly button area tends to become loose. Therefore, it is possible that your outie may not go inwards, even after your delivery. In case your belly button does not go inside on its own, you may require a small plastic surgery to tuck it back into position. Your doctor will be the best person to guide you about it.
It could also be an indication of a belly button or an umbilical hernia though it is quite rare. It can occur when some part of your fatty tissue or bowel pokes near the area of the belly button(3). If you are suffering from a belly button hernia, you may experience some pain and discomfort too. You should seek immediate medical attention if you are experiencing a painful bulge near your belly button.
[ Read: Physical Changes During Pregnancy ]
You should also speak to your doctor if you notice any discoloration on and around the area of your belly button. The risk of developing a belly button hernia increases in case of multiple pregnancies. So if you're expecting twins or more, your risk of developing a belly button hernia is high.
Do not panic when you first see your belly button changing its shape and turning outwards.These physical changes are a common part of all pregnancies. If you are still worried, speak to your doctor on your next visit.
Hope you liked this post on outie belly button during pregnancy. If you have experienced navel changes during pregnancy, please write back and share your experience with us.
Recommended Articles:
The following two tabs change content below.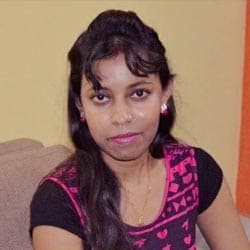 Ria Saha
Ria is a techie-turned-writer and writes articles on health, with special emphasis on nutrition. She did her B.Tech from West Bengal University of Technology and was previously associated with IBM as SAP ABAP technical consultant. She moved into freelance content writing in 2013 and worked for various websites including MomJunction, Brainpulse Technologies, and Emarketz India.