40 Aramaic Baby Boy Names With Meanings
Gift your child with a name that carries a rich cultural legacy and symbolism.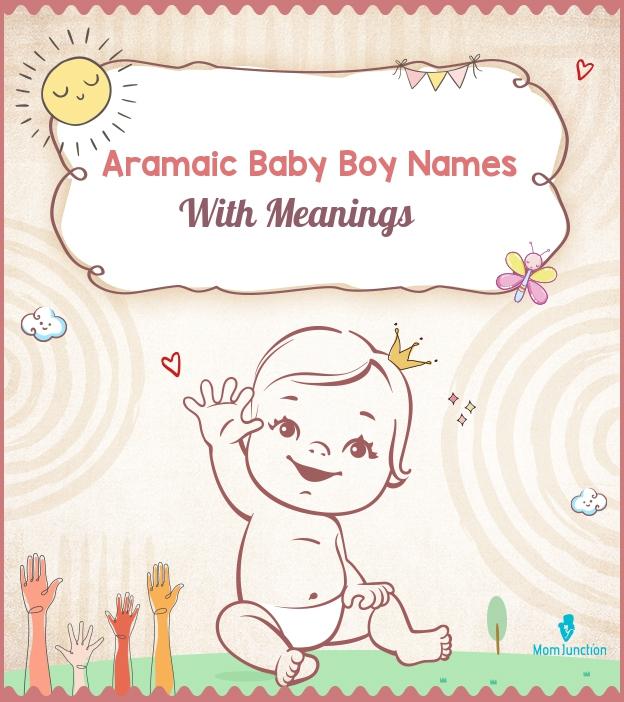 For modern parents looking for a name that carries depth and historical significance, Aramaic baby boy names rooted in ancient Semitic culture provide a profound and meaningful choice. Aramaic, also known as Assyrian, is a language closely linked to Hebrew and Arabic for centuries. It has stood the test of time, with inscriptions dating back to the 9th and 8th centuries BC. Today, Aramaic is still spoken and is considered a significant part of linguistic heritage (1). The Assyrian people identify themselves mainly using two terms: 'Assyrian' and 'Aramean.' 'Assyrian' is linked to their ethnic connection with the ancient Assyrian people. On the other hand, some individuals belonging to Middle Eastern West Syriac Rite Churches prefer to use the term 'Aramean,' also known as 'Syriac-Aramean.' This identity is associated with the ancient Aramean people, who coexisted as a separate ethnic group alongside the Assyrian empire. As such, by choosing an Aramaic name for your baby boy, you can honor your family's cultural heritage while also giving your child a unique and meaningful name. These names can connect between the past and present, allowing parents to honor their cultural background while embracing contemporary times. These names provide a special chance for parents to give their child a name representing individuality and heritage. For instance, Bartoli, a compelling Aramaic baby boy name, translates to 'son Of Tolmai,' and it's a great way to honor one's heritage and family connections while still having a unique and charming name. Another excellent choice is Tavish, which means 'heaven.' If you like names like these and want to find a similar name for your baby, our collection of Aramaic names can be a great starting point to choose a name that reflects child's strength, wisdom, or cultural heritage. These names will stay with your child throughout their life journey.
Name
Gender
Meaning
Joshua
Boy

God is salvation

Peter
Boy

Rock; Stone

Thaddeus
Unisex

Heart; Courageous

Thomas
Boy

Twin

Zachary
Boy

Yahweh has remembered

Zeke
Boy

God strengthens; May God strengthen

Bane
Boy

Son of consolation; Son of the Prophet; Long-awaited child

Bart
Boy

Son of Tolmai; Son of the one who abounds in furrows; A variant of the names Barton and Bartholomew

Barth
Boy

Son Of Tolmai; Son of the one who abounds in furrows; A variant of name Barton and Bartholomew.

Barthel
Boy

Son Of Tolmai; Son of the one who abounds in furrows; A variant of name Barton and Bartholomew.

Bartholemew
Boy

Son Of Tolmai; Son of the one who abounds in furrows; A variant of name Barton

Bartholomew
Boy

Son Of Talmai

Bartoli
Boy

Son of Tolmai; Son of the one who abounds in furrows

Bate
Boy

Norman diminutive of Bartholomew; Son of Talmai

Cephus
Boy

A stone or a rock

Chanan
Boy

A compassionate God

Cleophas
Boy

Husband of a woman who saw Jesus being crucified

Damos
Boy

A King

Gethsemane
Unisex

Estate of Olive tree

Mar
Boy

One who is a Lord

Matthis
Boy

A variant of Matthias; Gift of God

Taddeo
Boy

Italian of thaddeus; A gift of God

Tadeo
Boy

Praise

Tadeusz
Boy

Praised and desired; Gift of god

Tadzio
Boy

Having a heart

Tavarius
Boy

One who has no luck

Tavi
Boy

A form of David; Beloved

Tavis
Unisex

Twin

Tavish
Boy

Son of Tamhas

Thadious
Unisex

Variation of Thaddeus; Gift of god

Thom
Boy

A short form of Thomas; Twin

Thorley
Boy

Thor's meadow

Tom
Boy

A short form of thomas

Tomasz
Boy

A twin; One of the two born children

Tomazin
Boy

One of the child born

Tomias
Boy

One who is born as a twin child

Tommey
Boy

One of the twins; A twin

Tommy
Boy

Derived from Thomas; Twin

Toms
Boy

Latvian version of Tom; Twin

Zafir
Boy

Victorious
Aramaic baby boy names are rich in history and meaning. These names have been passed down for generations and hold cultural significance. The meanings behind these choices often reflect the culture and beliefs of the Aramaic-speaking people. The list of Aramaic baby boy names with meanings provided above can be a helpful resource for parents looking for unique and meaningful names for their sons. Choosing an Aramaic name for your baby boy can be a way to connect with the past and preserve a cultural legacy for future generations.
Infographic: Exotic Aramaic Baby Boy Names
Aramaic baby boy names are becoming increasingly popular among parents who want to give their children a unique and meaningful name. Aramaic is an ancient language that has influenced many modern languages, including Arabic and Hebrew. Aramaic names are often associated with strength, wisdom, and spirituality. In this infographic, we'll explore some popular Aramaic baby boy names and their meanings, inspiring you to choose the perfect name for your little one.

Frequently Asked Questions
1. What is the Aramaic word for God?
In Aramaic, the word elâhâ or elahi means 'God (2).'
2. What is the Aramaic name for king?
The Aramaic name for King is malkā.
3. Are Aramaic names gender-specific?
Like any other language, most Aramaic names are traditionally associated with a specific gender. However, some names are even gender-neutral.
References:
MomJunction's articles are written after analyzing the research works of expert authors and institutions. Our references consist of resources established by authorities in their respective fields. You can learn more about the authenticity of the information we present in our
editorial policy
.
Look Up For Many More Names
Do you have a name in mind and want to know more about it? Or want to find names belonging to a particular origin, religion, or having a specific meaning? Use our search tool below to explore more baby names with different combinations.
The following two tabs change content below.