8341 Arabic Baby Names With Meanings
A rich archive of names that flow like a beautiful earthy song.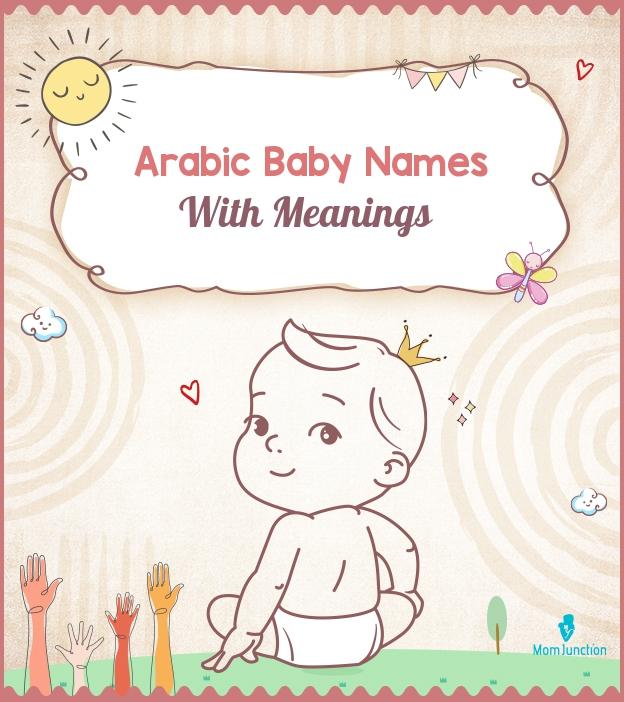 There's no dearth of inspiration when it comes to Arabic baby names. While some parents look up to their family tree, others pick the name of their favorite television or movie character. However, many Arabs like to stick to their culture when selecting a baby name. As Carlyle had said, giving a name is a poetic art. Arabs do not just look for meanings in names. They are also particular about how the name sounds and if the syllables flow well or not. They want a name that rolls mellifluously from the tongue and has elements that fit well with each other. Yes, everything is taken into consideration while naming in the language of the angels, Arabic. Arab names also come in two versions, which are pre and post-Islam. The pre-Islamic names were usually derived from nature, vocabulary words, or occupation. Some pre-Islamic names also reflect personal characteristics. Celestial aspects such as the moon and stars also play a major part in Arabic baby names. The post-Islamic names are influenced by 99 attributes of Allah and Islam, and the variations of the name Muhammad are also considered. And almost all Arabic names have Arabic words. An Arab usually has one personal name which could be a single name or a compound name. Generally, the first son is named after his paternal grandfather. The second son is named after the maternal grandfather, and the third son after the father. On the other hand, the eldest daughter in the family is named after the maternal grandmother. The second daughter is named after the paternal grandmother and the third daughter after the mother. They also use the adages of ibn or bin for boys and bint for girls to denote "son of" or "daughter of" (1). Millennial parents are also considering Angelized forms of names nowadays. Read on to find our extensive database of Arabic boy names and Arabic girl names with meanings.
Name
Gender
Meaning
Aaaqil
Boy

One who is wise and intelligent

Aaarabisk
Boy

A person who is wishful and healthy

Aaban
Boy

Name of an angel; 8th Persian month; Angel of iron; Spontaneous and versatile

Aabdar
Boy

Moonlight; Early; Quick; The name of a famous battle

Aabinus
Boy

Ebony; Dark-colored

Aadab
Girl

Hope; Need; The person who brings hope to the family

Aadam
Boy

Father of mankind

Aadan
Boy

One who is adorned; One who brings beauty

Aadeel
Boy

Righteous and just; One who acts with justice and fairness; Excellent in character

Aadil
Boy

Righteous; High in moral and virtue; Sanctimonious

Aadila
Girl

The female counterpart of Aadil; A person with justified morality

Aadina
Girl

Delicate; Slender; Friday

Aaeedah
Girl

Something of value given in return for something good; Reward; Return

Aaeesha
Girl

She who lives; Womanly

Aafaaq
Boy

Horizons

Aafia
Girl

A person who is cool and composed and free from all worries

Aafiya
Boy

A person who has a very sound body and health

Aafiyah
Girl

Healthy; A person who has a state of well-being

Aafiyat
Girl

Health; Freedom from illness

Aafreeda
Girl

A person who is just put into existence or produced

Aafreen
Girl

To praise; To give thanks; To congratulate; It is also an expression of praise and gratitude

Aaftab
Boy

Sunlight; The Sun

Aahad
Boy

Unity; Oneness; Harmony

Aahil
Boy

Great king; Great leader; Emperor; A king or ruler who presides over multiple nations and countries

Aaida
Girl

The one who is helpful; Ornament; Brightness

Aaila
Girl

Beautiful; Attractive and possessing charm just like a moon

Aaima
Girl

The one who is a supreme leader; The one who leads or conducts

Aaira
Girl

The one who is worthy of respect; Noble and honorable

Aairah
Girl

Noble; Honorable; Respected

Aaisha
Boy

Prosperous, lively, joyous

Aaishaa
Girl

The one who is alive; Living his life to the fullest

Aakif
Boy

The act of being strongly bonded towards someone or attached; One who stays at the mosque to worship Allah; One who stays away from people to dedicate himself to Allah

Aakifah
Girl

One who stays at the mosque to worship Allah, One who stays away from people to dedicate himself to Allah

Aakrama
Boy

Name of a famous companion of Prophet Muhammad

Aala
Girl

A quality of being generous, bountiful, ample, or plentiful

Aalaa
Girl

The one who has great values or quality; Highest in the world

Aalam
Boy

World or universe; The one belonging to the whole World

Aalamgeer
Boy

Supreme conqueror of the world; Defeatless

Aalee
Boy

Noble and majestic; Highly impressive; Awe-inspiring

Aaleyah
Girl

The one having superior social standing; The one exalted; Of high esteem

Aali
Boy

Another name of Allah or the almighty

Aalia
Girl

The one having superior social standing; The one exalted; Of high esteem

Aalif
Boy

The one that is sympathetic or compassionate; Affectionate to others

Aalim
Boy

The one who is knowledgeable, Scholar; Very wise

Aalin
Girl

The one having superior social standing; The one exalted; Of high esteem

Aalina
Girl

Light

Aaliya
Girl

Ascending; Highborn; Exalted

Aaliyah
Girl

Ascending; Highborn; Exalted

Aaliyan
Boy

Noble, exalted

Aalya
Girl

The one who is very smooth soft and serene

Aalyah
Girl

Exalted, noble, sublime

Aamaal
Girl

The belief; Expectation; Aspiration

Aamal
Girl

To get to work; Stay in motion

Aamanee
Girl

The good desire; Hope; A sound blessing

Aamena
Girl

Trustworthy, faithful, or secure It's of Arabic origin

Aamer
Boy

Prosperous; Full of life

Aamil
Boy

A hardworking person; A doer

Aamin
Boy

The one having a great grace of God; The one who is divine

Aamina
Girl

This was the name of the mother of the Prophet Muhammad

Aamina bee
Girl

The one who is blessed with the grace of god

Aaminabee
Girl

The one who is blessed with the grace of god

Aamira
Girl

The superior; Being prosperous; Abundant

Aamirah
Girl

The one residing in a divine place; Close to god

Aamish
Boy

Full of enjoyment; Food; Meat

Aamna
Girl

State of tranquility and harmony

Aani
Girl

The name of a poetess and scholar in Qastaniniyah

Aaniya
Girl

Affectionate; Caring; Consoler

Aaqaa
Boy

The supreme owner or father; Having full authority

Aaqib
Boy

The follower of Allah; Follower

Aaqil
Boy

The one who is blessed with quick cognitive capacity; Intelligent

Aara
Girl

The person who can be adored; Adoring

Aaraa
Girl

the act of adoring or embellishing

Aarash
Boy

The first ray of the sun

Aarib
Boy

the one who is healthy and very handsome

Aarif
Boy

Acquainted; Knowledgeable; Devotee; Knowing; Aware

Aarifa
Girl

One endowed with great knowledge

Aariz
Boy

The one who is a respectable man; Intelligent; The one who leads

Aaro
Boy

Mountain of strength; High mountain

Aaroh
Boy

the one having high qualities as a mountain

Aarzam
Boy

War; Battle; Being conqueror

Aasaf
Boy

the one who is very clear or lined up

Aaseamah
Girl

The one who is the protector

Aaseayah
Girl

A deep thinker; Having the appearance of a deep thinker

Aaseemah
Girl

The person having the spirit to protect and guide others

Aaseeyah
Girl

Full of yearning or thoughtful

Aaseiyah
Girl

One who tends and heals the weak and poor

Aasemah
Girl

A guardian angel

Aaseyah
Girl

One who be apt to weak; The one who makes good console and comfort

Aasfa
Girl

The protector; The sole guardian

Aashik
Boy

The true lover; A suitor

Aashiq
Boy

The true lover; A suitor

Aashir
Boy

The one who is alive; Living

Aasieyah
Girl

This name gives you the capability of organizing, planning, and carrying work for great success

Aasil
Boy

Aggression; To assault cruelly and constantly

Aasim
Boy

The one who is a protector and a guardian

Aasima
Girl

Protector and defender

Aasimah
Girl

Someone who guards, watches over, or protects

Aasiya
Girl

Goodness or the one who is very hopeful

Aasiyah
Girl

Pharaoh's Wife who Embraced Islam

Aasma
Girl

The one who is regarded with love and tenderness
Arabic is a beautiful language, and so are Arabic names. Arabic names are among the most adorable names in the world, thanks to their captivating sound and poetic appeal. They are gaining popularity in the Western world such as the US and the UK too. These names encompass a variety of meanings including nature, celestial beings, landscapes, occupation, and place of living. Arabic baby names inspired by Islam are often given in praise of Allah. Arabs also usually prefer to use the names of their ancestors to name their babies. So browse the list and take your pick.
Frequently Asked Questions
1. What Arabic baby names mean 'gift?
Ata is a common Arabic name that means 'gift.' Ataullah is another prevalent name that comes from the combination of two terms, ata, meaning 'gift' and Allah, and means 'gift of God.' Some more Arabic names with similar connotations include Atiya, Hadiyya, Hiba, Ihab, and Nawal.
2. What is the Arabic baby name for miracle?
Ahya and its forms Aya and Ayah mean 'miracle' in Arabic. An Ayah makes up chapters in the Surah and is also a name referring to a verse in the Quran.
3. What Arabic name means happiness?
Nuzhat is an Arabic name that means 'happy.' Raghda is another name that refers to 'pleasant' or 'happy life' in Arabic. Other names that share similar meanings or connotations include Sadun (joyful), Saeida (happy), Suaidah (cheerful), Tasaad (she becomes happy), and Zahuk (laughs frequently).
4. What do common Arabic baby names like Mohammed and Fatima mean?
Mohammed is an Arabic name that is a spelling variant of the more popularly used Muhammad and means 'praised,' 'commendable,' or 'the praiseworthy.' On the other hand, Fatima is a spelling variant of the popularly used name Fatimah, which means 'to abstain.'
5. What are some Arabic baby names that have been used for centuries?
Some Arabic baby names that have stood the test of time include Muhammad (praiseworthy), Aaliyah (of high status), Amina (honest or faithful), and Zara (sublime).
6. What restrictions or guidelines should be followed when naming a baby in Islamic culture?
A few of the restrictions or guidelines you should keep in mind when naming a baby in Islamic culture is that it is forbidden to name a child with a name that denotes servitude to anyone other than Allah. Choosing names particularly used by non-Muslims, such as George, Michael, or Susan, is also forbidden. Titles that have belonged to tyrants and evil personalities should be avoided. Finally, it is also not advisable to name the child after the chapters of the Quran.
Infographic: Attractive Arabic Baby Names With Meanings
Arabic baby names are gaining popularity not only in Arab countries but also in the Western world. These names have beautiful meanings related to nature, religion, or traits. The infographic below presents some interesting Arabic names along with meanings to help you choose the best name for your bundle of joy.

References:
MomJunction's articles are written after analyzing the research works of expert authors and institutions. Our references consist of resources established by authorities in their respective fields. You can learn more about the authenticity of the information we present in our
editorial policy
.
Look Up For Many More Names
Do you have a name in mind and want to know more about it? Or want to find names belonging to a particular origin, religion, or having a specific meaning? Use our search tool below to explore more baby names with different combinations.
The following two tabs change content below.