495 Japanese Baby Boy Names With Meanings
Array of culturally rich names that encapsulate the essence of the land of the rising sun.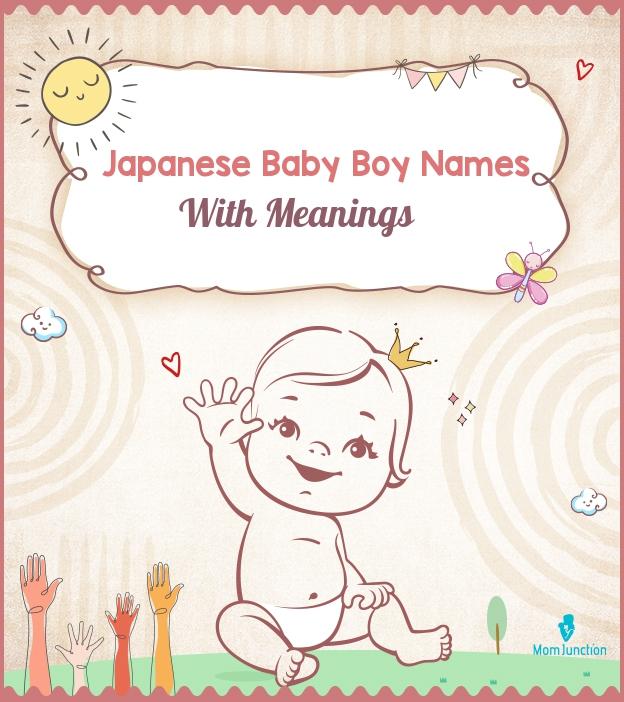 Like most cultures, Japanese baby boy names are influenced by their history, culture, and traditions. These names often combine ancient customs, religious beliefs, and linguistic influences.
The Japanese have been influenced by Chinese culture, which spread particularly during the Tang dynasty (1). It is evident in their use of kanji characters, which were adopted from Chinese script (2). Even though Japanese names are written in kanji, they are still quite distinctive and can easily be differentiated from Chinese names. Many Japanese names for boys are derived from kanji, and the characters chosen often hold symbolic meanings related to nature, virtues, or desired attributes. Most first names in Japan have one, two, or three kanji. Four-syllable names are mostly given to the eldest sons in a family.
Religious beliefs also play a factor in the naming of boys in Japan. Shinto, Japan's indigenous religion (3), has a great influence on naming customs. Many baby boy names are associated with Shinto deities, historical characters, or natural and spiritual elements. Furthermore, Buddhism, which was introduced to Japan via Korea and China (4), also shows its influence in Japanese names. Buddhist names are frequently associated with enlightenment, virtue, or religious notions.
Names in Japanese culture also tend to reflect the parents' hopes for their children. Parents choose names that signify positive attributes or express their aspirations for the child's future success. Positive traits and goals are embodied by names such as Haruki, meaning spring and radiance, and Hiroshi, meaning generous and kind. Some Japanese first names, such as Mayumi, Kaneko, Masuko, and Arata, can also be used as surnames.
Western names have gained popularity in Japan but traditional Japanese names remain highly valued, showcasing Japan's unique naming tradition.
Name
Gender
Meaning
Aoi
Unisex

Hollyhock; Green; Blue

Asahi
Boy

Morning sun

Haru
Boy

Spring season; Sunlight; Day

Haruto
Boy

Spring person; Sunny person; Distant city

Hinata
Boy

Sunny place; Towards the sun

Hiroto
Boy

Person; Soar; Esteem; Command; Great; Big

Itsuki
Boy

Tree

Kaito
Boy

Sea; Ocean; Soar; Fly

Kanna
Boy

One of many childhood names of Lord Krishna

Kei
Unisex

Square jewel; Blessing; Wise; Respect; Excellence

Minato
Boy

Harbor

Niko
Boy

People's victory

Ren
Unisex

Lotus blossom

Riku
Boy

Powerful ruler; A variant of Richard

Sana
Unisex

Brilliance; Praise

Souta
Boy

A sudden sound of the wind; Thick; Great

Touma
Boy

Assyrian form of Thomas; Twin

Yamato
Boy

Great harmony

Youta
Boy

Great sunlight

Yuuma
Boy

Gentle; Truthful; Honest

Yuuto
Boy

Gentleness; Tender person

Aito
Boy

Sea; Ocean; Soar; Fly

Aizen
Unisex

Beloved; Affectionate

Akai
Unisex

Red

Akeno
Unisex

Bright, shining

Akiara
Unisex

A bright person

Akie
Unisex

Graceful, intelligent, serene

Akihiro
Boy

Bright, intelligent, gracious

Akio
Boy

Bright Man; Manly; Hero

Akiro
Boy

Bright, intelligent, courageous

Akito
Unisex

Bright person; Autumn season

Akiya
Unisex

Bright; Autumn

Akoya
Unisex

Bright; Precious; Pure

Amane
Unisex

Peaceful, serene, tranquil

Ami
Boy

Lord of my people

Aoki
Unisex

An evergreen blue tree

Arai
Unisex

Arai - Noble, strong, elegant

Arata
Boy

Fresh; New

Arisa
Unisex

Beautiful future

Asa
Boy

Physician; Healer

Asada
Unisex

Essence of gratitude

Asas
Boy

Physician; A healer; A beautiful morning

Asuna
Unisex

Light, bright, morning

Atari
Unisex

Japanese word for success or victory

Ayami
Unisex

Exquisite and graceful

Ayano
Unisex

Colorful, serene, beautiful

Ayato
Unisex

Versatile and determined

Azami
Unisex

Flower or thistle

Azumi
Unisex

Safe residence; Peaceful dwelling

Benjiro
Boy

Enjoys Peace

Bento
Unisex

Blessed; Blessing

Chibi
Boy

Short person or small Child

Chiharu
Unisex

Springs and clear skies

Chikafusa
Boy

The close one

Chikao
Boy

A clever and wise individual

Chiko
Boy

A pledge

Chimon
Boy

Gate of wisdom

Dai
Boy

A shining individual

Daichi
Boy

Great land; Great wisdom; First son

Daido
Boy

The greatest way possible

Daiki
Boy

The noble one; filled with radiance and light

Daisuke
Boy

Great helper; Grand ritual; Large protector

Danno
Boy

Gathering; to put together

Danuja
Unisex

Knight; a ruler

Denji
Boy

One with electromagnetic powers

Doi
Unisex

Mountain; Earth

Eiko
Unisex

Child of splendor

Eito
Boy

A very prosperous person; they are kind hearted

Eizan
Unisex

Sharp and intelligent

Emiya
Unisex

Archer, Protector, Skillful

Enmei
Boy

Bright circle; Life sustaining

Enso
Unisex

Circle, Zen, Enlightenment

Escanor
Unisex

The shining one

Fuka
Unisex

Breeze or fusion

Fumihiro
Boy

Extensive condemnation

Geisha
Boy

Japanese traditional entertainer

Genkei
Boy

The one who deserves honor and integrity

Giichi
Boy

One rule; The righteous one

Gin
Boy

Silver

Ginjiro
Boy

Good silver

Goku
Boy

Awakened to emptiness

Goro
Boy

Enlightened son

Goten
Boy

Heavenly sky; Straight; Perfect

Gou
Boy

A person who is strong and powerful just like a mountain

Habiki
Boy

Echo; Sound

Hachi
Unisex

Eight; A bee or flowerpot

Hachirou
Boy

Eighth Son; A variant transcription is Hachiro

Hakaku
Boy

White Crane

Haku
Boy

Eldest brother; Soul; White

Hanabi
Unisex

Fireworks, celebration, beauty

Hanaya
Unisex

Flower shop

Hannya
Unisex

Angry, vengeful spirit

Hansuke
Boy

A very helpful friend

Hanya
Unisex

Graceful queen

Hanzo
Boy

Strong, noble warrior

Harue
Unisex

Spring Bough; Sunshine

Haruka
Unisex

Distant or far away

Haruki
Boy

Bright clear weather; Spring child

Haruko
Boy

Spring child

Haruna
Unisex

Joyful or mountain of happiness
Picking a Japanese boy name is a great way to experience the country's beauty and connect to its heritage and linguistic richness. The above names offer a deep view of the tradition and culture of the Japanese community and can fit into modern preferences while upholding traditional values. You can select a name that signifies power or gentler ones that reflect sweet virtues. Whatever your choice may be, this carefully curated list offers pleasant and one-of-a-kind options that carry timeless appeal.
Infographic: Wonderful Japanese Boy Names You Will Love
Japanese names have a unique melodic feel and are usually written in Kanji script. They reflect the rich ancient Japanese culture. Different Kanji characters combine to make one-of-a-kind names. If you're fascinated with Japanese names, this infographic will help you uncover some of the top names for your boy.

Frequently Asked Questions
1. Which Japanese boy names mean brilliant and future?
Ayahiko, Koushi, and Ayahito are a few Japanese names meaning 'brilliant.' On the other hand, Asuma, Milay, Mirai, Miran, Mirato, and Sakito represent the 'future.' Although these names share specific meanings, other Kanji combinations can also form them, and their meaning can change.
2. Which Japanese baby boy names mean warrior or dragon?
Aohei, Ayuto, Fumiji, Hayaji, Hideshi, Takao, and Riamu are among several names that mean 'warrior' and are associated with qualities like strength, power, and bravery. Ryū, Ryūji, Ryūnosuke, Hakuryū, Ryohei, and Tatsugo, on the other hand, mean 'dragon.' However, it is vital to note that Japanese names can have different interpretations depending on the kanji characters used to write them.
3. What are some Japanese baby boy names with a historical significance or connection?
Yoshimitsu (the name of a 14th-century shogun named Ashikaga Yoshimitsu), Nobunaga (an influential Japanese figure known as 'The Great Unifier'), Yukimura (the name of a samurai of the Sengoku period), and Ryōma (the name of a samurai who was instrumental in the establishment of the Empire of Japan in the late Edo period) are some names with prominent historical significance.
4. What are some Japanese baby boy names with powerful meanings?
Tsuyoshi (hard, rigid, or strong), Takeshi (strong, healthy), Kenta (healthy, strong, big, or great), and Riki (power, strength) are a few Japanese boy names that carry meanings associated with strength and vitality.
5. What Japanese baby boy names have a positive or uplifting meaning?
Haruki, from the combination of kanji characters 'haru' (光) and "ki" (輝), means 'light' or 'brightness.' On the other hand, Yuuki, from the Kanji character yū' (優), translates to 'excellence,' 'superiority,' and 'hope. Akira, meaning 'bright and clear,' and Hiroshi, meaning 'tolerant' or 'generous,' are Japanese boy names that exude positivity, hope, and exuberance.
6. What are some Japanese baby boy names that are related to sports or athletics?
Takumi (skilled, artisan), Masashi (elegant, will, purpose), and Daichi (big, great, wisdom) are some Japanese boy names with characters that exemplify the factors required to become a successful sportsperson, such as skill, grace, and ambition. Some famous Japanese sportsmen bearing these names include Takumi Obara, a Japanese athlete who competed in the first Olympic triathlon at the 2000 Summer Olympics. Masashi Ebinuma is a Japanese judoka who won a bronze medal in the 2012 Summer Olympics.
7. What are some Japanese baby boy names inspired by nature?
Daichi (great land), Haruki (clear weather, brightness), Aren (mountain), Gaku (mountain), and Akai (ocean) are some Japanese baby boy names associated with nature's beauty and tranquility.
8. Which Japanese baby boy names mean intelligence or wisdom?
Akitoshi symbolizes clarity and wisdom, whereas Daichirō represents intelligence. Jouken means constancy and intelligence, and Kenki refers to intellect. Like these, several other Japanese boy names that translate to wisdom and intellect include Satoshi and Kenzō.
9. What are some Japanese baby boy names that are easy to pronounce and spell?
Hiro, Ken, Kota, Shin, and Yuki are short and sweet Japanese names with straightforward pronunciation and spelling. These names are common in Japan and convenient for non-Japanese speakers to pronounce and remember.
References:
MomJunction's articles are written after analyzing the research works of expert authors and institutions. Our references consist of resources established by authorities in their respective fields. You can learn more about the authenticity of the information we present in our
editorial policy
.
Look Up For Many More Names
Do you have a name in mind and want to know more about it? Or want to find names belonging to a particular origin, religion, or having a specific meaning? Use our search tool below to explore more baby names with different combinations.
The following two tabs change content below.