18 Baby Boy Names That Mean Shadow
Names that are as cool as the blowing breeze under the shades.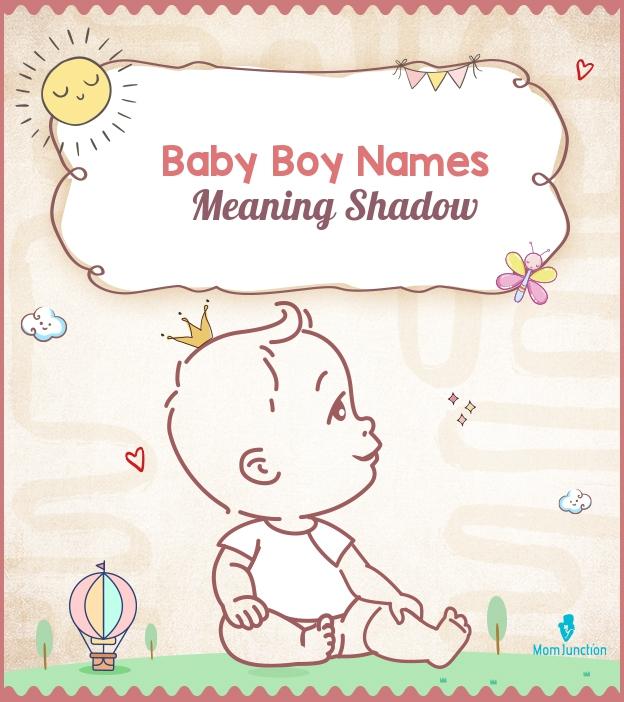 If you are intrigued by the allure of shadows, then you might like this post on baby boy names meaning shadow. In the realm of baby names that cover a wide range of captivating themes, we bring you name options that highlight the mysterious characteristics related to a shadow. The concept of a shadow has seen various transformations throughout time, from a source of fear and gloom to a symbol of safety and guidance. We go through numerous cultures, times, and worldviews as we explore the names that best represent this theme. These names, full of symbolism and mythology, might resonate with parents searching for names that represent the mystique and power of shadows as they offer a sense of mystery and depth.
This selection provides you with several options, including names with roots in ancient mythology or cultural history. Every name, whether a traditional or more modern pick, has its charm. For parents looking for a name that is pleasing to the ear and resonates with deeper layers of symbolism, this list offers a great place to start.
As you browse the list, you will come across names from many sources, each of which has an intriguing background and captures the various layers and enthralling essence of shadows. Along with the literal meaning of a shadow, these names also encapsulate the traits associated with the shadows, such as resilience, companionship, and the relationship between light and dark.
Names such as Erembour, a mythological character who rode shadows, Devroop, meaning one who is like the shadow of God, and Niratap, a person who is filled with shades and shadows, among others, can be great options for parents who are on the lookout for unique yet meaningful names based on this theme.
For your little prince, read on for a brief compilation of potential boy-baby names with connotations related to shadows. If you can't settle on a name, you can share this list with friends and family to get their suggestions for names that might be ideal for your child.
Name
Gender
Meaning
Betzalel
Boy

In God's Shadow

Blagdan
Boy

From the shadowy Valley

Chaiyn
Boy

Krishna who has the color of the shadow

Devroop
Boy

Shadow of God; One who is like God; One who is a form of God

Draven
Boy

One who emerges from the shadows

Druvish
Boy

The shadow of Lord Shiva

Dunnere
Boy

Dark brown colored; shadow

Erembour
Unisex

A character from mythology who rides shadows

Erembourc
Unisex

A French mythological character who rides shadows

Kage
Boy

Shadow

Kardama
Boy

Shadow

Melaina
Boy

Dusky and dim; Dark and shadowy

Mohandas
Boy

Dusky, dim; Dark or shadowy

Mohanjot
Unisex

The person always covered by shadows; Impossible to be seen

Niratap
Boy

The one who is filled with shades and shadows

Nizhalgal
Boy

A shadow; Similar to the person

Ozul
Boy

Shadow

Tirich
Boy

A shadow or darkness; A valley from Mulkow
While you looked over our list of baby boy names meaning shadow, we hope you spotted a couple you might want to shortlist as possible choices for your newborn boy. It is crucial to remember that even though some names have shadow-related meanings, that does not imply they necessarily have negative implications. Take your time and pick the ideal name for your child to make them stand out from the crowd. Also, remember to stay respectful towards the culture and language from where the names originate.
Frequently Asked Questions
1. What Greek boy name means shadow?
Erebus and Melaina are a few Greek names meaning shadow.
2. What is the Indian name for shadow?
Some Indian names for shadow include Devroop, meaning 'shadows of God', Nizhalgal, which means 'shadow,' Chayya, meaning 'shade' or 'shadow'; Jemisha, meaning 'Queen of dark' and Saiya, which means 'shadow' or 'always with you.'
3. Can "Shadow" be used as a baby name, or is it too unconventional?
Yes, the name 'shadow' can be used as a baby name. It is modern, elegant, and quite a popular name among many pop-culture characters. Since the name has huge popularity, it may not be very unconventional. For example, the name 'Shadow' has been used to name a character in the TV show 'Arrow,' and also Shadow is a song by Britney Spears.
4. What is the Gothic name for Shadow?
The Gothic name for shadow is Ozul, which means 'shadow.'
5. What name means shadow in Italian?
The names that mean shadow in Italian include Ombretta and Adrenna, both meaning 'shadow.'
6. What Celtic name means shadow?
Cethin is a Celtic name that means 'dusky' or 'dark,' resembling shadow. This name was derived from the Welsh name Gethin.
Look Up For Many More Names
Do you have a name in mind and want to know more about it? Or want to find names belonging to a particular origin, religion, or having a specific meaning? Use our search tool below to explore more baby names with different combinations.
The following two tabs change content below.