You are pregnant! What joy you must be feeling now… coupled with some worries too.
It is common knowledge that pregnant women tend to crave for healthy as well as, not so healthy foods. It is high time now that you need to focus on eating right, at this crucial time of your life.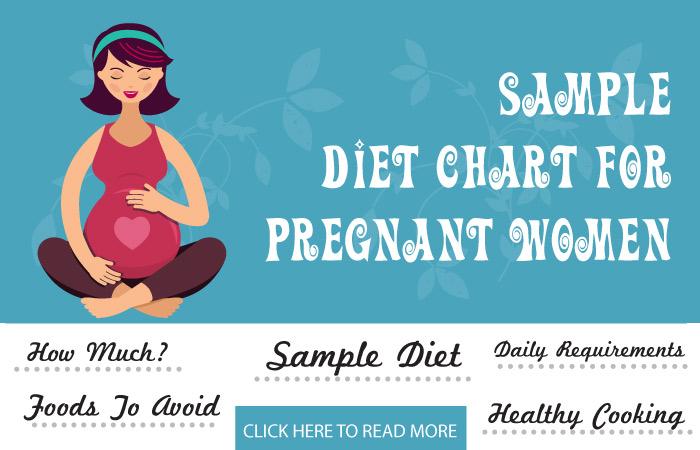 Click here to view an enlarged version of this infographic.
Sample Diet Chart For Pregnant Women
A healthy diet is one of the most crucial things you can do to ensure a healthy baby. Instead of having carbohydrates alone, we have here planned a healthy diet for your pregnancy, giving you wide varieties of choices.
Type Of Meal
Suggestions
Breakfast:
Remember, breakfast is the most important meal of the day. Make it a good morning with these delicious foods that will fill you with energy and stamina. Starting your day with a healthy breakfast gives you energy and adds calories to your diet. It helps to restore your body's blood sugar level after staying hungry for so many hours.

A bowl of oatmeal with any kinds of fresh fruits (make sure the fruits are well washed and peeled).
Pancakes and waffles prepared from whole grain flour.
A slice of whole wheat toast with peanut butter or plain butter oil (if you are allergic to nuts).
To drink, any one:
1 glass of low-fat milk.
1 glass of buttermilk.
1 glass of fortified orange juice.

Lunch:
Never skip lunch either! Three proper meals a day is important for both you and your unborn baby.

A bowl of soups such as creamy – broccoli soup, corn soup, tomato soup or green peas, works the best.
Cabbage soup is best for you and your baby. It is a good source of antioxidants and vitamin B-6 promotes healthy immune system. Also protects you from body tissue damage.
Include salads in your lunch. Green leafy vegetables such as lettuces, spinach and arugula are all good choices. Thoroughly wash all ingredients in the salad, prior making it.
Meats help to maintain energy level and form red blood cells. Seafood such as fish is high in omega-3, healthy fats and protein. It helps to build your baby's vision and brain function. Avoid large fish like shark, tile fish and swordfish.
Warm chicken salad is perfect for a yummy lunch. The protein from chicken will keep your tummy full.
Always use healthy oils for cooking like rice bran oil, olive oil or safflower oil.

Snacks: Satisfy your hunger pangs in the early evening time with these following options.

Fresh fruit such as banana or apple.
Packet of dates/ walnuts/ almonds.
Small packs of apricots and figs contain calcium and iron.
Fresh juices that will prevent you from dehydration.
Granola bars (opt for whole-grain and low sugar varieties).
Celery sticks and precut carrots with homemade hummus.
Homemade banana muffin using multigrain flour.
Homemade trail mix.

Dinner:
Early dinner keeps you feel light and stay healthy.

Bean burritos or baked beans.
A bowl of soup.
Any form of egg preparation or quiche.
You can also follow a light version of the lunch suggestions listed above!
General Dietary Guidelines During Pregnancy
Apart from following the above diet chart for pregnant women, it is prudent to remember some do's and don'ts of your pregnancy diet plan, as given below.
Do not diet while you are pregnant as it is dangerous for you and your baby.
Aim for moderate size meals everyday and include lot of fluids such as water, smoothies, fresh juices and flat lemonade.
Have a glass of milk just before you hit the bed.
Avoid fried, fatty, spicy and sweet foods. Moderation is the key.
Alcohol is a big NO, as it is not safe for you and your baby.
Avoid caffeine as it can affect your placenta and affect your baby's heart rate. Heavy caffeine consumption may create risk of miscarriage.
[ Read: Spicy Food During Pregnancy ]
The above diet plan is designed to provide all the essential nutrients and proteins for the well-being of you and your baby. Green leafy vegetables, citrus fruits and beans are high on our list. Enjoy these healthy foods and simplify your life in a delectable way. It is always best to consult your doctor before sticking to a healthy diet, as your doctor understands your pregnancy better.
Wish you a safe and healthy pregnancy! If you have more healthy ideas do share them with us.
Recommended Articles:
Comments are moderated by MomJunction editorial team to remove any personal, abusive, promotional, provocative or irrelevant observations. We may also remove the hyperlinks within comments.
The following two tabs change content below.
Latest posts by Saara Fatema Doctor (see all)