222 British Baby Names With Meanings
An exhaustive collection of names from the royals to commoners.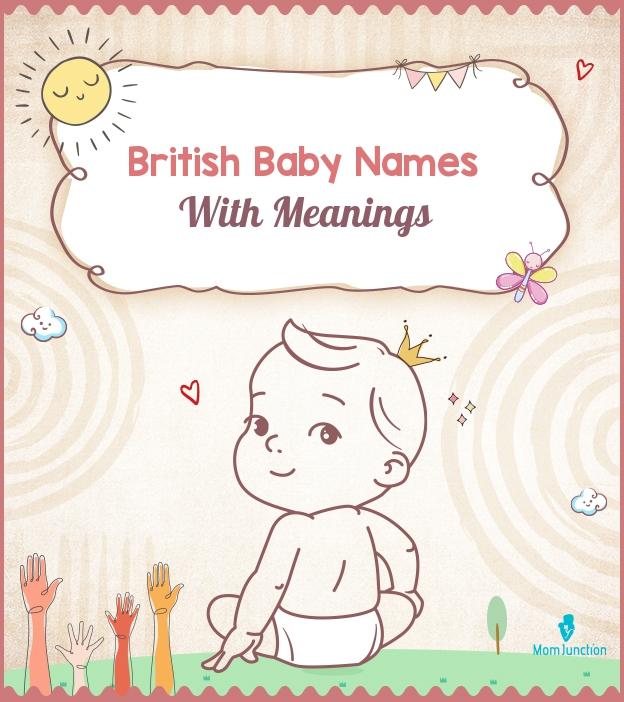 The British are famous for their royal flair, impeccable manners, and unique accent. When you explore British baby names, you'll find that they have a distinct style, which makes them stand apart. The British naming conventions in the past were stringent. However, British parents can now pick any name that suits their child. Generally, most parents select titles based on their aesthetic appeal. However, traditional names still hold prominence. These names usually have biblical roots and are inspired by revered saints and prominent religious figures. However, many also stem from legends in history and folklore. Names of the ruling monarchs and other notable royal family members also influence British titles. Names inspired by nature, classic literature, and mythology are other choices that many British parents embrace. Often, surnames are also used as given names. Hertford, for instance, is a surname found in Hertford, a beautiful town in Hertfordshire, England. It is used as a personal name, indicating a connection to the city. When closely observed, several British names reflect French influence due to the Norman Conquest in 1066. Normans brought the language and culture to England during this period, which deeply impacted British naming traditions and practices. This influence is particularly evident in names used in aristocratic and noble families. Today, many parents opt for modern names based on their phonetic sound and ease of pronunciation. Also, several British names are inspired by popular culture, and many female names are shortened versions of traditional male names. In short, British names are a treasure trove of choices for every preference, reflecting British society's diversity and cultural heritage. Below is our roundup of the best British baby names with their meanings. From modern to traditional, we've covered everything for you. Take a look!
Name
Gender
Meaning
Aariyeh
Boy

Desiring spirituality and enjoying isolation and meditation

Abcde
Girl

First five letters of the English alphabet

Abeque
Girl

A person who loves to stay at home

Aberdeen
Girl

A woman who is from the city in northeast Scotland

Aberesh
Girl

Derived from medieval form of Albanian in southern Italy communities

Aberforth
Boy

From the rivera in Gaelic

Aiden
Unisex

Little fire

Ailleda
Girl

Warrior

Ainsley
Girl

Solitary clearing; One's own meadow

Amelia
Girl

Hardworking and industrious

Aria
Girl

Lioness; Air; Melody

Atkin
Boy

A British surname

Atkins
Boy

Son of atkin

Benjamin
Boy

Son of the right hand; Son of the south

Bleiz
Boy

Old Breton word meaning wolf

Braddlee
Boy

Broad clearing in the woods; Also spelled Bradley

Bretta
Girl

From Britain

Brettany
Girl

British woman

Brette
Girl

Native British woman

Brettin
Girl

Woman from Britain

Brettlyn
Girl

British girl

Bretton
Boy

Man from Britain

Caecca
Boy

British male name

Cafa
Boy

British male name

Calunoth
Boy

A british male name

Cameleac
Boy

British Boy name

Camvlorigi
Boy

A British name for Boys

Canains
Boy

A British Boy name

Caratauc
Boy

A British male name

Carbani
Boy

A British male name

Carileph
Boy

A British male name

Catomaglus
Boy

English male name

Catuoconi
Boy

A male name of British roots

Ceabba
Boy

English male name

Ceagan
Unisex

An unisex British name

Cealfa
Boy

English male name

Cealin
Boy

English male name

Charlotte
Girl

Free person; Petite

Chloe
Girl

Fresh blooming; Ripe green shoot

Crystiana
Girl

A follower of Christ

Daniel
Boy

God is my judge

Dayluue
Girl

A youthful and excitable being

Dazi
Girl

One with great sense of detail

Eadbald
Unisex

A person who enjoys beauties of nature

Eadwald
Boy

Rich ruler

Earcna
Boy

Friend of the sea

Eastorwine
Boy

A person who has qualities of a leader

Edde
Boy

One who is wealthy; Swedish form of eddie

Eilaria
Girl

Cheerful; merry; one who has a great love for nature

Entriken
Boy

A family name of a famous ancient dynasty from Great Britain

Ethan
Boy

Strong

Evelyn
Girl

Life

Giedda
Boy

A pleague that strikes domestic animals

Godehyda
Girl

A person who is god-gifted in creativity

Godelif
Girl

Dear God

Godelina
Girl

An ancient saint

Goldberga
Girl

Gold mountain

Goldcorn
Girl

The one who has hidden qualities of knowledge, research and wisdom

Goldcorna
Girl

The one with a kind and peaceful heart

Gondefle
Boy

One with a restless nature

Gonemanus
Boy

The one who loves to live an independent and adventurous life; Who can lead and direct everyone to do; The one who will not give away

Goneril
Girl

Daughter of King Lear

Gordon
Boy

Fertilized pasture

Gordy
Boy

Great hill

Gore
Boy

Spear

Goren
Boy

Barn floor; Granary

Gosa
Boy

One with a clever mind

Gosalaka
Boy

Nervous and aggressive

Gosbeorht
Boy

One who wants to live solitarily

Gosfrid
Boy

One who can analyze problems quickly

Graysen
Boy

Son of a gray-haired man

Grayson
Boy

Son of a gray-haired person

Grayvesone
Boy

Son of the gray-haired man

Greelea
Boy

One who is ambitious

Greeleigh
Boy

Responsible and serious.

Greeley
Boy

Very disciplined

Greely
Boy

Very disciplined

Green
Boy

From a grassy village

Greenberry
Boy

Inspiring, graceful, and kind being

Greenlee
Boy

One who is very analytical

Greenley
Boy

One who is very analytical

Greeshawn
Boy

Kind-hearted and gentle

Greg
Boy

Vigilant; Watchful

Greger
Boy

A good learner and determined individual

Gregg
Boy

A great leader

Greggory
Boy

Vigilant

Gregor
Boy

Watchful

Gregory
Boy

Alert; Watchful

Gregson
Boy

Son of Greg

Greidiawl
Boy

Quick-tempered and disciplined

Greisy
Girl

One who is charming and energetic

Grendel
Boy

Imaginative and idealistic

Grenville
Boy

Big town

Gresham
Boy

A village surrounded by pasture

Greshawn
Boy

Competent and powerful

Grimaldus
Boy

Fierce; Bold

Grucinan
Boy

One who loves the beauty of nature

Guainint
Boy

One who loves fervor and flexibility

Guallonir
Boy

One who loves fervor and flexibility

Gucaunus
Boy

Aggressive beings with strong leadership qualities
British baby names are diverse, dynamic, and timeless. Many of them have religious roots and deep meanings. However, several others are inspired by nature, historical characters, mythology, and even prominent royal individuals. Whether you have British roots or are in awe of the beauty of British names, our list above provides numerous options in alphabetical order. The list also shared the meaning of each name to assist you in finding a suitable moniker for your child. Since these names have diverse origins, they make the British names even more captivating for people across cultures.
Frequently Asked Questions
1. What are some British baby names that have historical significance?
A British baby name with historical significance includes Oliver, which belonged to an important military commander Oliver Cromwell in the 1600s. This was also the name that was assigned to the protagonist of Charles Dickens's novel Oliver Twist in 1838. Another historically relevant British name is Alan, brought to England by the Normans and borne by famous people such as Alan Shepard, the fifth man to walk on the moon (1).
2. What cultural influences have impacted British baby names?
One of the greatest cultural factors influencing British baby names may be the Norman Conquest of England in 1066. After the conquest, many French words were incorporated into English (2). This gave rise to many names still popular globally, such as William, Henry, and Robert.
References:
Look Up For Many More Names
Do you have a name in mind and want to know more about it? Or want to find names belonging to a particular origin, religion, or having a specific meaning? Use our search tool below to explore more baby names with different combinations.
The following two tabs change content below.