299 Yoruba Baby Names With Meanings
A for Abeo to Z for Zoputan, our list comes from the ancient era.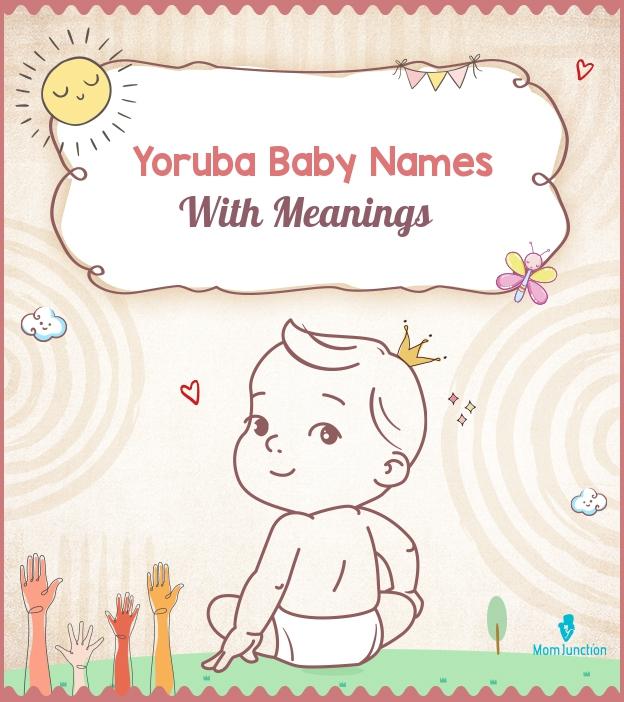 Yoruba baby names are rooted in West Africa's rich cultural heritage. To the Yoruba, a name isn't just a word or an identity. It's an embodiment of lineage, history, and family. As per the Yoruba custom, Yoruba kids are named in a ceremony held seven days after birth. In ancient times, the names were found by divination performed by traditional Ifa priests, called Babalawo, locally. But now, the names are suggested by the ranking members of the family, which include the mother, father, grandparents, or relatives. A private ceremony is held for the parents and close family members where the child is bestowed the name. A public ceremony, with entertainment and feasting, is held by parents to celebrate the baby's arrival a few days after the private ceremony. Yoruba names are classified into five categories – Oruko Amutorunwa or destiny names, Oruko Abiso or acquired names, Oruko Oriki or Panegyrics, Oruko Abiku, and Oruko Inagije or alias. Many Yoruba believe a name can influence a child's behavior and destiny (1). Hence, choosing the right name for the child is considered a crucial responsibility of the parents. Parents seek guidance from elders and family members to fulfill this duty and select names that convey specific meanings or attributes. Yoruba girls are named after the circumstances in which their birth took place or as a reflection of the wealth they bring to their families. Modern or Christian parents use Christian forms of traditional names, while Muslim Yoruba parents give their children Arabic names with Yoruba phonetics. Other factors influencing parents' name choices include cultural values, numerology, aesthetic appeal, and pleasant sound. Moreover, Yoruba names are generally gender-specific, meaning specific names are reserved for boys and girls. Hence, knowing a name's meaning and cultural significance is crucial in Yoruba culture. Understanding this, we have curated a comprehensive list of the best Yoruba baby names with meanings.
Name
Gender
Meaning
Abayomrunkoje
Boy

God won't allow humiliation

Abebi
Girl

We asked for a girl child

Abegunde
Boy

One born during the holiday

Abeo
Boy

The bringer of happiness

Abiade
Boy

One who is born to royal parents

Abidemi
Girl

A girl born during father's absence

Abidugun
Boy

One born before the war

Abiodun
Boy

One born at the time of festival

Abiola
Boy

Born in Honor; Born during the first days

Abiona
Girl

One who is born during a journey

Abioye
Boy

The son of royalty; A Variant of Abiola

Adankwo
Girl

One born on the fourth day

Adaoma
Girl

A good and virtuous lady

Adaora
Girl

Daughter of all

Adebamgbe
Boy

A Nigerian term meaning royalty dwells within me

Adebiyi
Boy

The royal one

Adedayo
Boy

The crown has turned to joy

Adefolake
Girl

Your wealth supports us

Adeleke
Unisex

Noble, brave, born into wealth, strong

Ademola
Boy

Crown is Added to My Wealth

Adeniyi
Boy

The value or honor of a crown

Adepero
Boy

The crown has brought peace

Aderiyike
Girl

The pampered crown

Adesanya
Boy

My pains have been compensated with the arrival of this child

Adeshola
Boy

One who is crowned to bring wealth

Adesina
Girl

She opens the way

Adesola
Boy

A child crowned with wealth

Adesuwa
Unisex

Royal wealth

Adetayo
Boy

Crown has brought us great joy

Adetokunbo
Boy

A Nigerian name of Yoruba descent in which the word Ade means crown

Adetola
Boy

The crown can be measured to wealth

Adetope
Boy

The crown is worthy of praise

Adetosoye
Boy

The crown is entitled to the throne

Adeyemi
Unisex

Royalty or crown brings honor

Adisa
Boy

Clear spoken person

Adunni
Girl

A daughter of a sweet person

Aega
Girl

A palm bird; A tiny bird

Aina
Girl

Beautiful eyed woman

Ajayi
Unisex

Born face-down

Akala
Unisex

Bright; Clear

Akanni
Boy

Strong, brave warrior

Akin
Boy

Brave; Heroic; Man

Alake
Boy

One to be honored

Amoke
Girl

Loving stroke or to pet her

Apara
Boy

Matchless; Unique; Exclusive; Has no equivalent

Atinuke
Girl

One who has been taken care of right from conception

Ayinde
Boy

We gave praise and he came

Ayobami
Girl

One asking for wealth

Ayodele
Boy

Joy has returned; A variant of name Ayotunde

Ayokunumi
Girl

Overwhelmed with wealth

Ayomide
Unisex

My joy has arrived

Ayomisioluwakonitan
Girl

The Joy of the Lord will never diminish in my life

Ayoola
Girl

The joy of wealth

Ayotola
Girl

Joy is enough wealth

Ayotoluwafunmi
Girl

The joy that the Lord has given me

Ayotomiwa
Boy

Wealth has returned

Ayotunde
Unisex

Joy has returned; A variant of name Ayomide

Ayotundun
Girl

Joy is sweet

Ayowonuola
Girl

Joy enters wealth

Ayowunmi
Girl

A girl who loves joy

Babasolaf
Boy

Father's wealth has arrived

Babatunji
Boy

The father returns again

Bandele
Girl

Born Away From Home

Banjoko
Boy

Don't ever leave me

Bankole
Boy

Build a home for me

Bayode
Boy

He who brings joy with himself

Bayowa
Boy

He has come with joy

Bere
Girl

First daughter of the family

Bidemi
Girl

Born awaiting me

Bimpe
Girl

One who is gorgeous and beautiful

Bisi
Girl

She who is a first-born daughter in the family

Bmidele
Girl

A Yoruba term meaning follow me home

Bodunde
Girl

Came with christmas or one who was born during christmas

Bolade
Boy

Honor will come.

Bolanle
Girl

One who finds wealth at home.

Bolatito
Girl

A Yoruba term meaning how joy sanctifies me.

Boluwaji
Girl

Rise up with Lord

Boluwatife
Girl

As God wishes; One who follows the will of God

Bosede
Girl

A daughter that came to world on a Sunday

Bunmi
Girl

To be my gift

Busayo
Girl

Adds to joy

Damola
Boy

Mixed with wealth

Dideoluwakusidede
Girl

The coming of the lord is at hand

Diekololaoluwa
Girl

God's blessing isn't small

Diekololaoluwalayemi
Girl

The wealth of god in my life cannot be measured

Doyinsola
Girl

My wealth is sweet

Durojaiye
Boy

One who waits for the joy of life

Durosinmi
Boy

Wait to rest

Duru
Girl

Strong or firm

Ebunoluwa
Girl

God's gift

Emilohi
Girl

Only God is great

Emiola
Girl

The honorable one; An honorable man

Eniafe
Girl

A beloved man

Eniiyi
Girl

A person of integrity

Enitan
Girl

Person of the story or person with a history

Eriifeoluwa
Girl

The evidence of God's love

Eromidola
Girl

My thought has become wealth

Esupofo
Boy

The devil has lost

Eyitope
Girl

This is worthy of praise

Fadekunmi
Girl

Add crown to me or add crown for me
Yoruba baby names carry profound meanings and cultural associations. They offer a captivating insight into the vibrant heritage of the Yoruba tribe and its people. If Yoruba culture's values and ethics resonate with you, the above list of Yoruba names with meanings has several options you may consider to name your baby. These names serve as an enduring connection to the past and hold relevance in the present. So pick a name as per preference and embrace the spirit of ancestral legacy.
Infographic: Culturally Significant Yoruba Baby Names
The Yoruba culture of Nigeria consists of philosophy, religion, and fascinating folktales. It's one of the largest ethnic groups in Africa, with names of immense cultural significance. Exploring Yoruba names will give you a glimpse of rich traditions and beliefs. In this infographic, we've listed the most popular names from this culture.

Frequently Asked Questions
1. Which Yoruba names mean peace?
A popular Yoruba name that means peace is Alafia. It is a gender-neutral name. Ìdẹ̀raolúwa is another name that means 'peace of god.' Ifelayo is another Yoruba name that implies 'love is peace.'
2. Are Yoruba names unisex?
Most of the names in Yoruba culture are unisex. Names like Bolu, Bola, Dare, Yinka, Tola, Sola, and Tade are unisex and are fully acceptable by the cultural law of this place. The Yoruba language classifies pronouns according to a person and number and not based on gender (2). However, you will also find many gender-specific names.
3. What are twins known as in Yoruba?
The first-born twin in Southwest Nigeria, irrespective of gender, is always called Taiwo. It means 'having the first taste of the world.' The second twin is called Kehinde. It implies 'arriving after the other.' Between both, the firstborn, or Taiwo, is regarded as the younger twin sibling (3 ).
4. Which Yoruba names mean favor?
In the Yoruba culture, Olúwasanmí means 'God favors me' or 'God rewards me.' It is made of olúwa, which means God; san, which means benefit or favor; and mí, which means me.
5. Which Yoruba names mean moon?
Kamari is an African name that means 'moon.' It has many variations like Kamaria, Kam, and Mari. Mawu, in the Yoruba language, is also associated with the moon. It's the name of a creator goddess linked to the Sun and Moon.
6. What role do religious or cultural traditions play in selecting Yoruba baby names?
Religious and cultural traditions play a significant role in selecting Yoruba baby names. These names tell the story of the socio-economic backgrounds of families and showcase their religions and customs. Children are often named after significant cultural events surrounding their birth so they can recall the memories later. The names are important means of communication and sources of gender differentiation (4). There is also a tradition in the Yoruba culture about naming according to the background of a family, religion, or antecedents. Some examples include Ògúndìran, which means 'Ogun has become a living tradition in the family,' and Ayanlowo, which means 'Ayan drumming tradition is honorable.'
7. What are the historical and cultural origins of Yoruba baby names?
According to the Yorubas, a given name has a profound effect. They have always believed that the name that a child bears can influence their entire life cycle from their behavior, profession, and success. From the beginning, Yoribas have regarded a name as representing the socio-economic and cultural characteristics, family background, occupation, place of origin, and political and economic class. Some examples of these names include Abiodun, which means 'born during a festival,' and Abosede, which means a child born on the first day of the week (5).
References:
MomJunction's articles are written after analyzing the research works of expert authors and institutions. Our references consist of resources established by authorities in their respective fields. You can learn more about the authenticity of the information we present in our
editorial policy
.
Look Up For Many More Names
Do you have a name in mind and want to know more about it? Or want to find names belonging to a particular origin, religion, or having a specific meaning? Use our search tool below to explore more baby names with different combinations.
The following two tabs change content below.