Are your kids interested in listening to Indian mythological stories? Do you want to inculcate good morals and values in your kids by telling them tales of legendary characters? If you answered positively, you should read some popular Indian mythological stories for kids or gift them books that contain ancient tales.
Introducing mythology for kids is one of the best ways to teach them about your culture, moral values, and beliefs. Kids often take a great interest in listening to ancient tales and learning about the adventures of heroic characters. Reading out mythological tales is a great opportunity to bond with your kids and create special childhood memories with them! Want to know more about some famous Indian Hindu mythological tales that will be a sure-shot hit with your kids? Go ahead and check out our list!
Popular Indian Mythological Stories For Kids:
Here are the six short mythology stories to teach your kids about Indian culture, moral values and beliefs.
1. Eklavya:
One of the popular Indian mythological stories to introduce to your kids is that of Eklavya. His aspiration to learn archery and become one of the finest archers of the time is truly inspirational. Despite the rejection by Guru Dronacharya, Eklavya mastered the skill of archery on his own. He practiced tirelessly in front of a statue of his teacher. His act of offering his thumb to his Guru as Dakshina labeled him as an ideal disciple.(1)
[ Read: Eklavya Story For Kids ]
2. Surdas:
Surdas's story is one of the inspiring stories for children. The tale can inspire them to overcome their weakness and anger. It will teach them about unconditional devotion towards God and teachers. (2)
3. Ajamil Turning Over New Leaf:
Ajamil's story of transformation from a spoilt, lazy man to a great devotee of Lord Vishnu can be a brilliant Indian mythological story for kids. It will educate kids about the bitter fruits of sins and the importance of leading a peaceful life. (3)
[ Read: Interesting Panchatantra Stories For Kids  ]
4. Mahabharata:
The Mahabharata is one of the greatest hindu mythology stories for kids. It signifies the triumph of good over evil. It is an interesting read full of heroic characters like Yuddhishtra, Arjuna, Karan, etc. (4)
5. Ramayana:
Another important Indian epic that you must introduce to your kids is the Ramayana. The story will teach them about how the arrogance and cruelty of Ravana led to his downfall. It will help them imbibe the virtues of obedience and humility that Lord Rama embodied. The subplot of Hanuman will also make for an interesting read. (5)
[ Read: Lord Krishna Stories For Kids ]
6. Narasimha Avatar:
Narasimha is Lord Vishnu's fourth avatar. The mythological story of Narasimha avatar will tell your kids how Lord Vishnu took the form of Narasimha i.e. half man and half lion to protect his great devotee Bhakta Prahlad from the clutches of Hiranyakshipu. Young Pralhad suffered many atrocities at the hands of the vain Hiranyakshipu merely due to his ardent devotion towards the Almighty. In the end, Lord Vishnu himself appears to save his child devotee from the jaws of death. The mythological story will teach your kids the virtues of faith and tolerance. It is yet another example of the victory of good over evil (6).
[ Read: Classic Stories For Kids ]
Now you know which books to buy next time you visit a bookstore with your kids. So, why wait plan a visit this weekend! Also, enlighten other moms about these wonderful tales to share with their kids.
Did you narrate the above Indian mythological tales to your kids? Did your kids enjoy listening to them? Which one from the list is their favorite? Do tell us in the comments section below. Also, share with us any other kid-friendly mythological tale that you think should be a part of this list. We would love to hear from you!
Recommended Articles:
The following two tabs change content below.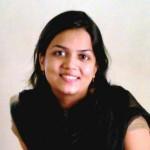 Latest posts by Manjiri Kochrekar (see all)