90 Swahili Baby Names With Meanings
A catalog of the best gems from the East African coast.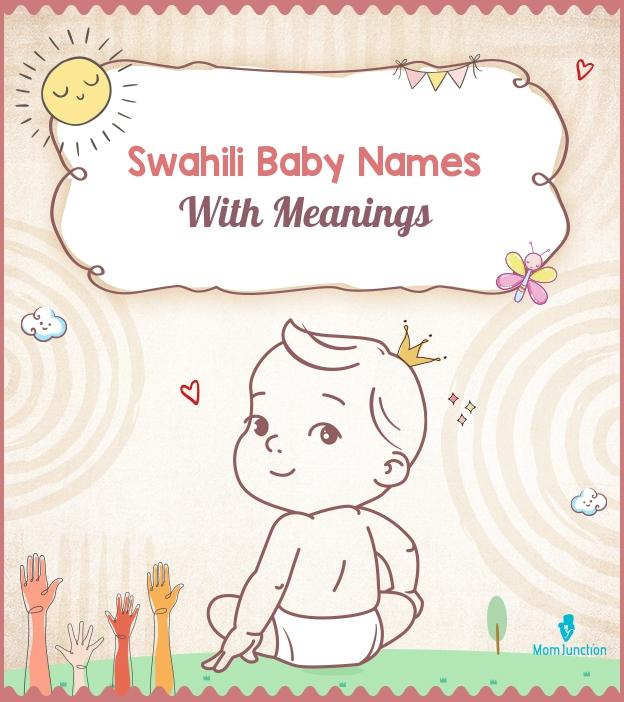 If you're on the quest for ideal Swahili baby names, consider it an exciting treasure hunt where you're destined to be a winner. Hidden on the Internet or tucked within the pages of a baby name book, the perfect name awaits your discovery. You just have to find out the perfect one, which you surely will. We have crafted a helpful cheat sheet for Swahili baby names to make your search easier. Swahili, often referred to by its local name Kiswahili, holds a significant place as the native language of the Swahili people, primarily found in the picturesque lands of Kenya, Tanzania, and Mozambique. This captivating language finds its core in the Bantu languages spoken along the enchanting coast of East Africa. Swahili, the official language of Kenya and Tanzania, widely used in countries like Uganda and the Democratic Republic of Congo, is highly influenced by other languages and dialects. Some of the Swahili words are Arabic, obtained from the ten centuries of contact with the Arabic nations. The Swahili loanwords emerged during the time of trade between the towns of the East African coast, Asia, and the Persian Gulf. It was during this period that Swahili evolved into a widely spoken bridge language in the region (1). Even the name of the language itself is derived from an Arabic term meaning 'of the coast' (2). However, several of its words are influenced by other languages as well. The vocabulary also includes English, Persian, Portuguese, German, and French words attained through contact with these countries in the past centuries. This influence is also reflected in Swahili baby names, considering a large number of Swahili names are either Arabic or Biblical. Below is our wide selection of traditional, modern, unique, and famous Swahili baby names with meanings and traditional gender use.
Name
Gender
Meaning
Abedi
Boy

Worshipper

Adea
Girl

A kind gift from the God

Adia
Girl

A gift

Adiah
Girl

God's gift or God's ornaments

Ahadi
Girl

Promising; With much promise

Aiysha
Girl

Powerful; Complete

Akida
Boy

Chief; Officer; One who is determined and diplomatic

Akina
Girl

Solidarity; Bond; Family bond

Amana
Unisex

Faithful and loyal warrior

Amaziah
Boy

One who has the strength of God

Amne
Girl

Safe; Secure

Asafa
Boy

One who is the son of a chief; A Persian officer

Asani
Boy

Rebellious

Asanis
Boy

Rebel; a clear and modest person

Ashura
Boy

Friend; The one who accompanies

Athumani
Boy

The third Khalifa

Atiena
Girl

Guardian of the night

Auni
Boy

Help; Assist

Azizi
Boy

Beloved; Precious one; Treasure; Valuable

Badru
Boy

Full Moon; A variant of the name Badr

Bakari
Boy

Hopeful; Noble oath

Banou
Girl

Female; Lady; Princess

Barika
Girl

Bloom; Be successful

Binti
Girl

Daughter

Chacha
Boy

A strong man

Chandu
Boy

An octopus

Chane
Boy

The one having a strong oak heart

Chiku
Girl

The one talking a lot

Djimon
Boy

One who has strong blood; Powerful person

Elewisa
Boy

An intelligent and mindful person

Enzi
Unisex

Strong and powerful

Hami
Boy

Defender; Patron; Protector; Supporter; Show favor; From Swahili

Hashaan
Boy

Good-looking

Hasnaa
Girl

Very beautiful

Hassian
Boy

Handsome

Hediye
Girl

Gift

Iniko
Unisex

Strong, courageous, powerful

Ishaal
Unisex

Light; Illumination

Jabali
Boy

A man who is strong as a rock

Jabori
Boy

One who brings comfort to people

Jahari
Unisex

Jjewel or precious stone

Jel
Boy

Refers to strong and hard

Jina
Unisex

Born investigators with leadership skills; Curious and always seeking knowledge

Johari
Girl

Something of value; Jewel; Something precious; Which is adored

Julani
Unisex

Strength and bravery

Kamaria
Girl

Moon

Kamili
Boy

Perfect, without flaws

Keny
Unisex

Strong, intelligent, determined

Kenyada
Boy

Gem

Kenyatta
Boy

Jewel

Kenzi
Unisex

The one who is artistic and unique

Kesi
Girl

Born at a time of great trouble for father

Kichaka
Girl

The one who blushes

Kito
Boy

A precious stone

Kobe
Boy

Holder of the heel

Kondo
Boy

A warrior

Lakeisha
Girl

Joyful

Lakicia
Girl

She who is a Favorite among people

Liela
Unisex

Night's beauty

Mosi
Unisex

The first-born child

Mosiya
Unisex

A first-born child to the parents

Nairobi
Unisex

Cool water

Nalah
Girl

A lioness; As furious as a lioness

Nalla
Girl

A successful person; One who has achieved everything

Nea
Girl

Radiant; Shimmering; Glossy; Glistening

Niagh
Girl

An aim or a purpose

Nya
Girl

Friend; Young; Purpose

Nyeema
Unisex

Graceful or blessed

Nyimbo
Girl

An Arabic word one who gives respect and honor others

Nyota
Unisex

Star

Pacca
Girl

A pussycat; A lovely person

Penda
Girl

Admired; Loved; Beloved; A variant of Penha

Reth
Boy

The King, the Ruler

Riziki
Unisex

Blessing or provision

Russom
Unisex

One who is a leader; A head of the charge

Sarabi
Girl

Mirage; Illusion

Sefu
Boy

Sword

Shani
Girl

A wonderful woman

Shomari
Boy

One with a forceful personality

Sikudhani
Girl

A pleasant surprise

Simba
Boy

Power; Strength; Lion

Tabari
Boy

A famous Historian

Tabia
Girl

Polite behavior and talented

Tambika
Girl

Religious offering

Tanzania
Unisex

Country in East Africa

Thimba
Boy

Lion hunter

Tish
Girl

A strong will; Will-power

Tishala
Girl

One who has strong willpower

Zahara
Girl

To shine; To bloom

Zuberi
Boy

One who is strong
This compilation of Swahili baby names with meaningful interpretations offers a treasure trove of options for parents seeking unique and culturally rich names for their children. Each name carries a story and essence from Swahili heritage, reflecting the beauty and diversity of African culture. Whether you're looking for names inspired by nature, virtues, or historical significance, this list provides a delightful array of choices. Embrace the richness of the Swahili language and let these names resonate with your heart as they grace your little ones with exquisite identities.
Infographic: Mesmerizing Swahili Names For Your Bundle Of Joy
The quaint Swahili region has a long and unique cultural history. Its eponymous language is a multicultural polyglot. So you can expect to find many profoundly meaningful names for your little one. Moreover, most of them are easy to pronounce without any silent letters. This infographic lists the top ones.

Frequently Asked Questions
1. What name means beautiful in Swahili?
In Swahili, the feminine name Zuri means 'beautiful.' The names Jamila and Jamala are derived from the masculine Jamil, which means 'beauty.'
2. What name means blessed in Swahili?
The gender-neutral name, Baraka, means 'blessed' in Swahili. The feminine name Neema means 'blessing' in the same language.
3. What name means lucky in Swahili?
In Swahili, the unisex name Bahati means 'luck or 'good fortune.'
4. What Swahili names mean faith?
The Swahili name Imani, with Arabic roots, means 'faith.' The feminine name 'Taraji' means 'hope,' also associated with faith.
5. What is the Swahili name for hope?
The unisex name Tumaini means 'hope' in the Swahili language. The feminine name 'Taraji' also means 'to hope' or 'to wish for.'
6. What Swahili names mean courage?
The masculine first name Jabari means 'the brave one' in Swahili. The feminine name Jasiri refers to 'bold and courageous.'
7. What Swahili names mean strength?
In Swahili, the masculine name Kiume means 'stamina' or 'strength,' while the unisex name Makini refers to 'the strength of a person's character.' Nwabudike means 'the father's strength lies in his son.' The name Nguvu means 'strong' in Swahili.
8. What are some creative ways that Swahili baby names are being incorporated into modern naming conventions?
Swahili names can be modernized by altering the spelling or adding prefixes or suffixes to create a fresh new variation while still maintaining the Swahili essence. Swahili words having positive meanings or those related to nature or good human virtues and qualities can also be adopted as a name for children.
References:
MomJunction's articles are written after analyzing the research works of expert authors and institutions. Our references consist of resources established by authorities in their respective fields. You can learn more about the authenticity of the information we present in our
editorial policy
.
Look Up For Many More Names
Do you have a name in mind and want to know more about it? Or want to find names belonging to a particular origin, religion, or having a specific meaning? Use our search tool below to explore more baby names with different combinations.
The following two tabs change content below.