66 Aramaic Baby Names With Meanings
Ancient elegance and timeless beauty distinguish the allure of our evergreen list.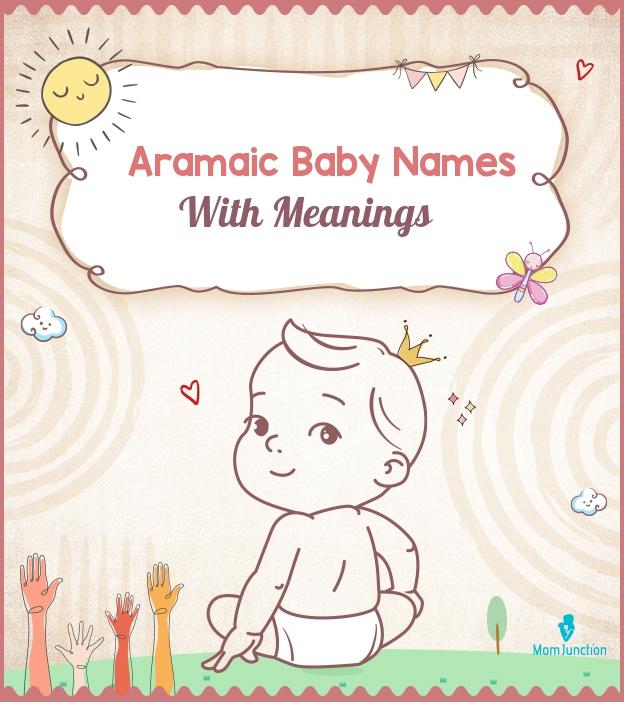 When your baby is unique and one of a kind, why should the names mean old-fashioned and uninspiring? Especially when you have a plethora of Aramaic baby names to choose from. Nobody wants their children to have boring names. Unique and fun names can add a definite charm to a child's personality. And when you're looking for a unique name, what better than looking into the treasure trove of Aramaic baby names? Aramaic, also known as Assyrian, is a form of Jewish language spoken widely by two million people of the Assyrian diaspora spread across the Middle East and North Africa. The Assyrians were a group of people who first spoke and wrote in Akkadian, but later switched to the more convenient Aramaic language. Tiglath Pileser III made Aramaic the primary language of the empire instead of Akkadian, and Aramaic continued to be used as a written language (1). The Aramaic baby names are primarily based on the religious context because of the presence of different religious communities. Originally, Assyrian names consisted of a first name and a patronymic name. But Assyrians have now begun using surnames. Interestingly, the surnames used now were the first names of grandparents who signed the surname laws in the 1920s. This is why many Aramaic last names are also used as first names. Bart is a popular name from the Aramaic language and means 'son of Tolmai' or 'son of the one who abounds in furrows'. Gethsemane, on the other hand, is a unisex name that means 'estate of an olive tree'. It's a biblical name that's associated with the Garden of Gethsemane, where Jesus prayed before his crucifixion. Xiomara is a girl's name that has a unique meaning. It's a variation of the name Xiamara which means 'joyful deer.' The Assyrians also shortened the personal names to just a few syllables for the nickname. Browse through our collection of Aramaic baby names with meanings below.
Name
Gender
Meaning
Bane
Boy

Son of consolation; Son of the Prophet; Long-awaited child

Bart
Boy

Son of Tolmai; Son of the one who abounds in furrows; A variant of the names Barton and Bartholomew

Barth
Boy

Son Of Tolmai; Son of the one who abounds in furrows; A variant of name Barton and Bartholomew.

Barthel
Boy

Son Of Tolmai; Son of the one who abounds in furrows; A variant of name Barton and Bartholomew.

Bartholemew
Boy

Son Of Tolmai; Son of the one who abounds in furrows; A variant of name Barton

Bartholomew
Boy

Son Of Talmai

Bartoli
Boy

Son of Tolmai; Son of the one who abounds in furrows

Bate
Boy

Norman diminutive of Bartholomew; Son of Talmai

Cephus
Boy

A stone or a rock

Chanan
Boy

A compassionate God

Cleophas
Boy

Husband of a woman who saw Jesus being crucified

Damos
Boy

A King

Gethsemane
Unisex

Estate of Olive tree

Joshua
Boy

God is salvation

Mar
Boy

One who is a Lord

Maren
Girl

Sea; Star of the sea

Maria
Girl

Bitter

Mariet
Girl

A mistress of the house

Martella
Girl

A woman the is the ruler of the house

Martelle
Girl

A lady who is the mistress of the house

Marth
Girl

A noble woman who is mistress of the house

Martha
Girl

Mistress; Lady

Marthand
Girl

A lady mistress

Marthena
Girl

A dame: A lady

Martie
Girl

A Lady-like woman

Martyne
Girl

One who is the first lady of the house

Martynne
Girl

A lady who is refined and prim

Mary
Girl

Beloved; Exalted

Matthis
Boy

A variant of Matthias; Gift of God

Miriam
Girl

Sea of bitterness; Rebelliousness

Peter
Boy

Rock; Stone

Rebecca
Girl

To tie; To bind

Tabatha
Girl

Gazelle

Tabetha
Girl

Gazelle

Tabita
Girl

Gazelle

Tabitha
Girl

Gazelle

Tada
Girl

Came from Thaddea; Heart

Taddeo
Boy

Italian of thaddeus; A gift of God

Tadeo
Boy

Praise

Tadeusz
Boy

Praised and desired; Gift of god

Tadzio
Boy

Having a heart

Talita
Girl

That one little girl

Tami
Girl

Date palm

Tammy
Girl

Palm tree

Tavarius
Boy

One who has no luck

Tavi
Boy

A form of David; Beloved

Tavis
Unisex

Twin

Tavish
Boy

Son of Tamhas

Thaddeus
Unisex

Heart; Courageous

Thadious
Unisex

Variation of Thaddeus; Gift of god

Thom
Boy

A short form of Thomas; Twin

Thomas
Boy

Twin

Thorley
Boy

Thor's meadow

Tom
Boy

A short form of thomas

Tomasz
Boy

A twin; One of the two born children

Tomazin
Boy

One of the child born

Tomias
Boy

One who is born as a twin child

Tommey
Boy

One of the twins; A twin

Tommy
Boy

Derived from Thomas; Twin

Toms
Boy

Latvian version of Tom; Twin

Xiomara
Girl

Ready for battle

Yahshua
Boy

Yahweh is salvation

Yeshua
Unisex

Savior or God saves

Zachary
Boy

Yahweh has remembered

Zafir
Boy

Victorious

Zeke
Boy

God strengthens; May God strengthen
Aramaic baby names offer a unique and meaningful option for parents looking to name their newborn. The list of names above showcases several options, from traditional biblical names to modern choices. Each name carries a special meaning, allowing parents to choose a name that reflects their values and hopes for their child. This resource serves as a helpful guide for parents who want to find the perfect name for their little ones.
Infographic: Amazing Aramaic Baby Names
Aramaic names are unique and have deep historical and cultural significance. In this infographic, we will look at some of the most popular Aramaic names for boys and girls and their meanings. Whether you're looking for a name for your newborn or just interested in learning more about Aramaic culture, this infographic can be an interesting read.

Frequently Asked Questions
1. What is the history and origin of Aramaic baby names?
Modern Aramaic and Hebrew names are derived from the Hebrew Bible, offering a rich historical background and literature. Although the languages share similarities, they belong to different religious communities. Aramaic baby names have a strong foundation in religion and the presence of God. They typically consist of a first name and a patronymic name. In modern times, Aramaic baby names have been simplified to ensure ease of use and pronunciation. However, they still have religious significance.
2. How do Aramaic baby names differ from other Middle Eastern names?
Aramaic baby names differ from other Middle Eastern names due to their distinct linguistic and cultural origins, rooted in the Assyrian community. They carry a unique religious and historical significance, reflecting the Aramaic language and its influence on the region. While this cannot be found in Middle Eastern names, they usually originate from Arabic. For example, it is Maria in Aramaic and Mariam or Maryam in the Middle East.
3. What cultural significance do Aramaic baby names hold?
Aramaic baby names hold significant cultural importance as they are rooted in the ancient Assyrian civilization and the Aramaic language. They connect individuals to their Assyrian heritage, preserving cultural identity and reinforcing a sense of belonging within the community. These names also reflect religious and historical traditions, serving as a link to the rich cultural tapestry of the Assyrian people.
References:
MomJunction's articles are written after analyzing the research works of expert authors and institutions. Our references consist of resources established by authorities in their respective fields. You can learn more about the authenticity of the information we present in our
editorial policy
.
Look Up For Many More Names
Do you have a name in mind and want to know more about it? Or want to find names belonging to a particular origin, religion, or having a specific meaning? Use our search tool below to explore more baby names with different combinations.
The following two tabs change content below.