You may love the flavor of garlic in your favorite dish but may be unaware of its proven medicinal benefits, especially for children. The benefits of garlic for kids are numerous as it may be used as a home remedy to provide relief from various problems such as an upset stomach, earache, cold, and cough. In addition, including an appropriate dose of garlic in your child's diet promotes their overall digestive health.
Continue reading this post to learn more about the various health benefits of this medicinal herb and how to give garlic to your children to prevent any complications due to excessive consumption.
What Is Garlic?
Garlic is a medicinal herb that is popular for its pungent smell and unique taste. Garlic has been cultivated for more than 3,000 years. The herb contains a natural compound popular allicin, which imparts several medicinal qualities to the herb. Garlic is rich in essential nutrients and offers your kids lots of health benefits and curative effects.
Health Benefits Of Garlic For Kids
1. Treats intestinal problems
Garlic helps treat several intestinal troubles, such as colitis, diarrhea, and dysentery. The herb effectively kills harmful worms present in the intestine without affecting the functioning and activity of useful microbes in the intestine. So, add an appropriate amount of garlic juice to your kid's diet to eliminate harmful intestinal bacteria that cause intestinal problems in kids.
2. Relieves ear aches
Garlic possesses antifungal, antibiotic, and antiviral properties, so it plays a vital role in curing earaches in kids. You can use garlic oil, mix it with olive oil, and use the oil mixture to cure earaches. Your child will get quick relief from the maddening ear ache (1).
3. Treats hypertension
Garlic serves as an effective herbal cure for hypertension in kids. Allicin present in the herb relaxes the blood vessels and reduces the effects of hypertension in children. Also, garlic helps minimize aggregation of platelets and combats thrombosis in kids.
4. Treats eye infections
Garlic contains good amounts of nutrients, such as quercetin, vitamin C, and selenium, which are quite effective in treating eye infections and reducing swelling of eyes in kids. Consult your physician regarding appropriate application of garlic for children to treat eye infections.
5. Relieves cold and cough
Raw garlic possesses many medicinal properties that help cure a cold or cough. Once you notice symptoms of cold, give your child two freshly crushed cloves of garlic to mitigate the symptoms. Your kid will get relief shortly.
6. Promotes digestion
Adding garlic to your child's regular diet of prevents the risk of digestive troubles. Garlic supports smooth functioning of small and large intestines for smooth and effective digestion. Garlic also cures irritation and inflammation of gastric canal in kids and promotes digestion.
7. Cures skin rashes
Garlic acts as a natural skin cleanser. The herb possesses antibiotic properties that help soothe irritating skin rashes in kids (2).
8. Treats asthma
Boiled garlic cloves can relieve your kid's asthma. Give your kid a glass of milk containing three boiled garlic cloves every night before he goes to sleep. Garlic also helps regulate asthma attacks in kids (3).
Is Garlic Good For Kids?
Yes, garlic is safe for kids but have a watch on quantity. Excessive doses may enhance skin irritation and rashes, create diarrhea, and even prevent blood clotting. This may lead to excessive bleeding in case of severe injury.
Frequently Asked Questions
1. How do I serve garlic to kids?
You may add finely chopped garlic while preparing various meals for your child, such as soups, sauces, spreads, fries, pasta, lasagne, and curries (4).
2. Can I give raw garlic to my baby?
It is not recommended to serve raw garlic to babies below six months. Nevertheless, you may incorporate various flavors and textures of foods such as garlic (finely chopped) for older babies as a part of their weaning diet after seeking the approval of your child's pediatrician (4).
3. Can a child take garlic pills?
Although garlic has been known for preventing many ailments for a long time in adults, there is a lack of research-backed information regarding the safety and efficacy of garlic pills and supplements in children (5).
The consumption of garlic for kids is excellent for them in the long run. It provides relief from digestive problems and colds. And apart from those, garlic is also known to cure eye infections and earaches. However, it should be consumed in a well-monitored quantity to avoid adverse effects on the child's health. Therefore, try to avoid extra dosage to prevent skin irritation and the generation of excessive heat within the body. Ensure to consume garlic consistently, and to seek maximum benefit, you must be patient with its use.
References:
MomJunction's articles are written after analyzing the research works of expert authors and institutions. Our references consist of resources established by authorities in their respective fields. You can learn more about the authenticity of the information we present in our
editorial policy
.
The following two tabs change content below.

Sadiya is a writer and editor with a passion for writing about parenthood and children. Her focus areas are health, wellness, and beauty. For MomJunction, she writes on kids' health and nutrition.  Sadiya believes in doing in-depth research and providing accurate information to help parents with concerns on their children's growth and development.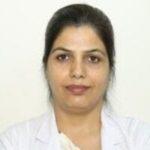 Dr. Sonal Dhemla, a gold medalist, is working with a pediatric hospital as a consultant dietitian/clinical nutritionist. She founded 'Dr. Sonal's Nutrittude', a diet clinic specializing in child nutrition, complementary feeding, juvenile diabetes, celiac disease, autism, ADHD, Down syndrome, cerebral palsy, epilepsy, growth issues among children, different deficiencies, and much more. She also works in the field of obesity/overweight, PCOS/PCOD,...
View Profile

›